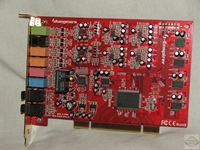 We live in a very multimedia centric society, we take our movies and music with us everywhere we go and we spend money and time on multimedia entertainment. Home theater PCs are great but the onboard sound isn't usually the best for any kind of theater experience, and even not just HTPCs either, myself, I sit here for quite a few hours every day working and listening to music. There are those us us that love our music to sound good and desire more than just that built-in sound chip, that's why you can purchase an additional sound card, it's for the types of people that really enjoy good quality sound from their personal computers, and not just for music either it can really add to your gaming experience as well.
Up on the review block today I've got the bgears b-Enspirer PCI Sound Card and it features one of the top audio chips out there, the Oxygen 8788. The Oxygen is capable of producing 8 channels of sound, various Dolby formats, and DTS formats as well. I can tell you that as soon as I installed the b-Enspirer in my system I noticed a big difference over the onboard sound, it is much crisper and fuller sounding, and the virtual surround sound is cool as well, it can produce virtual 7.1 surround from only two speakers! This card is just chock full of all kinds of features so continue on to learn about them…
First up, check out the video unboxing, then continue on to the specs, features and the rest of the review.
It's small, and there's no heatsinks to get in the way so it will have no problem fitting into any system. I run Vista Ultimate 64bit, so I had to go to the bgears website to get the software and drivers for it, they weren't included on the disk, but they were easy to find on their site and installed with no problems.
One you get the software and drivers installed you're greeted with a plethora of options to choose from in user interface. You can spend quite a while just playing with the settings to get everything perfectly right just for you.
The first screen offers you the ability to use the virtual surround using either 7.1 Virtual Speaker Shifter, or Dolby Digital, or even both really. On the right side of the interface you can actually move the virtual speakers around to fully customize the sound to your likings.
The next screen is just basic sounds levels:
On the next screen tough is where you can really have some fun, included are many different surround sound environments for you to choose from like, padded cell,   room, living room, stone room, cave, and many more. You can also adjust the settings for the room size and there a fully programmable equalizer that you can customize or use one of the predefined sets if you want.
The next screen would be for karaoke and magic voice, karaoke is self-explanatory but magic voice is kinda fun, you can use it to change or mask the sound of your voice.

next up we have FlexBass option, here you can adjust the bass obviously and the size of the speakers.
The last options just gives you some information about the chipset etc.
As I mentioned in the intro, as soon as I got everything installed I noticed a big difference in the sound coming from my speakers, it's just much better than the onboard sound of my motherboard. Using the virtual surround sound is rather cool, it really does make a difference but there is such a thing as overdoing it though, you really have to play with the settings to get it right for you and how you want it to sound.
For music, movies, gaming and just everyday uses, the b-Enspirer sound card adds quite a bit to the overall experience. If you enjoy good quality sound as much as me you'll appreciate this card once it's in your system.
…but it's not perfect, one complaint I could have is that there is no header to connect the front panel audio to for microphone and headphones, you have to reach around to the back of the PC to use them. If you look at the card it looks like it should have it there in the upper right corner but it's just not there…
Also I noticed the Oxygen chip gets pretty hot, I didn't notice any problems with the sound quality or anything, but I would have liked to have seen some sort of heatsink on there just to be safe. I've had the b-Enspirer installed and in use for about two weeks now, I just switched cases and I threw a small heatsink on there while it was out of the case, just to be on the safe side.
Image Gallery:
Conclusion:
The bgears b-Enspirer sound card add a whole new dimension to the audio experience of your PC. It's got a whole slew of options and many features that make this a great addition to not only an HTPC, but any PC at all. Your ears will thank you for installing this card!
It's a shame that there's no front panel header on the card or else it might just be perfect, you really need to have that header on there to make life much easier when using headphones or microphone,and that's not only for gaming but for an HTPC as well if you want to use headphones with it.

Pros:
All kinds of sound options, fully configurable to anyone's tastes
Big difference over the built in sound on motherboard
Small sized, will not get in way of other cards
Cons:
Chip gets hot, no heatsink
No front audio header
 
| | |
| --- | --- |
| Grades: |   |
| Overall | |
| Design | |
| Performance | |