Darts is a game that most people think is a kind of game that you play in a bar while you're drinking to have fun, and for the most part that's correct, but it is actually an official sport. As with most games in real life they end up as a videogame on one console or numerous ones, and the Wii is a great console for interactive type games with it's motion sensor.
On the review block today I've got PDC World Championship Darts from O-Games. PDC let's you compete against professional dart throwers on the Wii, and you can actually simulate throwing  a dart with the Wiimote. It's an interesting concept, and one that doesn't work too well really. Simulating throwing something with the Wiimote is bound to end up with bad consequences, broken TVs or possibly hurt pets or people. World Championship Darts though is game that does offer quite a bit of features like character creation and editor, real-world tournament locations, actual PDC pros as playable characters, and multi-player mode as well.

Obligatory box shots:
You start PDC World Championship Darts off by watching actual footage of competitions, it's  a nice touch.
There is a bit more to the game than just career mode, you've got Exhibition, Tournament, Career and Party Games modes. With Party Games mode you can play several different games with up to four players. The games you can play are: Standard Rules, Around the Clock, Black and White, Cricket (UK and US), Fives, Twenty-One, Knockout, Odd Man In, Shanghai and Killer.
I like Darts, in my youth I would play quite a bit, and I was very interested in this title actually. I was curious as to how the game was going to work with simulating throwing a dart with the Wiimote as it sounded like fun.
When you start playing you're greeted with instruction on how to 'throw' with the Wiimote, and it's not as easy as it looks, trust me…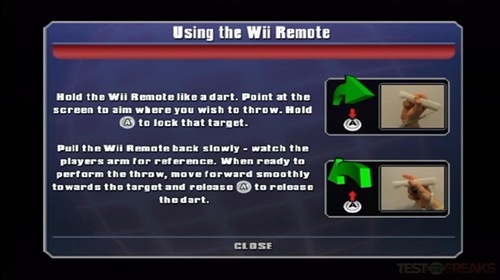 Specifications:
PDC World Championship Darts for Nintendo Wii
* Create your own player mode and play in 7 major tournaments in the PDS
* Features the following PDC Champions: Phil Taylor, Peter Manley, Adrian Lewis, and many more.
* Play in either Quick Match, Custom Tournament, or Party Games Mode

The graphics are decent for the Wii, not wonderful but acceptable. Some of the character models look actually very good, while some just look a bit deformed..
When you're actually playing you use the Wiimote to aim, then press 'A' to lock the target and bring up your arm in a throwing motion, then 'throw' the Wiimote forward and let go of the 'A' button. It sounds fairly easy but it isn't, and this is where the game just falls flat. The controls are horrendous honestly, I've put in several hours and still cannot get it to work correctly every time.
When you're getting ready to throw the dart you can also change views, which is interesting, but kind of useless really as the far away view is hard to see and the 'just dart board' view doesn't let you see your character so you can't tell if your movements are registering really.
While you're playing single player mode you'll end up playing your turn and then watching the computer take it's turn. In the beginning this is interesting but tournaments can last quite a long time, something like 60 rounds, and you can't skip the computer move. This many rounds means your game will last a long time, while this might seem like a good thing, it's a whole lot of dart throwing and whole lot of frustration.
The announcer for PDC World Championship Darts is Sid Waddell, and the referee is Bruce Spendly, I've never heard of these guys, but supposedly they're very popular and well known on the PDC circuit. The commentary though is rather bland, you'll hear the same sayings over and over and over again, and most of it is just calling out the score.
last thing I've got for you is a game play video:
In the end this game pretty much falls flat, the graphics are just average, the controls are horrible and the game is just boring really…
Conclusion:
I really don't have too much more to say about this game really, it just isn't that good overall, if you're into darts and have a lot of patience you might want to give this a try, but don't expect a realistic experience when using the Wiimote as your dart. I found the game to be frustrating and just a bit boring, and I like darts. This is one of those games that will never replace the real thing. I guess if you're into darts this might be a title you'd like, but if you're a casual player then I'd stick to the real thing…
Pros:
+Character creator
+Play with real characters
+Can spend hours and hours playing
Cons:
-Controls are horrible
-Very repetitive
-Can be frustrating
-The Throwing motion of the Wiimote can possibly be dangerous
-Boring
| | |
| --- | --- |
| Grades: | |
| Overall | |
| Design | |
| Performance | |