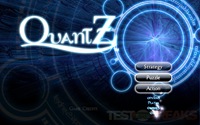 When people think of games they think big studios, like EA, THQ, Take2 and others, but there's a whole other genre of PC games out there that are very popular called casual games. These are usually puzzle games and as with any type of game some are better than others. Today for review I've got a game called QuantZ, it's a very unique casual puzzle style game that will get you hooked from the start. QuantZ features a rotating cube and marbles, the game relies on physics heavily, and utilizes it well. The idea is basic, break the marbles or QuantZ, but you can use your mouse to rotate the cube any which way and at varying speeds as well, rotating the cube causes the QuantZ to move around to re-group or even fly off of the cube to slowly fall back down, letting you group them to make matching color groups. The game might sound simple and basic, but  it's actually addictive and fun. Read on to learn more, I've got several screen shots for you along with a couple videos…

Quantz is a download only game, so no box shots for you. It's brought to us by Gamerizon a small company out of Montreal, basically an 'indie' game company.
The main menu has a few basic options, you can choose one of three types of games to play, Strategy, Action or Puzzle. There's also an 'options' choice to left you configure some of the games options like music, Sound FX, Video, Textures etc.  You can also have different play profiles as well if you're got more than one person accessing your computer, that way your progress will be saved under the play profile.
One of the first things you'll notice about Quantz is that it's a very bright game, the graphics might look simplistic, but really they're very nicely done. My first impression when I started playing was that the game interface resembled a 'Stargate'. There are characters around the ring that indicate the areas or levels that you can play, you've got to complete areas before others will open though, they need unlocked essentially.
Specifications:
QuantZ brings the action puzzle game to a new level   
The game  consists of moving around a  cube  in order  to  land  colored marbles  in  strategic places  to  create chain reactions.  QuantZ offers more than 50 hours of unique game play and three different game modes:
-  The Strategy mode, which includes 12 levels to explore
-  The Action mode, where reactions prevail over reflection 
-  The Puzzle mode, which offers more than a hundred riddles to solve
Game features:
-  A unique Action Puzzle gameplay
-  Easy to play
-  3 distinct game modes: Strategy, Action and Puzzle mode
-  24 worlds and 100 puzzles to solve
-  Captivating graphic and music
-  More than 30 hours of fun
How to Play: 
-  Objective: Clear the cube
-  Move the cube to land colored QuantZ in strategic positions
-  Launch a QuantZ to make them explode
-  Create explosion and chain reactions

QuantZ offers an organic gaming experience that is friendly and progressive.  Players will automatically feel they are on familiar ground as they explore the different modes and levels.  Because of its accessible and intuitive controls, combined with cutting edge physics, it is not necessary to play an excessive amount of time to enjoy QuantZ; each player can play it at his or her own speed, for 5 minutes or several hours. Immersive and captivating, QuantZ marks a new generation of action puzzle game, featuring:
-Tactile and instinctive controls: Moving the cube is easy.  Because it feels like you're holding it in your hands, the possibilities are endless.
-Simple  and  progressive  game  play:  While  the  game  is  simple,  the  rules  create  a  rich  gaming environment. 
-Emotion-building  audio:  The  100%  original  musical  compositions  and  its  progressive  audio environment  perfectly  merge  with  the  visual  environment,  offering  a  degree  of  immersion  never experienced before in an action-puzzle video game.
The PC and Mac versions are currently available for download from your favorite websites and on the official game website: www.quantzgame.com at a special release price of $12.99.
About Studio Gamerizon Inc. Gamerizon is an independent studio specialized in casual game development.  Based in Montreal, the studio was founded by brothers Martin and Robert Lizée, well-known in the industry for their participation to several significant multiplatform titles and by Dominique Bélanger.  Gamerizon differentiates itself through its unique vision of casual game development and the way it integrates innovative game mechanics to quality games that appeal to all kind of gamers. Its goal: Defining the future of casual games. For more information on Gamerizon, please visit: www.gamerizon.com

The premise of QuantZ is to break the marbles or QuantZ that are on a rotating cube. There's a rails on the bottom of the screen where the upcoming QuantZ sits waiting to be launched at the cube, you've got to match four or more for them to explode. The twist here is that you can twist the cube, QuantZ relies on physics processing, and it handles it well. The cube can be rotated any which way, and you can move it fast or slow depending on the speed you move the mouse.
The idea of rotating the cube is to not only line up your shot, but you can move the marbles around the cube, moving the cube quickly or suddenly will cause the marbles to launch off of the cube, and they will slowing float back down as if a gravitational force was acting upon them. As the QuantZ are floating back down you can rotate the cube to re-group the marbles the way you want them to make the needed groupings. There are also bonus fireballs that will appear in a certain color after you get a nice grouping destroyed, wherever you shoot the fireball all of those colors on that side of the cube will explode, helping you quickly clear a color group.
Here's the first gameplay video, this is starting from the beginning and playing though a level, about 3 minutes really. You don't have to watch the whole thing, I just got carried away, I was just playing and didn't hit the stop recording button…
As you can see the games looks rather simple, I didn't start from the very beginning as it's very simple when you first start out, very, very simple really. The music is decent, but it can get annoying after a while, it's best to go into the options and lower the music a bit really, but it's nice to have it in the background. The sound effects are nicely done, and fit perfectly with the game. The graphics of the cube and marbles are not bad, for a casual game they work fine.
When you complete a level you're greeted with a finish screen, and letting you know you unlocked a new level, for each level completed you're greeted with what I can only guess is a zodiac symbol. The stats are also shown in the bottom left corner as well.
I'll be honest here, the first time I loaded up QuantZ I wasn't expecting much, I was thinking it was going to be another goofy little puzzle game, but it's not really, it's actually a great little game that you can easily spend a lot of time with. When you first start playing it's very easy, but as the game progresses it does get a bit harder, and the cube alters its shape from regular cube to other forms to add a bit more to the gameplay. I found myself just sitting playing the game and a good thirty minutes had flew by without me even noticing it, it's a rather addictive little game that I wouldn't start playing unless you've got some time because you won't want to stop.
I leave you with one final video and you'll see that the cube does not always stay in cube form, it can change to other shapes as well during the levels of play which adds another little twist to gameplay.
Conclusion:
QuantZ is an awesome little game really, normally I'm into big studio games, but there are times when I like a small game to distract me for a bit as well, something light and one that doesn't require much thinking, one that I can stop and start at my leisure. QuantZ is one such game, it does though require a bit of thinking at times and can be a challenge as you progress through the levels, but still it's a light game that has a lot to offer. The graphics are decent, the sound effect are good as well, the sound track is an original score that fits well with the game.
If you're looking for a nice, inexpensive casual game, then check out QuantZ, it truly is an addictive and fun game, and well worth the cost.
Pros:
+Inexpensive
+Bright and colorful
+Three different game modes, strategy, action and puzzle
+Fun to play
+Rather addictive
Cons:
-None really
| | |
| --- | --- |
| Grades: |   |
| Overall | |
| Design | |
| Performance | |