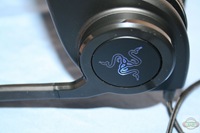 Razer is the well known peripheral maker of gaming keyboards, mice and more. Today we will look at one of their audio products – the Razer Piranha. This is a gaming communicator which means it features both headphones and a microphone for in game communication. The Razer Piranha includes a noise canceling microphone which allows the gamer to be heard clearly in crowded gaming environments such as LAN parties.
Razer designed this product with form and function in mind. The headphones are ergonomic, adjustable and well padded. The audio is true to life with good bass response and there is plenty of cable length available. Evaluating headphones is like purchasing stereo equipment; it is subjective to the listener. Sound quality is important, but so is the users comfort in wearing the headset for prolonged periods.
Here is the unboxing video and some box shots. Please note that the narration in this video was dubbed using the actual Piranha microphone. Sounds pretty good, don't you think?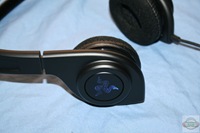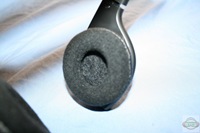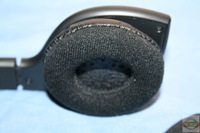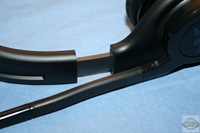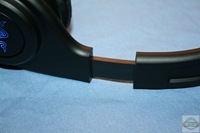 At the top of the headset, on the inner portion of the headband we find a padded area to provide additional comfort.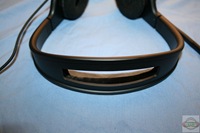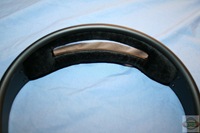 Working away from the headset, there is a braided cable coming off the left ear piece. Braided cables are used to help prevent wire tangles and to protect the wire held within. Two feet down this cable is the Remote Control which allows adjustment of the in line volume and microphone. This remote also has a mute switch and a clip for attaching to the user. There is also another Razer logo, which lights up when powered. Razer sure loves 0their blue LEDs, don't they? Well, it does look cool.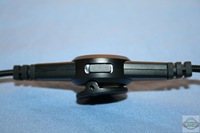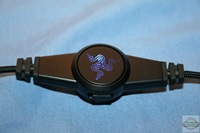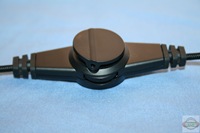 This braided cable runs about seven feet in length from the headset where it divides into three PC connections: the USB connector, the microphone and earphone mini plugs. These separate into three individual cables which measure about two feet in length and the cable is composed of a rubber material.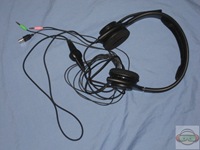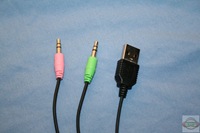 Having all this cable length is great for reaching a PC that is far away; most computers are only a couple of feet away from the user, so this excess cord is actually a bit of a nuisance. Plus the three separate cables do tend to get tangled up.
Specifications:
Razer Piranha Gaming Communicator
The Razer Piranha is engineered from the ground up to blend performance, long hours of comfort and functionality, to deliver realistic in-game audio that will satisfy the needs of the most demanding gamer – You.
An audio experience with crystal clear highs and visceral bass that will satisfy the needs of the most demanding gamer.
Adjustable, noise-filtering microphone.
Communicate clearly with your teammates through the noise-canceling microphone, even in crowded gaming environments.
Comfortable, ergonomic and adjustable head phones suitable for prolonged use.
The fully adjustable on-ear headphones and microphone ensure perfect fit and comfort for hours of use
* True-to-life audio quality with superior clarity and bass
* Adjustable, noise-filtering microphone for clearer in-game communication
* Comfortable, ergonomic and adjustable earphones suitable for prolonged use.
* In-line remote control with convenient volume and microphone muting adjustments
* Single-sided cable for hassle-free usage
* Durable braided fiber cable protection
* Internet telephony compatible
* Compatible with most major operating systems
* Usable with CD, DVD and digital audio players (via 3.5mm minijack)
Specifications
Headphones
Freq. response: 18 – 22,000 Hz
Impedance: 32 Ohms
SPL (@ 1 kHz, 1 Vrms): 114 dB
Cable: 3.0 meters
Microphone
Freq. response: 80 – 15,000 Hz
Sensitivity (@ 1 kHz, 1V/Pa): -38 dB
Impedance: ~2 kOhms
Pick-up pattern: Uni-directional

Price: $69.99
Setup involves plugging in the microphone and earphone mini plugs into the appropriate PC connections. The USB connector is optional and only provides power for the glowing Razer logos. Be aware that the Piranha does not function as a USB headset.
The Razer Piranha is a gaming communicator, but it can be used for other applications, such as listening to music, videos, communicating via Skype or VOIP and for recording audio. For testing I played Fallout 3, Team Fortress 2, Call of Duty 4 and Crysis to get a feel for the soundstage of these cans.
I have to say, the bass was rich and the gaming audio was immersive. The microphone worked perfectly and the noise filtering functioned as advertised as no one was the wiser when my daughters were playing in the background during several rounds of TF2.
The microphone was equally up to the task, whether used as a Skype/VOIP device or for dubbing audio. The quality can be heard in the unboxing video.
Musically, the Piranha is fantastic; all types of music sounded terrific ranging from classical to Jack Johnson to Tool and all music types in between. If this headset was just sold for listening to music and videos, it would be a worthwhile investment.
Now all is not perfect with the Razer Piranha. Wearing this headset for prolonged periods proved to be uncomfortable, as the rigid plastic tended to squeeze on my head. The adjustable portion of the headband does not provide much room either, so if you have an abnormally large head, then the Piranha's may not sit well on your melon.
Conclusion:
The Razer Piranha is a good product that could be better. The style and sound of the device are almost perfect, but the form of the device needs some improvement. The use of a more flexible plastic for the headband and larger ear cups would make the Piranha much more comfortable. Hopefully the next iteration will address these issues.
Pros:
Excellent sound quality
Noise cancelling works as advertised
Well constructed
Cool glowing Razer logos times three
Remote volume/mic controller
Cons:
Expensive
Uncomfortable after prolonged wear
| | |
| --- | --- |
| Grades: | |
| Overall | |
| Design | |
| Performance | |