Up for review today I've got another in the lighting category but this isn't a flashlight, it's a party or stage light as they call it and it features 86 LEDs in it. I get numerous requests for things to review and I like unique and interesting things like this light for example. My 10 year old son likes this kind of stuff, he likes these glowing lights and spinning globes and such, he thinks they're great and like to use them for a nightlight actually. The light is from 1byone and it's very well made and it's extremely bright with numerous modes including a sound activated one. Cool product all in all, fun and all that. Read on to learn more..
Specifications and Features
The front is where the LEDs are with a clear cover over them for protection.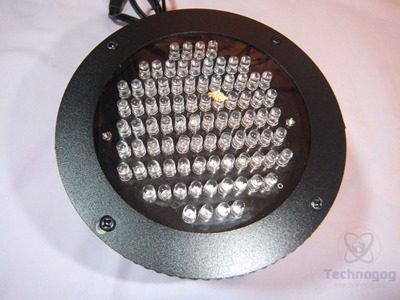 On the back you'll find two DMX ports, a set of ten dipswitches and a fuse along with the power cord.
The DMX ports allow you to chain more than on of these lights together to work in unison, you could chain a whole bunch of them together for a really nice lightshow.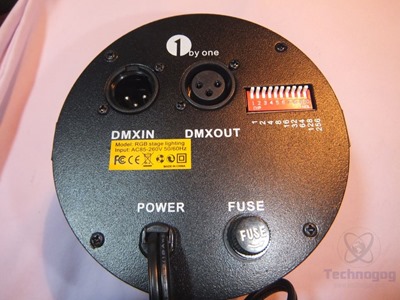 The ten dipswitches are what's used to control the LEDs and to change the modes. I'm not sure I like the dipswitch idea, but I guess it works if you don't plan on changing it often. I should note that the dipswitches are tiny and close together so they can be hard to flip and you can easily flip more than one at once, or more than you intended. I'm not sure I care for the dipswitches honestly, there has to be a better or easier way than these switches.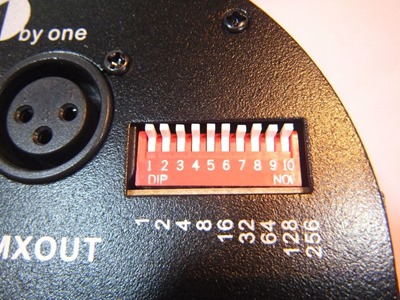 The dipswitches can set the modes and change the colors. For example if you put 1 on then it would be green, but 1 and 2 would be a brighter green and then 1,2 and 3 would be a very bright green. 4,5 and 6 would be for blue and it's levels of brightness and then 7 and 8 are for red with only two levels. You can of course mix the colors just by flipping the switches on. You can set the light to flashing and adjust the rate of flash or you can set it to voice or sound activated as well. There's all kinds of combination you can do just by setting the dipswitches on and off.
The housing is aluminum and it feels very well made and sturdy. On each of the sides you'll find threaded holes for the stand to be mounted with the included hardware.
The bracket can be used as a stand to just set it somewhere but there's a hole in it to mount it on a wall or light track or wherever I guess. You can adjust the position just by loosening the thumbscrews, simple and it works.
Conclusion
There are 86 LEDs in this light and when they're all on it's very, very bright, blindingly bright honestly but that's a good thing as that's what you want in mot situations.
The housing is very well made of aluminum making it sturdy but it also helps to keep it cool as it acts like a heat sink essentially.
The light has plenty of options for the lighting and the modes, you can just do all kinds of things with it. This light can be great for anything, kids party, holiday or for a DJ or even a club maybe. If you wanted to do you could get several of these lights and chain them together for a really nice lightshow for your party.
All in all it's decent product that's certainly unique and one that can be useful for sure.
I'm just not sure about the dipswitches as they are tiny and hard to flip really but if you don't plan on changing modes often this shouldn't be an issue really.
Pros:
+Can chain more than on together
+Numerous options for lighting and modes
+Very well made
+Very bright
Cons:
-Dipswitches aren't the best choice for changing modes and colors
| | |
| --- | --- |
| Grading | Scores Out of 10 |
| Overall | |
| Design / Aesthetic | |
| Value / Price | |
| Performance / Usage | |
Disclosure: This product was given to us for review by the company for review purposes only, and is not considered by us as payment for the review.
To learn more about our review policy please visit this page HERE.