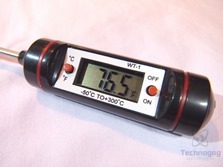 And we're going back to the kitchen today for another review of what happens to be another instant read meant thermometer. I reviewed one not long ago but I've got another one that is a bit different and it's one that I like better actually. This meat thermometer is from a company called Online Gadgetz and it features a nice large and easy to read LCD display and just two buttons, one for power and one for changing the degree units displayed. Read on to learn more…
Specifications and Features
Durable, INSTANT Read -Accurate Digital Meat Thermometer / BBQ – BONUS Meat Cooking Temperature Chart – with Convenient Storage Case; Battery Included – Poultry, Beef, Pork
-One-touch ON/OFF and Temperature Mode buttons, with Power Saver mode
-Long, durable, stainless steel sensor probe; Convenient, clip-on storage/carrying case
-INSTANT READ: fast readings in ten seconds or under ten seconds
-D/C 1.5V battery included so you can get grilling and eating fast with ZERO down time!
-BONUS: Meat / Poultry Cooking Temperature Chart included
-Engineer-Tested For Speed and Accuracy
-OUR OWN EXCLUSIVE easy-to-use 2-button design
Roast and grill to perfection with the Meat / BBQ Digital Thermometer from Online Gadgetz. Fast, super-accurate, and easy to use. INSTANT Read, readings in under 10 seconds, under normal weather conditions! Long, stainless steel sensor probe will keep fingers well away from hot food and grill surfaces. Comes with clip-on storage case for ease of use at the grill. The fast and accurate temperature readings, paired with our BONUS Meat and Poultry Cooking Temperature Chart, will eliminate the risk of over- or under-cooked food and potentially harmful bacteria. Serve mouth-watering steaks grilled to order, beautifully prepared roasts, and poultry with delicious crispy skin but still moist and juicy on the inside.
Price: $18.95 (from Amazon at time of review)
The Review
Let's start with a video unboxing and then move on from there:
The packaging for the Online Gadgetz thermometer is nice looking, it's basically just a card with a plastic front that comes off easily. The back has lots of information about the thermometer for you about operation and care and specs.
On the back of the packaged you'll find a handy cut-out temperature chart listing the safe cooking temperature levels for various meats. It lists temperatures for beef, lamb, poultry and pork for you so you know what they should be cooked to for safe eating.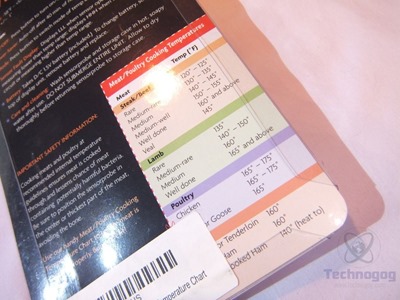 The thermometer comes packaged with a probe cover that just slides on and off and it has a clip as well to attach it to your apron or pocket.
The probe cover is a must-have for these types of thermometers, it protects the shaft and it keeps it clean. I know I just keep mine in a drawer with other things so having a cover is essential in my opinion. The cover is just plastic but it's thick and stiff and should protect the probe very well. The cover is a tight fit as it should be so it won't accidentally fall off.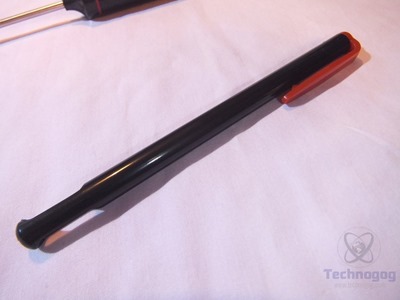 The thermometer itself is about seven inches long with three inches being the display and the remaining four inches being the stainless steel probe.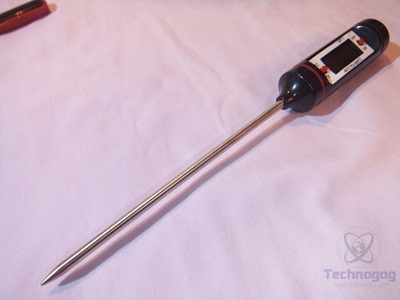 The LCD display is one inch wide and about half an inch tall making it nice and large and easy to read. On each side of the display is a button, the right side is for power and the left side is for changing the units from Celsius to Fahrenheit and back. The thermometer allows you to instantly change the units which can be handy for sure.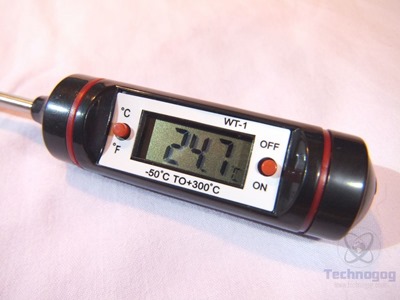 The Online Gadgetz digital meat thermometer is slightly larger than my old EKCO analog instant read meat thermometer but that's mostly because of the display section.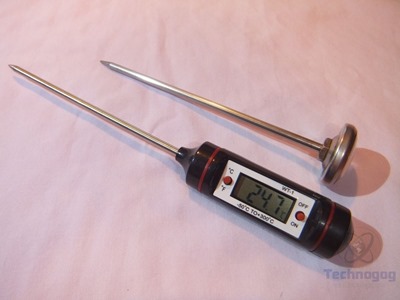 To test the Online Gadgetz thermometer I cooked food and compared it to my EKCO thermometer which I keep calibrated and they gave the same results so it seems accurate.
Conclusion
The Online Gadgetz Durable, INSTANT Read Accurate Digital Meat Thermometer is a great addition to any kitchen as it is accurate and it gives you a result fast.
The display is nice and large and very easy to read.
The included probe cover is a must as it protects the thermometer from damage and keeps it clean when not in use.
The shaft itself is stainless steel making it easy to clean.
Online Gadgetz even included a handy cooking temperature chart on the package that you can cut out and refer to so you can make sure your food is cooked to a safe temperature.
All in all I like this product very much and I will continue to use it in my kitchen for sure. It's a great thermometer that works well and is well made.
Pros:
+Very simple to use
+Seems accurate
+Quick result
+Includes probe cover
Cons:
-None that could find
| | |
| --- | --- |
| Grading | Scores Out of 10 |
| Overall | |
| Design / Aesthetic | |
| Value / Price | |
| Performance / Usage | |
Disclosure: This product was given to us for review by the company for review purposes only, and is not considered by us as payment for the review.
To learn more about our review policy please visit this page HERE.