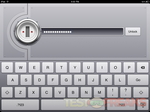 With this past week's release of the iPad there has been a large influx of new apps for the device. Today we will be looking at the first of several new programs designed specifically for the iPad. 1Password for the iPad is is based on one of my favorite Mac desktop programs. This password management software from Agile Web Solutions is a program I use numerous times every day on my Macs. Now I can sync my 1Password database with my iPad and have access to have all my protected info readily available.
1Password works by storing passwords in an encrypted fashion allowing the user to use different passwords for different online accounts. Using different passwords for various accounts is the safest way to protect yourself from hackers, scammers and phishers. All you'll ever need to remember is the master password to unlock 1Password.
Agile Web Solutions has offered an iPhone\iPod Touch app for quite some time and now they've created a iPad specific version. If you happen to own an iPod Touch or iPhone they also make 1Password Pro which is designed to work with all three of Apple's capacitive touchscreen devices.
Today's review app is the 1Password for iPad; this version is designed just to run on just the iPad. It currently retails for $6.99 and allows the user to sync their 1Password information wirelessly from their Mac. This app can be used by itself but its true power comes from working in conjunction with the Mac version.

Getting started is simple; install the app through the App Store via the iPad or iTunes and then launch it. If you don't have a 1Password database from a Mac then you can manually enter your confidential data. 1Password for Mac users will want to sync their databases with the iPad. To accomplish this go to the sync option via the settings menu. You will need to enter a pair of passcodes with the target Mac before the initial sync. After this syncs will occur silently in the background when the 1Password for iPad app is launched.
Initially when I tried to sync I had trouble with the iPad finishing the transfer process. This issue has since been corrected with an app update from Agile Web Solutions. Since this first hang up my syncing issues have been non-existent.
After the initial setup the next time you start the 1Password for iPad you will need to enter the master password to unlock the app. This means your data is safe even if God forbid your iPad is lost or stolen.
The main screen has either or two or three panes depending on the iPad's orientation. Three panes are present in landscape while two are available in portrait position. In either view the left hand side pane has seven menu items, which include Logins, Accounts, Identities, Notes, Software, Wallet, and Settings. These categories are also found on the 1Password on the Mac software. For more detailed information about them check out my 1Password Mac review.
Specifications:
1Password for iPad securely stores your important information and can automatically log you into websites with a single tap. ***1Password for iPad is a special edition of 1Password *just* for iPad. If you own an iPhone or iPod touch, check out 1Password Pro—our universal app for iPad, iPhone, and iPod touch!
Price: $6.99

You will most likely use the Login section as it stores all of the user's login and password information. By tapping on a specific login you'll find info such as username, password and other pertinent information. At the top of this pane is a website address with an arrow next to it. Tapping this arrow will open a browser window within 1Password for iPad and take you to the login page for that specific account. The browser window is based within the 1Password app, this is the biggest difference between the Mac version and this one.
On the Mac, 1Password will install a plug-in within each browser so the passwords and data can auto populate into the webpage when clicking on the 1Password icon on the browser bar. Sadly, the iPad version does NOT integrate into Safari. Basically 1Password for the iPad operates within its own web sandbox.
This means if you sign up for a web site using iPad's Safari browser then all the log in information needs to be manually input into the 1Password app. With the Mac version, this info is automatically recognized and 1Password asks the users if they wish to store the information.
The lack of integration may be due to Apple not allowing plug ins onto their web browser. This is documented here. Hopefully this issue will be addressed in the future as it prevents the iPad version from being as powerful as useful as the Mac version. Right now this issue is the biggest disappointment and keeps me from rating 1Password for iPad as highly as the Mac version. Although it is not the fault of Agile Web Solutions.
The in-app browser is Spartan with no address bar, so you can only navigate by links within the open webpage. On the bottom of the screen is a back, forward, reload and password icon with a close button on the bottom right. So websites with pull down login screen such as Digg do not work properly so you need to paste in the log in information manually. This is accomplished by pressing the password icon on the bottom of the screen and then pasting in the proper credential info.
Identities help you fill out registering data.
Notes allows you to store information that does not fit into other categories but which you may want to keep away from prying eyes.
Accounts can store log in information that cannot be entered by the program itself such as MobileMe, iTunes and Airport Extreme.
The Software section keeps keys and licenses safe.
With the Wallet information such as Driver's License, Passport and Credit Cards can be stored.
Sadly the password generator is not found in 1Password for iPad. For now I would recommend creating your logins on your Mac and then syncing them over to your iPad's 1Passover for the strongest encryption.
Conclusion:
Overall 1Password for iPad uses the concepts from its Mac brother but is limited by the lack of Safari integration. The nice thing about Agile Web Solutions is they are working on these issues all the time. You can visit their blog to see the progress. As of today the app still seems like it needs some time in the oven to cook. In the end it should be the best password manager for the iPad but right now it still needs some more tinkering.
Pros:
+Secure encryption of password and other personal data
+WiFi syncing with Mac version of 1Password
+Built in secure web browser
Cons:
-Lack of Safari integration
-Password generator absent
| | |
| --- | --- |
| Grades: | |
| Overall | |
| Design | |
| Performance | |
To learn more about our review policy please visit this page HERE.