I'm not sure what category to file today's review under as it's a product that can be charged via USB but it really doesn't have anything to do with your computer but then again it does in a way. The product is a portable and rechargeable fan from A4Accessories and it can be charged over USB and you could just have it sitting on your desk to keep you cool while you work. The fan has three speeds and it even includes a flashlight on the side and it comes with a user replaceable 18650 style battery. I guess it's more of a USB gadget than anything else, but I just filed it under PC Cooling as it's a way to keep you cool right? Read on to learn more…
Specifications and Features
A4Accessories Portable Rechargeable 4-inch 3-speed Fan with Light and Exchangeable Battery (Black)
-3 Speed (+ LED light) lightweight battery operated fan
-Keep cool on your trips outside
-Rechargeable (and exchangeable) 2200 mah battery
-USB rechargeable (USB cable included), Free hook included to attach to backbag etc.
-Small and light weight, easy to bring with you. Low noise
Price: $13.95 (from Amazon at time of review)
The Review
Let's start with a video unboxing and then move on from there:
The packaging for the fan is a very brightly colored box with a window on the front and some basic specs listed on the back for you to read.
Once you get the contents unpacked you'll find the fan, microUSB cable for charging, carabineer and user manual.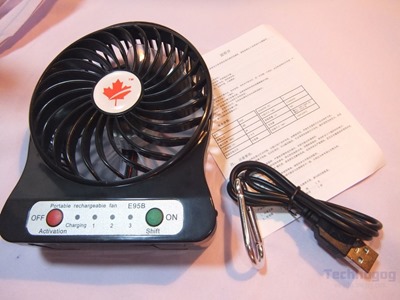 The fan is made of plastic and it's fairly lightweight really and overall it seems well made for what it is. I measured it and it's about 5.5" x 4.25" x 1.5" at the widest parts, and yes I rounded a bit there for the measurements so it might be a hair more or less either way. The fan blade is clear and up on the top is a hole for the carabineer so you could attach it to your backpack for example to take with you to keep you cool on the go.
On the bottom is the control panel and LED indicators with buttons labeled Off/Activation and Shift/On. To turn the fan on you have to press the activation button first and then press the on button. The button combination sort of acts like a safety feature so it doesn't accidentally come on like if you were carrying it in a bag.
There are four LEDs, one to indicate charging and then three more to indicate the speed levels of the fan for low, medium and high which are labeled 1,2,3. To change the speed you press the shift/on button, and each press changes the speed faster. To charge the fan you just plug in the microUSB cable and the LED lights up red to indicate charging and then turns blue to indicate complete.
The microUSB port for charging is located on the left side of the fan by the control panel.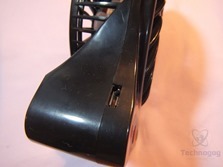 On the right side of the fan is a single white LED which is the flashlight. Yes it's just a single LED so it's not very bright but it can work to illuminate if need be. To turn the LED light on you press the shift/on button but it only comes on after you've cycled through all three speed levels, press the button again and it goes off.
On the back you'll find a label with specs in the center of the fan. On the bottom is the battery compartment with removable cover and inside is the 18650 battery that you can take out and replace if need be.
The specs on the fan say the input is 5v with current at .5 to 1amp but you can't actually just power the fan over USB for some reason. I've tried numerous chargers to get it to power on just over USB but it won't. You can charge and use it at the same time but you're still using battery power while it's actually charging over USB so you're really just maintaining the battery charge and not really charging it I think.
Conclusion
The A4Accessories portable fan is certainly a neat product and it can be useful on those hot days to keep you cool at your desk or even take with you like camping or hiking but it's not perfect.
It would be great to take camping as you can have it in your tent to move air around and help keep your cool.
The LED flashlight isn't very bright at all and you've got to cycle through all the fan speeds to turn it on.
The fan can be charged over USB but it can't actually be operated over USB power which just doesn't make much sense to me honestly.
The fan though does produce a lot of air and it's not very loud on low and medium, more of a hum but on high it's a bit overly loud and can be annoying.
All in all it's not a bad product and it can be useful to keep you cool at your desk or on the go.
Pros:
+Produces lots of air for such a small fan
+Seems well made overall
+User replaceable and rechargeable battery
Cons:
-Must cycle through all speeds to turn LED light on
-Flashlight isn't very bright at all
-Can't be powered by just USB
| | |
| --- | --- |
| Grading | Scores Out of 10 |
| Overall | |
| Design / Aesthetic | |
| Value / Price | |
| Performance / Usage | |

Disclosure: This product was given to us for review by the company for review purposes only, and is not considered by us as payment for the review.
To learn more about our review policy please visit this page HERE.