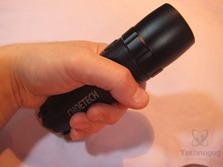 I've reviewed many flashlight and they're just that, flashlights that provide illumination but what if you want or need more? I'm the type of person that likes to be prepared, I've got first aid kit, blanket and other things like that in my car and I've happily added today's product for review to that list of things I keep in my car now. Choetech has sent me over an emergency flashlight which is a light, but it's also a 5200mAh portable battery, seat belt cutter and glass breaker all in one and I very much like it. Read on to learn more…

Specifications and Features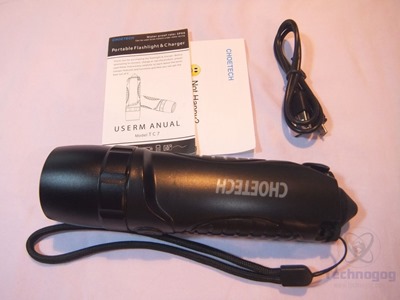 The light itself is black in color and it's very well made, it feels very sturdy. On the top edge is the main power button and there's a wrist strap attached to the end to make sure you don't lose it. The light is about 160 x 44 x 44mm or about 6.2" X 1.7" x 1.7" in dimensions and it weighs in at about 266 grams or about 9.4 ounces. It's lightweight enough to be easily carried but it does have some heft to it for sure. The light is IPX8 certified which means it can be immersed in water up to 3 meters for a continuous amount of time which means you could swim underwater with this light if need be. I believe the specs have it listed wrong as it lists both ipx6 and ipx8 but it does mention immersion underwater which means it's ipx8 protection. I believe the ipx6 rating is for the shock and dust protection.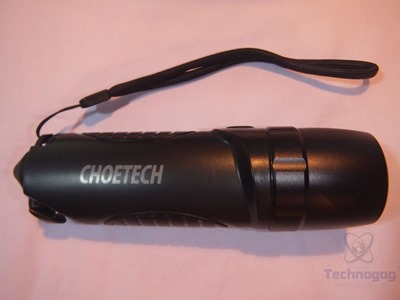 On the front end is the LED with a protective clear cover and a silver/chrome reflector inside. The LED can product 3watts of power, there's no mention of the lumens in the specs though. The LED has three levels of brightness, low, medium and high.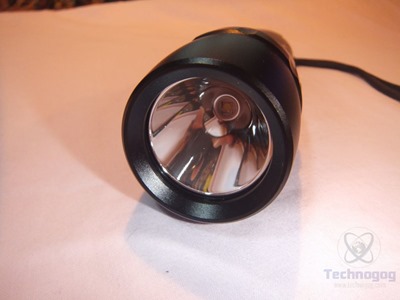 The front end screws off and on the LED side you'll see two metal circles that are the contact points to provide power the LED that mate with the pins on the main flashlight side. When you remove the front you'll see a fairly thick rubber O-ring there that keeps out dust and water. The front is a bit hard to get off honestly but that's good as it creates a decent seal to keep things out.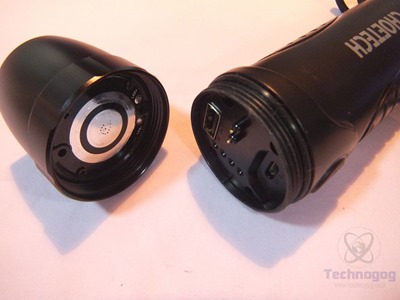 On the body side you'll see a microUSB port for charging the battery itself and then a regular USB port for charging your devices. There are also four blue LEDs here that indicate battery charge in 25% increments. You just tap the main power button to test the battery charge.
On the tail end is a rubber over over the glass breaker which is basically a metal cone shaped tip that applies pressure at a very small point which allows the glass to shatter. If you've ever tried to break a car window you'll know it's rather hard to do, not like the movies at all, but applying pressure at a very small point will easily shatter a window. I did not test this function, sorry I'm not going to break my window to do this, but it's well documented how these work and they do work. One other thing to mention about this is that it can make a decent impromptu defensive weapon as well, the light does have some weight to it and the tip is rather sharp and in an emergency you could use it as a defensive weapon if something bad were to happen.
Above the glass breaker is a wedge shaped section that sticks up and inside of that is a small blade that can be used as a seat belt cutter. The blade is sharp, I did test it to cut string and thin rope so I think it would work fine to cut a seat belt.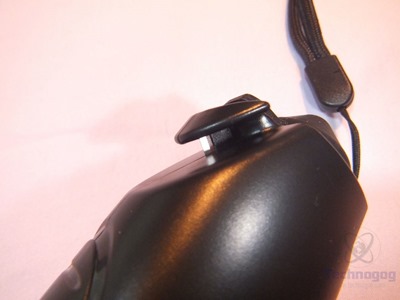 The light arrived to me mostly charged already at about 75% so it didn't take long for it to charge for me. I charged it just from my computer while I was doing other things, but as I'll be keeping this in my car I can also charge it with the USB charger that I have in my car for my phone.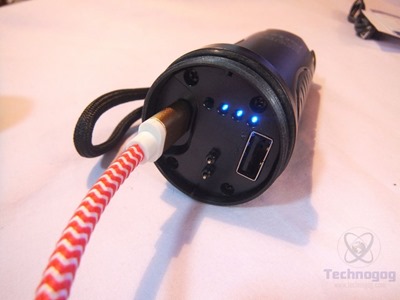 The USB port can output up to 2.1amps of power which is more than enough for most devices out there today, tablets and phones included. 2.1amps will enable your phone to be charged much faster which is what you would want in an emergency for sure. The battery is 5200mAh which is more than enough to charge most phones fully today. my Samsung Galaxy S6 has a 2550mAh battery in it which means I could charge it fully twice with this battery if need be.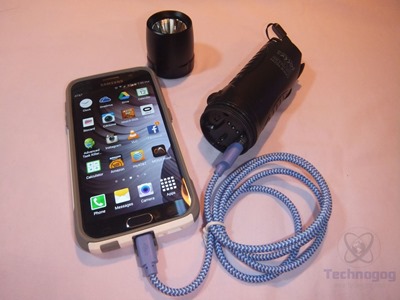 The LED light itself is very bright on the highest setting but you can adjust it from low, to medium to high or it can blink as an SOS to alert people you need help. Powering it on is simple just hold the button in and the light comes on, then press again and again to change the power levels but to activate blinking you need to double press the button. Most other lights it's just low, medium, high and sos/blinking by just pressing the button that number of times, but this one you need to double press to activate the blinking which I like. The light is more than bright enough to illuminate whatever you're working on like changing a tire or just finding something in the dark or finding your way.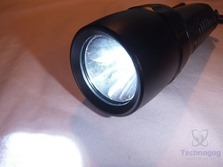 The light itself is slightly larger than others I own but that's to be expected as the others don't do what this one can do.
Conclusion
I like to be prepared for things that can possibly happen, I have a blanket in my car, first aid kit and other things but never a glass breaker or seat belt cutter. I keep a small flashlight in my car of course but it does require batteries and this one from Choetech is rechargeable right over USB which I already have in my car for my phone. If something happens where I have no power in my car I won't be able to charge my phone but with the Choetech flashlight I still can, I think it's a great multipurpose tool to keep in my car and that's where it is right now and where it will stay.
This isn't only for emergencies, you can take it with you camping as a light and battery for your phone and you can use the blade to cut small ropes and things like that.
I really like the fact that it's rechargeable and doesn't require batteries, that's just one less thing to worry about as I can charge it while I'm driving and it'll be ready when I need it.
I have to mention that my wife saw this and now she wants one, she tried to talk me into giving it to her to keep in her car but I said no, I guess I have to buy another one now. My wife is picky, she doesn't like much really, but she likes this light so that should say something there, she thinks it's useful as well.
No the light can't be focused but that's not that important to me in this type of light, it provides what I would call a medium spot, it's bright in the center but it lights up a decent are around the center as well. It provides more than enough light to change a tire or find your way in the dark to illuminate a path. More moving parts like a focusing ring means more things can go wrong, for an emergency light like this I want something that's basic but functional and this one is. I have many flashlights and I rarely ever change the focus of them really, I find a happy medium and leave it there, and that's what this light provides for me.
I like this product a lot, I've happily added it to the things I have in my car just in case of an emergency. Things happen, you never know and I like to be prepared, this light can be invaluable in an emergency surely.
I can highly recommend this light, it's in my car right now in the pouch attached to my drivers seat so it's always handy and there it will remain.
Pros:
+Very rugged and durable
+Multiple uses
+Bright
Cons:
-None really in my opinion
| | |
| --- | --- |
| Grading | Scores Out of 10 |
| Overall | |
| Design / Aesthetic | |
| Value / Price | |
| Performance / Usage | |
Disclosure: This product was given to us for review by the company for review purposes only, and is not considered by us as payment for the review.
To learn more about our review policy please visit this page HERE.