Up for review today I've got a quick one for you, it's a microSDHC card from ADATA. The card is class 10 and it's 16gb in capacity. Storage is a necessity in this day and age of portable devices, I know I never have seem to have enough room for everything. The problem is speed, you want a fast card not only for transfers but for access as well. So read on to see how this ADATA I have for review does…

Specifications: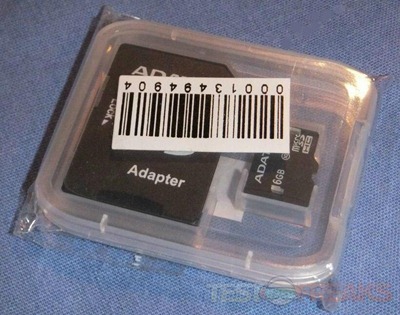 The card does come with an SD adapter if you happen to need it.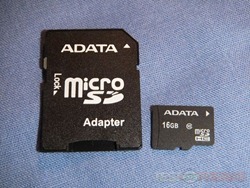 It's microSD card, it you've seen one then you've pretty much seen them all as they all look the same. The card does have the ADATA logo on it along with the capacity and the class.
A microSD card will be used for storage and for reading to and writing from, so that's what I test.
I use ATTO as it works just fine for testing.
I grabbed a bunch of microSD and microSDHC cards I had lying around ranging from 1gb all the way up to 32gb with different classes.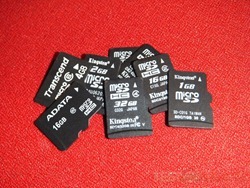 The cards are:
32gb Kingston Class4
1gb Kingston microSD
16gb Kingston Class2
8gb Kingston Class4
4gb Sandisk Class4
2gb Kingston microSD
4gb Transcend Class6
and of course the ADATA 16gb Class 10 in included in there as well.
Here's the test results for you individually:
So there's all the test results, kind of hard to read I think so I decided to make a chart for you, this way it sort of makes things easier. I grabbed the highest read and write speeds for all of the cards and used them for the chart. I used the Read speeds for the ordering of the chart.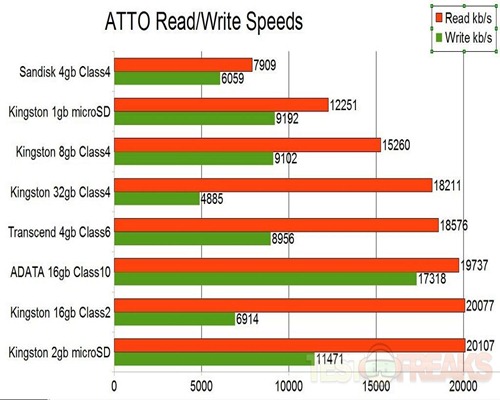 Read speeds are decent, the ADATA isn't the fastest but it'll do I think. Write speeds though, the ADATA is the fastest by a wide margin.
Conclusion:
The ADATA 16gb microSDHC card isn't a bad choice to upgrade or add additional storage to your portable device. It performs well, it has decent read and very good write speeds.
All in all I'd say it will work fine for storage. It's a microSD card, not exactly something exciting, but it's something we all need.
Pros:
+Fast write speeds
+Decent performance overall
Cons:
-Not the fastest read speeds
| | |
| --- | --- |
| Grades: |   |
| Overall | |
| Design | |
| Performance | |
To learn more about our review policy please visit this page HERE.