So what I have for review today doesn't need much introduction I think, at least I think you all should know what Angry Birds are by now! What I have for review is what could be called a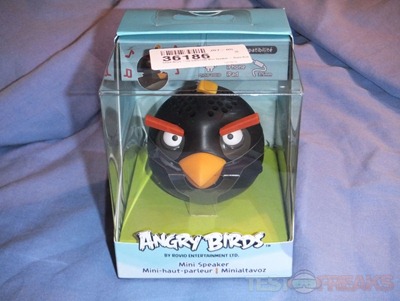 Once you get everything unpacked you'll find the speaker itself, a user manual, USB cable for charging and a cloth bag for carrying your bird around.
The bag is just a cloth drawstring style with the Rovio logo on a tag in the corner.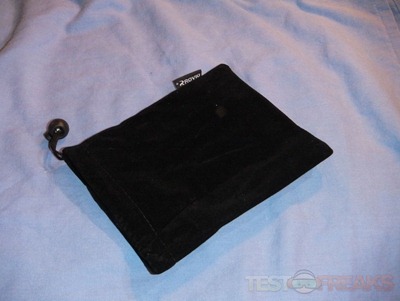 The USB cable is a mini style and it's used for charging the speaker.
As, I'm sure you can tell, it's the Black Bird or bomb bird! So here's several views of it for you:
On the back side you'll see the Rovio and Gear4 logos:
On the right side of the Black Bird you'll find the volume knob and the miniUSB charging port. I really like the fact that this speaker has an independent volume control, a lot of these types of speakers don't.
Then on the left you'll see an audio port as you can chain the speakers together for better sound. There's also the on/off switch and an LED indicator on the left side as well.
On the bottom is a rubber non-slip base and you'll see the audio cord there as well, it stores into a groove in the base when not in use.
The cord is a bit short at only about four inches. It would have been nice if the cord was longer I think.
The actual speaker is on the top of the bird and there's plenty of holes there.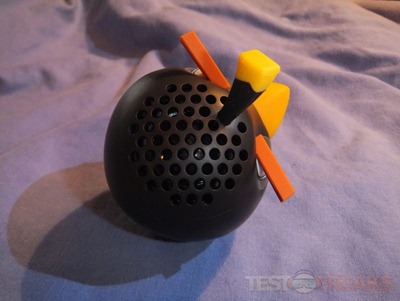 The speaker can expand to provide extra bass if you want it.
To open the speaker you just twist and pull, there are clips inside that lock it closed.
Specifications:

So for testing I listened to music and I was quite surprised by how loud this little speaker can be. I mean it's very loud, much louder than I ever would have expected.
I used it with my ZuneHD and my HTC Titan. I also used it with my PS Vita, but the cord is a bit too short for that kid of use as you've really got to hold the Vita.
The sound from the Angry Bird mini speaker is very clear, and it just sounds great overall.
I also tried it with the speaker expanded and it really does add more bass to the music.
When I turned it up loud the bird actually vibrated so much it moved slowly across my desk! It was kind of neat and scary at the same time seeing it moving like that. Anyway, this little speaker works great really, and of course it's Angry Birds so everyone should really like it that much more.
Conclusion:
So yes it's Angry Birds, it's a novelty speaker but it's one that actually works well. Gear4 makes a great product. The sound from the speaker is very good, and you can even enhance the bass by expanding it.
It's only one speaker but you can chain them together for better sound.
The Angry Birds Mini Speaker is one that can be useful and look great on your desk or anywhere else.
There is an included carrying bag so you can take it with you with some protection for it.
The audio cord is a bit too short for my tastes, but if you're not moving it and keeping it in one place you should be fine.
The price is a bit high for such a small speaker I think, but part of the price is the fact that it's Angry Birds.
Pros:
+Can get very loud
+It's Angry Birds!
+Lots of bass
+Simple and easy to use
+Decent battery life
Cons:
-A bit on the expensive side
-Audio cord is rather short
| | |
| --- | --- |
| Grades: |   |
| Overall | |
| Design | |
| Performance | |
To learn more about our review policy please visit this page HERE.