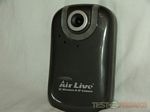 Cameras hooked to our computers were originally just for playing around, like a webcam for example, and their quality just wasn't that good. As technology progressed of course they got better and even more features were added, eventually the IP camera was introduced and we had a whole new way of using our cameras. Once wireless became popular we then had wireless IP cameras that offered the best of everything really, you could use your wireless connection to set up your camera most anywhere in you home and use it for surveillance and not have to worry about being tethered to your computer with a cable. The more the technology progresses the more features we get.
Today for review I've got a nifty little wireless IP camera from the folks at Airlive, it's called the WL-2000CAM, no special name, none needed really. This camera is wireless and it offers many of the features you'd see in a higher end professional surveillance camera and even a bit more like the ability to see and talk to the person in front of the camera. So read on to learn more…

Video unboxing first for you:
Here are some shots of the box and the contents. Airlive includes a very nice and sturdy mounting stand with the hardware to mount it as well.
The power supply is a small adapter that comes with a European plug so you'll need to attach the included adapter for US usage.
Here's the stand put together, it screws onto the back of the camera and can be mounted most anyway and it will swivel all around.
The camera itself is nicely made, it seems sturdy. On the front is the microphone and two LED indicators. Around the lens is where you'll find the lighting LEDs.
On the back is where you'll find the antenna connection and the hole for the mounting bracket.
On the bottom are the connections for ethernet, power and speaker along with a reset button.
Specifications:
The WL-2000CAM is an IP camera designed for high-level video imaging experience that generates MPEG-4 and M-JPEG streaming. With auto light sensor, its automatic night mode offers superior low light performance. It offers support for UPnP which makes seamless device connection and easy installation.
Full Function Wireless Camera
AirLive Wireless IP Cameras are designed for Home or Enterprise customers who demand performance with the latest technologies for mobility and functionality. It features simple plug-and-play installation and easy wireless operation that allows it to be placed anywhere effortlessly. The web-based configuration allows viewing the image from the Internet and various security functions such as video recording to a TFTP server. The 802.11g standard allows the camera to operate at 30 FPS and up to 640×480 VGA resolution. The 802.11g models add WPA support for even more secure data encryption.
Motion JPEG & MPEG-4 Compression Format
The WL-2000CAM is an advanced wireless IP camera with Motion JPEG and MPEG-4 capabilities. Using automatic light adjustment, Motion JPEG and MPEG-4 dual output stream allows for good compression performance with low bit rates and bandwidth requirements.
Versatile Application
This auto light sensor IP camera comes equipped with many advanced features suitable for all types of applications. The camera supports FTP, TCP/IP, SMTP, HTTP and many other Internetrelated protocols for remote surveillance. Motion detection with up to three sensors enables optimal performance of video detection by capturing images and sending those images for e-mail notification. With built-in auto-sensor LEDs that allow viewing objects in the dark, the WL-2000CAM constantly delivers superior image detail in any environment.
2-Way Audio Communication
The WL-2000CAM supports 2-way audio with use of the built-in microphone and separate computer speakers which allows for real-time voice communication between the camera and PC.
Language Pack Feature
This camera also comes with upgradeable device language pack offering seven different languages for user-friendly operation. These languages include Chinese, German, Spanish, Japanese, and more.
View from Mobile Phone
The RSTP protocol feature allows 3G and 2.5G mobile phones to display captured images from the camera for live video surveillance from a remote location. With automatic light adjustment that eliminates bit rate problems caused by poor night time performance, WL-2000CAM is the perfect answer to remotely monitoring your house while out traveling.
View Your Camera from Windows Live Messenger
Say goodbye to tedious and troublesome configurations or hard to remember IP addresses.  AirLive Network Surveillance now works with Windows Live Messenger so you just need your Live Messenger account to access all the IP cameras you had installed. You can use Windows Live messenger to remotely monitoring your properties while you are away. Live video feeds of the IP Camera can be displayed using Windows Live Messenger, while providing its public IP address to users for access via the web browser. This feature is useful especially when the IP address of the camera is dynamically assigned.

Here's the camera mounted, I just used some clamps and stuck it to one of the shelves near my desk temporarily:
Here it is with the LED lights on in the dark:
The LEDS aren't going to brighten up the room, they only really work within a few feet, but the camera does well in low-light situations, just not in total darkness unless something is close to it.
To get started with the camera you'll need to install and load up the Intelligent IP Installer program that comes on the CD. it basically finds the camera and then you can set it up. You can access some of the settings from this part of the program.
To really get everything set up though you'll need to click the 'Setup' button on the top right side of the main menu, and even then you're only setting part of it and not accessing everything, for that you'll need to open the web browser. To pen the web browser you'll click the 'Link to IE' button beneath the window where the camera was found, yes you can only use Internet Explorer… What you find in these settings though is mostly administrator things like password, users, date/time, network settings, and language settings.
To really get into setting up your camera though you'll want to go into the web based interface which requires you to download a plug-in to make it work. When you first open it up you're greeted with a small menu on the left side and a live view from the Wl-2000Cam.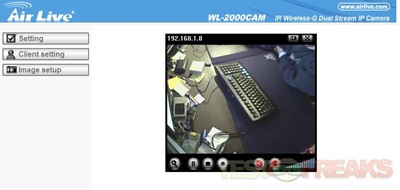 There are three options, the Settings option is where you'll find everything to do with the camera and more of the same network settings you already set. The other two are Client Setting and Image Setup, here you can set up the sizes of the images and videos and you can make adjustments to the picture quality as well. The highest you can go is 640×480, not the biggest but you'll see a lot more details…
When you click the settings button you'll find a lot of stuff to play with in there. It's divided into Basic and Advance categories with numerous sub-categories beneath them. A lot of the categories are the same as the initial setup was, but some pertain to just the camera like the wireless settings, lighting and the motion detection.
From here though you can also go in and adjust the motion sensor as well. You can have three specific areas to watch and you can set their thresholds and Sensitivity independently of each other.
I'll be honest here, the interface can be daunting, there's a lot in there really, it reminds me of some NAS boxes actually, but if you don't know much about these kinds of things you'll certainly want to read the manual to learn more about what you're doing. This camera is meant for home use, but i think the average consumer might be a bit overwhelmed by it all…
I don't have a video sample for you, but it's not the greatest, but it's better than I've seen on some more expensive security video cameras though. It is 30FPS so the motion is smooth, but a bit grainy, still though you can make out faces for identification purposes.
You can save the still captures in either .JPG or .BMP formats. Here's two captures, the first is the JPG and the second is the BMP file:
You can see the camera actually captures color fairly well, but doesn't like movements at all.
As far as connecting to a network is concerned, with the wire it's easy, it was identified and I could access it immediately. The wireless though was another story, sometimes  it worked and sometimes not. To get it to work though you have to connect it via ethernet cable and access the menus to enable the wireless and enter your information. The reason I say it worked sometimes and sometimes not is because I've got a new router and it works with this one fine, with my old D-Link router it was spotty, sometimes it would disappear, but with my new one it works fine all of the time.
All in all it's not a bad little IP camera for just playing around with. You can use it to monitor your home while you're away and access it from the web or even on your phone.
Since it has a microphone in it, you can hook up a pair of speakers to the camera and use it for two way communications like if you were to put it outside your door, you could see and talk to the person outside.
Conclusion:
The Airlive Wl-2000CAM Wireless IP Camera is not a bad choice for an IP camera. It's got plenty of features, and setup can be a daunting task, but once you're done I think it's well worth the end results you'll get.
The included mount is nice and sturdy, and the ability to use your phone to monitor remotely is a very nice feature.
The image quality is decent, it's honestly better than what I've seen from professional security camera that cost two to three times as much as the Wl-2000CAM.
Pros:
+Wireless
+Can be accessed from mobile phone
+Most of the features of a professional security camera
Cons:
-Can be long to setup
-Video could be better
-LEDs don't illuminate very far
| | |
| --- | --- |
| Grades: | |
| Overall | |
| Design | |
| Performance | |
This product was given to technogog for review by the company for review purposes only, and is not considered by us as payment for the review, we do not, and never will, accept payment from companies to review their products. To learn more about our review policy please visit this page HERE.