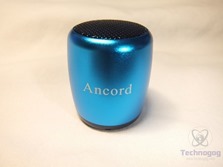 Up for review today I've got a Bluetooth speaker from a company called Ancord but this speaker is a little different and by little I mean it's tiny at under 2 inches tall but it packs a punch in terms of sound volume. I was amazed at just how loud this tiny little can get and it's clear and easy to pair. The speaker can control your phone or tablet for paly and pause functions but it can also be used as a shutter buttons for the camera making selfies easier. The speaker is very well made with an aluminum housing and it's easy to use. Read on to learn more…

Specifications and Features
The first thing you'll notice is just how small the speaker and how heavy it is for its size. It's not overly heavy but it feels a lot heavier than it looks. The speaker is just over 1.5 inches high or about 40mm high. The speaker looks like a cylinder but not quite as it's fatter in the middle so I guess it really looks more like a barrel, the speaker is about as wide as it is high. The outside is aluminum with the Ancord logo on the front, the one I got is blue in color but there are other colors available.
The bottom of the speaker has a multifunction button in the center for power, pairing, play/pause and shutter. Around the button is a rubber base so the speaker will stay where you put it and not slide around. There are also what look like two holes on the bottom, one is the LED indicator for charging and Bluetooth and then the other hole is the microphone. The micro USB port for charging is located at the side of the bottom and then there's also a hole for the included strap. On the top is a metal grill to protect the speaker inside so you can safely just toss it in your pocket or bag and the speaker won't be damaged.
I tested the Ancord mini speaker with my Samsung Galaxy S8 phone and my Amazon Fire HD 8 tablet and it paired very easily and quickly with both of them. The bottom button is both the play/pause and shutter button. When you first turn the speaker on the button is used for play/pause but if you double click the button is will set it as shutter mode so you can use the button to take pictures.
The speaker can get amazingly loud, I was quite surprised by just how loud it could get. Yes there is some distortion at high volume but that's to be expected, also how much distortion there is depends on the type of music you're listening to. Bass heavy music was very distorted at high volume levels. I found that when I watched movies at high volume there was almost no distortion except for a little with explosions and such things.
The speaker is very small which doesn't leave much room for a battery so don't expect long battery life, only about 4 hours max but battery life depends on volume level as well, the higher the volume the less battery life you'll get.
I like to use my Fire tablet in the kitchen while washing dishes or cooking and the speaker are nice but not quite loud enough with water running so this speaker was perfect for that for me.
Yes it's a single speaker so it's not stereo sound but you can get a second one and pair them together for stereo sound. I found the sound is fine with just the one speaker, it's very full sounding and pretty good really.
Conclusion
For such a tiny speaker it can sure put out a lot of sound, I very much like the Ancord Micro Bluetooth speaker as it's well made and sounds very good.
The speaker is tiny making it very portable, and since it's well made you won't have to worry about just tossing it in your bag with all your stuff, the speaker will be fine.
Sound quality is very good for how small it is, it's full sounding and can get very very loud but there can be some slight distortion at high volume levels depending on the type of music you're listening to.
The button can be used for play/pause but also as a shutter buttons for taking pictures and especially selfies.
All in all I really like the Ancord micro speaker, I'm happy with it, I'll be using it for some time to come with my tablet for sure.
Pros:
+Can get very loud
+Well made
+Can pair two together for stereo
+Pairs easily
+Remote shutter function
+Tiny and very portable
Cons:
-Only about 2 hour battery life at max volume
-Some distortion at high volume depending on music
| | |
| --- | --- |
| Grading | Scores Out of 10 |
| Overall | |
| Design / Aesthetic | |
| Value / Price | |
| Performance / Usage | |
Disclosure: This product was given to me for review by the company for review purposes only for free or at a discounted price.
To learn more about our review policy please visit this page HERE.