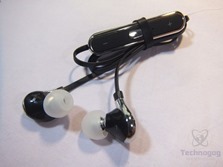 Up for review today I've got the Anleng Bluetooth sport earphones which feature an in-line remote control along with microphone for making calls. These earphones aren't bad, they're inexpensive but battery life isn't the greatest at about 3 hours of talk time and slightly less for music playback. Read on to learn more…

Specifications and Features
Once you unpack the box you'll find two bags and the user guide. Once you open the bags you'll find a microUSB cable for charging, extra earbud covers, plastic clip and the headset itself.
The earphones have a cable between then and a remote in-line. The cable is flat and thin and made of rubber, or it has a rubber coating. The total length is about 24 inches with the right side being shorter than the left as that's where the remote is located.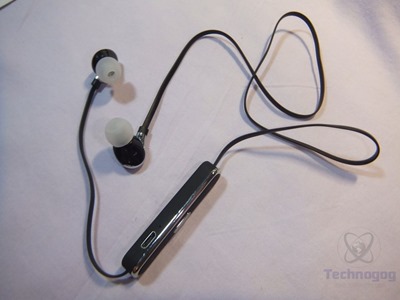 The remote is rather large at slightly over 2 inches long and about .25 inches thick. It has a single silver button in the center for play/pause and to answer and end calls. There are volume buttons as well on the ends that are labeled with plus and minus signs, these buttons are flush with the remote. There's a tiny hole in the top next to the silver button which is the LED indicator. On the side is the microUSB port but it's just left wide open with no cover on it. Next to the USB port is a small hole which is the microphone for making phone calls.
The earphones themselves are a black glossy plastic and a bit large but they're shaped like the inner surface of your ear and do fit comfortable inside.
The LED lights up either red or blue, when charging it lights up red and then turns blue when complete. For pairing it flashes quickly red and blue so that it really looks purple. The battery capacity isn't listed anywhere that I could find but they claim about 2.5 hours of music play or about 3 hours of talk time on a 1 hour charge. I guess that's not bad for working out and exercising etc but they certainly won't be lasting all day.
I had no issues pairing these with my Samsung Galaxy S6 and there are voice notifications like when pairing it says 'connecting' and then if you turn Bluetooth off on your device it will say 'connection failed'. It's a female voice and it's not unpleasant.
When you have these on they do seem to stay in place well and they are comfortable but I don't care for the remote location as when they're in your ears you can't see the remote at all really as if you pull it up it's off to the side of your vision and very close. You'll need to basically memorize the buttons but there's only three so it's easy really, you just have to remember that volume down is up or closest to your ear.
They claim these are sweat resistant and they are made as a sports earphones but the flat rubber cable sticks to a sweaty neck and I've had it pull the earphones from my ears. I'm also not sure about the open USB port as I don't know what happens if sweat or rain gets inside of the USB port, I don't think it would be a good thing though.
The remote control works fine for the most part but it's odd. I could play and pause and control the volume on my Android phone with no issues. The volume buttons also work to skip tracks by holding them in but you use the minus button to skip forward and the plus button to skip back. You would think that plus would be forward and minus would be back or at least that's how all other headphones of this type I've owned have worked.
Sound quality is decent, they are full sounding with decent bass emphasis but they really aren't noise cancelling unless you count turning the volume up as a way to down out the outside noise.
Conclusion
Even though these are inexpensively priced, the Anleng Bluetooth headset isn't something I would use all the time. Sound quality is acceptable yes but they have a short battery life and I don't like the flat rubber cable that sticks to my skin and sometimes pulls the earphones out of my ears.
These aren't bad, but they're not great either.
Pros:
+Decent sound
+Seem durable and well made overall
+Comfortable to wear
+Remote works fine
Cons:
-Rather short battery life
-Skip track buttons seem reversed
-Flat rubber cable sticks to sweaty skin
-Open USB port might cause problems
| | |
| --- | --- |
| Grading | Scores Out of 10 |
| Overall | |
| Design / Aesthetic | |
| Value / Price | |
| Performance / Usage | |
Disclosure: This product was given to me for review by the company for review purposes only for free or at a discounted price.
To learn more about our review policy please visit this page HERE.