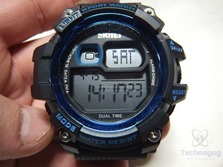 Yes I have another watch fro review from Aposon or Skmei, but this one isn't analog, it's a digital sports watch with multiple functions. This watch is selling right now on sale for $13.99 on Amazon and it's well worth the cost as it seems well made and rugged and it's even rated for 50 meter water resistance. The watch can tell time of course but it also has a timer, chronograph, alarm, dual time and it even even lights up. For the price it's well worth it for sure. Read on to learn more…
Specifications and Features
This is a digital sport watch so it looks very rugged and durable and it feels it really. The case is big and bulky to protect from shocks and it's also water resistant up to 50 meters or about 165 feet which would be fine for swimming or even snorkeling and just everyday usage and you won't have to worry about water damage. The watch has a black and blue color scheme with a chrome blue ring around the face. The shows the time in hours, minutes and second and the date is displayed as well in the main section. The top right window has the day listed and the top left window is a second animation.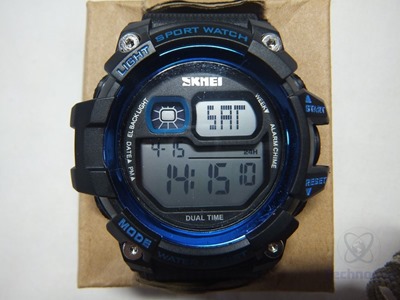 The right side of the watch has three buttons but the center one is fake. The left side has two buttons and then in the center is what appears o be a button but it's really the speaker, at least I think that's what it as as that's where the sound seems to come from.
The watch band is a black rubber or polyurethane actually and it's soft and flexible but yet seems durable and well made.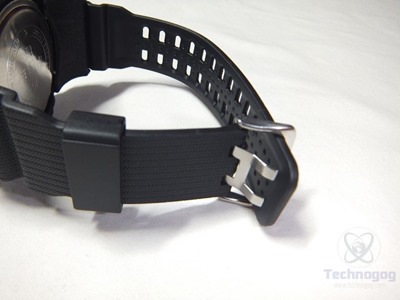 The bottom of the watch is stainless steel and it has the Skmei logo there along with the battery and water resistance rating.
The watch can do regular and military time and if you push the light button it lights up a bright blue so you can see it in the dark.
The watch has multiple useful functions for alarm, stopwatch, dual time and even a regular timer that you just access by pushing the mode button on the left side bottom and scroll through them essentially.
There's no doubt the watch is big, it's certainly a man's watch, it's big and rugged looking for sure.
Conclusion
This watch is certainly rugged and durable looking and it seems to be really.
I really like the blue backlight, it's bright blue and really let's you see in the dark.
I also like the multiple functions of this watch, it makes it all that much more useful.
All in all it's a decent watch that could be great as a daily watch to wear for work or taking on an adventure.
If you're looking for something a bit more stylish then check out watches by nomos.
Pros:
+Seems rugged and durable
+Multiple functions
+Bright backlight
Cons:
-Fake button
| | |
| --- | --- |
| Grading | Scores Out of 10 |
| Overall | |
| Design / Aesthetic | |
| Value / Price | |
| Performance / Usage | |
Disclosure: This product was given to me for review by the company for review purposes only for free or at a discounted price.
To learn more about our review policy please visit this page HERE.