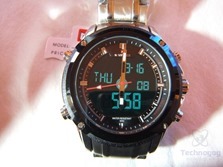 So lately I've reviewed a lot of watches, analog and digital but today for review I've got a combination analog and digital watch that I really like the looks of. This watch is from Aposon Naviforce and it's a men's watch with analog hands but the face of the watch behind the hands is digital showing the time and date, day and seconds. The watch is mostly silver with black accents and it looks very nice, it would be fine for business or casual for sure. Read on to learn more…
Specifications and Features
The face of the watch doesn't have any numbers on it just white and silver markings, the white parts will glow in the dark but rather faintly. The hour and minute hands are silver with white sections in them that will glow in the dark. The second hand is red and shaped like an arrow and it has a white piece in it as well that glows in the dark. There are two buttons on the left and two on the right and then in the center on the right is the winder button to set the watch hands. The buttons are for light, mode, start and stop, reset and set. The watch has modes for time, chronograph, alarm and timer. The watch is heavy at almost seven ounces but it feels rugged and durable. The watch is also thick at just over half and inch.
The watch band comes wrapped in plastic for protection during shipping. The band is heavy metal and the clasp is the dual lock style, you have the push the buttons on the side and then flip the lock open to unlock the clasp. You can adjust the size by removing one or more of the links just like any watch band of this style.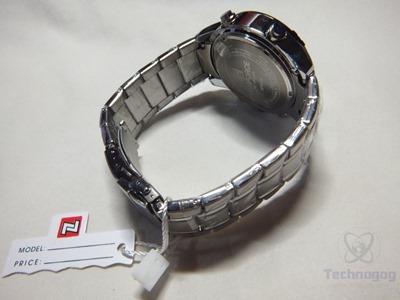 The back of the watch is stainless steel with the Naviforce logo there along with model number and water resistance along with the marking for all the buttons as well.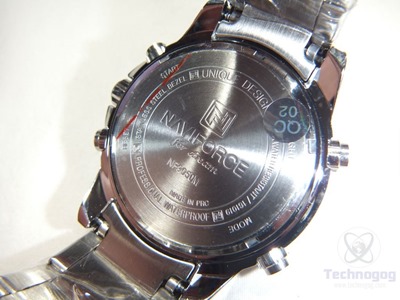 The watch face is large, it's most certainly a man's watch and it looks very nice, I think it would be fine for business or casual uses. The watch is waterproof to 30 meters so you could wear it swimming, or washing dishes or out in the rain and not worry.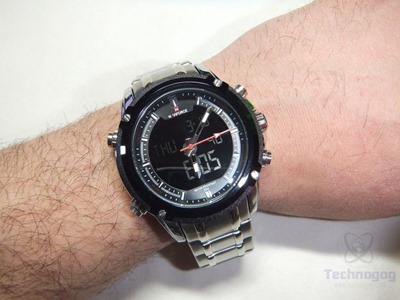 Conclusion
The Naviforce digital/analog watch is very nice looking to be sure, it's got plenty of extra functions that anyone would appreciate but the best part might be the price which is about $25 and it's well worth that.
The watch looks great yes but it's rugged and it seems well made and I like the fact that it's waterproof.
All in all this is a decent watch for sure, I'm very happy with it and I think anyone who buys it would be as well.

Pros:
+Rugged and well made
+Inexpensive
+Looks great
+Multiple functions
Cons:
-None that I could fine
| | |
| --- | --- |
| Grading | Scores Out of 10 |
| Overall | |
| Design / Aesthetic | |
| Value / Price | |
| Performance / Usage | |
Disclosure: This product was given to me for review by the company for review purposes only for free or at a discounted price.
To learn more about our review policy please visit this page HERE.