Up for review today I have a set of headphones from Arctic called the P402 which are what you might call a budget set of headphones as they are priced at about $15 on Amazon right now.  For that price you might not expect much honestly but I was  pleasantly surprised by these as they sound pretty good. The P402 headphones also have a microphone in-line so you can even make or receive phone calls while you're using them with your phone. Read on to learn more…

Unboxing
The Arctic P402 headphones come in a clear plastic box and there's plenty of information listed for you about them.
Inside of the box you'll only find the headphones and an adapter which is used for certain phones.
The P402 does not have a remote control but there is an in-line microphone so you can make or receive calls while using them and you can listen to music without taking them off.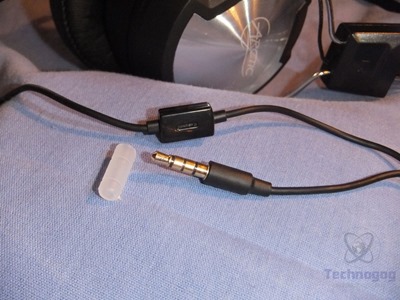 The P402 headphones are nice looking I think, they're mostly black plastic but they do have an aluminum plate on the headphones with the Arctic logo on them. The first thing  you'll notice about these is that they are very lightweight, they weigh only 130 grams or about 4.5 ounces.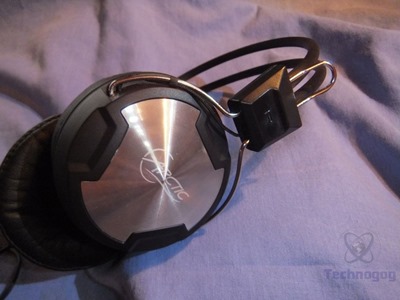 The P402 headphones feature 40mm drivers in them and they are very well padded and extremely soft.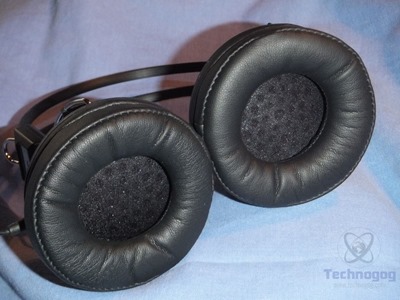 The headband is basically two plastic covered wires which I'm not sure about how comfortable it will be but we'll see in the next part of the review.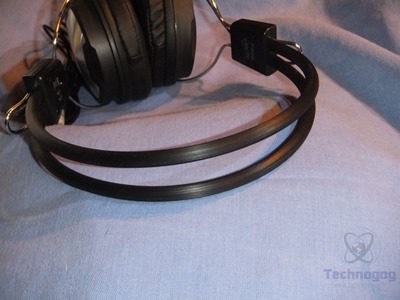 Specifications and Features
Arctic P402 Dynamic Headphones
With powerful bass, the P402 brings you a new sense of excitement in music. The soft and comfortable ear pads provide complete noise isolation with lasting comfort. You will stay connected to your social network thanks to its in-line microphone which allows you to switch between your music and calls – you will never have to take them off.
Lasting Comfort
The P402 is focused on wearing comfort and lightweight design. The slimmer cable maintains superior sound quality yet helps to reduce P402 to 130 grams. Its 15mm thick ultra-comfort ear pads allow you to enjoy wearing this pair of headphones around the clock.
Linearity
P402 is equally sensitive to all frequencies so that no frequency will be exaggerated. You simply get a more accurate playback of your music.
In-line microphone – for Smartphones and tablets
Enjoy your music, movies, and even carry on phone conversations with the best sound quality and completely hands free while being isolated from your surrounding noise.
Smartphone Adapter
There are mainly two standards for 3.5 mm jack on Smartphones. We have chosen the dominating standard used by popular manufacturers, such as Apple, HTC, Blackberry, Motorola, Sony Mobile and newer Samsung. Unfortunately, older Samsung models, Sony-Ericsson and others do not follow the same standard. Therefore we have included an extra adapter for your convenience.
Specs:
Headphone Type:Supra-Aural On-ear
Driver Size: 40 mm
Frequency Response: 20 Hz – 20 kHz
Impedance: 32 O
Sensitivity: 101 dB +/- 5dB at 1 kHz
Weight: 130 g
Cable Length: 120 cm
Connector: 3.5 mm Jack TRRS (Compatible TRS)
Price: $29.99 (from Arctic at time of review)
Price: $14.99 (from Amazon at time of review)
The Review
Personally I'm not a headphone type of person as I much more prefer in-ear style headphones or earbuds but I do have a couple other pairs of headphones, the SMS Audio Street by 50 and the Denon AH-D510R headphones. I should note that both of those pairs cost more than the Arctic P402 set does so it's not what I would call a direct comparison of these sets to the Arctic set. The P402 costs about $15 on Amazon right now and the SMS Audio sells for $180 while the Denon is selling  for $44.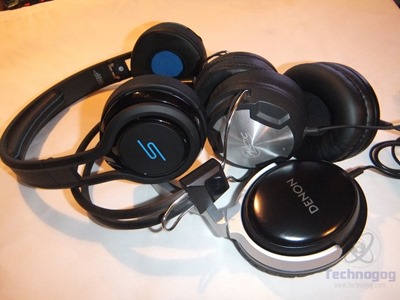 Usage / Remote:
There  is not remote control on the  P402 headphones but there is an  in-line microphone. I used the headphones with my HTC One Android  phone and I found it worked just fine for listening to music and for taking and receiving phone calls. I didn't have any complaints from callers so the microphone does its job well.
Comfort:
The Arctic P402 headphones are very lightweight making them comfortable to wear for extended periods of time.
My kids play games and they raise the volume to compete with each other an I like to wear my headphones to drown the noise out as it can get annoying at times and I can hear what I'm watching or listening  to better and I don't have to  compete with them. For example, yesterday, I wore the P402 headphones for about six hours straight as they wanted to listen to Christmas music and I really didn't. I found that the P402 headphones were very comfortable for long periods of time, only after about five hours did I really start to notice them on my head. Five or six hours is a bit of an extreme length of time to be wearing them I would think but it can be done with little to no discomfort.
I do wear contacts but in the evenings I wear my glasses and I found that you can wear the P402 headset with glasses without any discomfort that some headphones can produce with glasses.
The earpads are very soft and I noticed that even after a long period of time I wasn't sweating so they seem to let air in and not fully seal on your ears like some headphones do. I know I hate when  I take a pair of headphones off and my ears are sort of wet or damp with sweat.
The headband is just two plastic coated wires essentially and I was skeptical about  how comfortable this might be but they're so lightweight you really don't even notice the headband.
Sound  Quality:
Let me preface this by saying that for the price these are not bad at all.
That being said  the sound quality isn't the greatest, I found it a bit hollow and not full sounding, but overall not bad.
There is bass and  treble but there's just not a lot of either one. The specs say "P402 is equally sensitive to all frequencies so that no frequency will be exaggerated" so I guess this is why they sound the way they do with nothing standing out. This isn't a bad thing of course as I don't like anything overly emphasized but I do like a bit more emphasis on bass and treble than there is.
The sound is clear and they seem to reproduce the sounds very well.
Noise Reduction:
The Arctic P402 headphones have no active noise reduction and there is no passive reduction either listed in the specs.
They can keep some noise out, but not much really, you just have to turn the volume up more to keep the background noise out.
Cord Noise / Cord:
The first thing I have to say about the cord is that it's very thin and it seems fragile to me.
Yes it's nice that it's so thin as it's very lightweight, you really don't even notice it like other cords can feel heavy sometimes. It's so thin that I'm afraid I might break if if I'm not careful with it. It hasn't happened even though I've used them many times, so maybe it's just me being a bit over concerned when I shouldn't be, still it's worth noting for sure.
As far as cord noise, there really isn't any at all that I noticed.
Conclusion
When you pay under $20 for a set of headphones you honestly don't expect much,  I would think of them as disposable really, but the Arctic P402 headphones are much more than that.
The  Arctic P402 headphones pleasantly surprised me in their sound quality, yes they're not perfect but they do sound very good overall.
The P402 headset is very comfortable to wear for long periods of time which I think is a very important feature.
The microphone is in-line and it works well, no complaints here at all.
If you're looking for a budget priced but decent sounding set of headphones that are very comfortable I can highly  recommend the Arctic P402.
Pros:
+Lightweight
+Very inexpensive
+Comfortable for long periods
+Decent sound overall
Cons:
-No real noise reduction
-Slightly hollow sounding
-Very thin cord
| | |
| --- | --- |
| Grading | Scores Out of 10 |
| Overall | |
| Design / Aesthetic | |
| Value / Price | |
| Performance / Usage | |
To learn more about our review policy please visit this page HERE.