Headphones are great for gaming and watching movies when you need to be quiet. I've got small children and I like to watch movies and  play games at night time, late at night, and my kids need to sleep. What I have for review today very much helps me accomplish that and more of course. I've got the ARCTIC P531 5.1 Headset for gamers for review today, these feature a USB connection and not actual audio connections which I think makes life easier and. Having the USB connection allows you to just plug it into a front port, but if you don't have a motherboard equipped with surround sound it doesn't mater as the P531 headset has a built-in digital sound processor. This headset is for gamers so as you might expect it has a microphone and a lot of padding for comfort so they can be worn for long periods of time.

So we'll start with he box as usual which is very bright with its silver coloring. It has a window on the front so you can see the headphones along with specs and features listed as you might expect.
Inside of the box we find a plastic tray holding the headphones in place and a plastic bag with CD and user manual.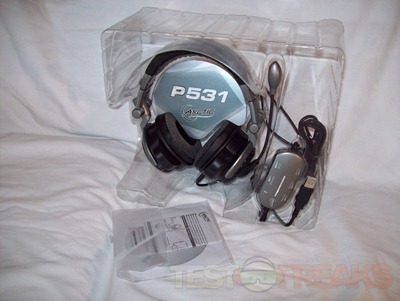 These are USB and the soundcard is built-in so you'll need to install the drivers and control software which can be found on the disc.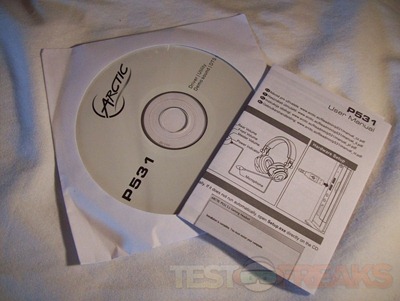 The P531 headset features a nice long 3 meter cable with an inline control unit.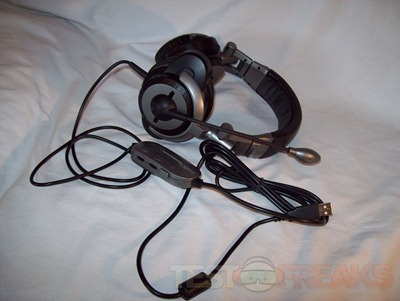 The control unit has labels on the front for Rear, Front, Volume, Sub, Center and Microphone. On the top and bottom edges you'll find the controls for them in the for of rockers, knobs and an on/off switch for the microphone.
On the top of the headset is the ARCTIC logo and underneath that is nice padded area that touches the top of your head.
The earpieces are large as they hold several speakers and feature a large area of padding on them, they're cloth covered for comfort.
The headband is expandable for size fitting and the earpieces themselves are on swivels that go right and left and up and down. The top section you'll notice and 'L' and an 'R' to indicate right and left ears.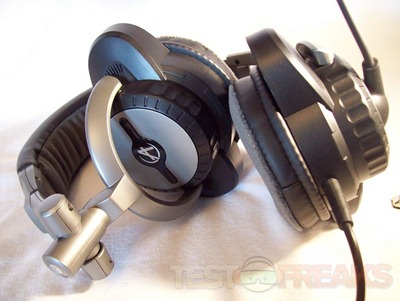 On the left earpiece is where the microphone is and it's very flexible, it can move all around wherever you need it to be and it will stay in place where you put it.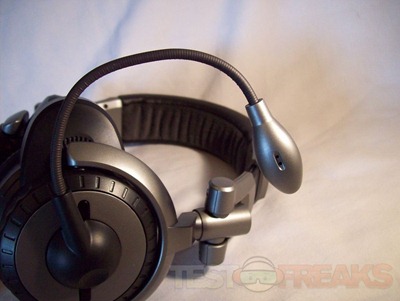 Specifications: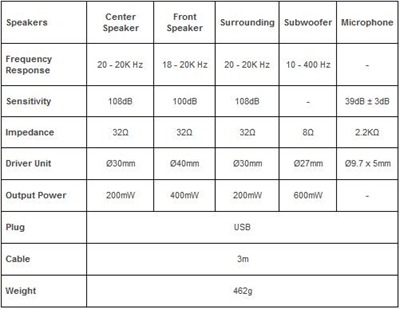 Price: $79.95
The first thing you'll need to do is install the drivers and software for the ARCTIC P531 headset, it's simple to do just a minute or so. Once it's installed you're ready to go.
The interface has five tabs across the top for Main Settings, Mixer, Effect, Karaoke/Magic and Information. On the main screen you'll find the main sound settings for configuring it how you want the sound to be and testing it.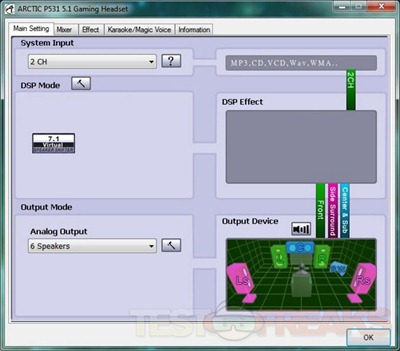 The Mixer tab is for the volume and microphone recording sound levels.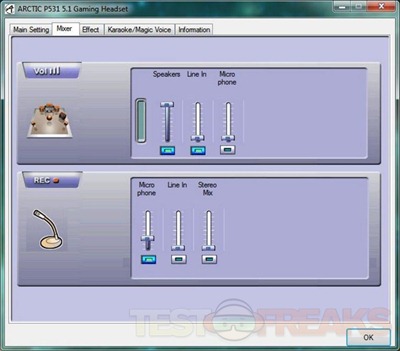 The Effect tab is where you'll find the Equalizer, Surround sound settings, and settings up how big your environment is or how you want it to sound.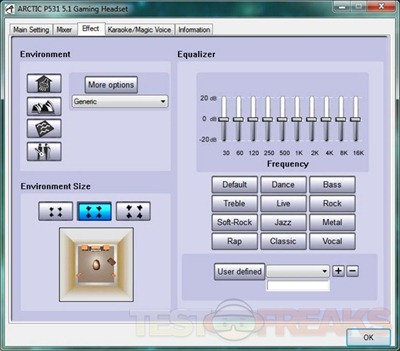 The Karaoke/Magic tab is kind of self-explanatory.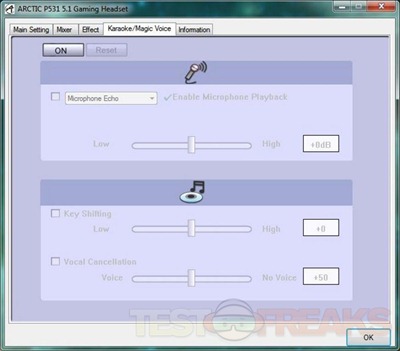 The last tab is just information about driver version etc.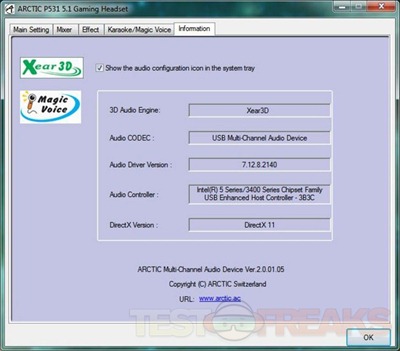 When you plug in the ARTIC P531 headset your other sound source will automatically shut off and the inline controller will light up letting you know you've got power and sound.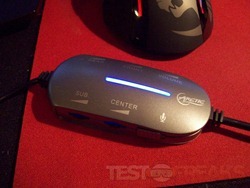 So once you've got that all setup it's time to play some games, listen to music or watch a movie and that's what I did.
When you put the ARTIC P531 headset on your head the first thing you'll notice is the weight, they are rather heavy honestly, much heavier than I expected. The padding works though, and it works very well to distribute the weight and make them comfortable to wear for long periods of time. Even though they're padded well, you won't forget you're wearing them, especially when you move your head from side to side.
The ARTIC P531 headset is very well made, yes it has a lot of plastic but it doesn't feel cheap like other headsets do. They have a lot of heft to them. The USB cord is thick and very long so it can reach where you need it to.
The inline controls are an excellent feature, not just for convenience but because it allows you to not only control the main volume but you can set center, front, rear and subwoofer volumes independently of each so you can truly customize the sound experience to your own tastes. 
The ARCTIC P531 headset has the surround sound processer built right in so you don't necessarily have to have a special soundcard to get that full surround stereo sound. This headset is USB which makes things much more convenient as you don't have to reach around to the back of your computer to find all of the audio ports, you can just plug it right into an available USB port on the front of your computer.
The sound from these is amazing really and they do an excellent job of noise isolation, meaning they keep the outside noises outside where they belong. If you just put the P531 headset on without anything playing you'll immediately notice things got quieter.
The sound is very good no matter what you're doing. For gaming it truly gives you an immersive experience, you can hear directional sounds and know where things like bullets, explosions or footsteps are coming from.
For movies they're excellent, they won't turn a regular non 5.1 surround audio track into surround but the sound is very good, nice and full, but using them with an actual 5.1 or surround encoded movies is just awesome.
The bass or subwoofer is loud and can thump, I had the earpieces actually vibrating on my ears, so much so I had to lower the subwoofer level as it was just a bit overwhelming. In movies and gaming you'll actually feel the explosions. Treble is good, you can hear the highs well. Directionality is excellent as well. I have a 5.1 speaker setup on my desktop computer and they are very comparable but the headset offers a much fuller sound experience.
The microphone works well, not much to be really said about it, I could be heard and I was told it was clear.
Conclusion:
The ARTIC P531 headset is very well made, it's got a solid construction and decent design. They look good and they feel good wearing them. They are plastic but they don't have a cheap feel to them like some headsets do because of all of the plastic they have. The USB cord is thick so you won't have to worry about breaking and it's very long, so it can reach pretty much everywhere you need it to.
The inline controls work well so you can individually set the main volume and you can set the front, rear, center and subwoofer volumes independently of each other for a custom sound experience tailored to your own unique preferences.
This headset offers excellent noise isolation, when you're wearing these you're truly in the game and outside sounds won't disturb you.
The one drawback with this headset is the weight, they're much heavier than any other headset I've ever had the chance to own or review. They are padded very well and it does a very good job of distributing the weight evenly and supporting the headset on your head. The only time you'll really notice the weight is when you turn your head from side to side quickly, then you can feel the weight shift. Overall though wearing them for long periods of time is not an issue, even though they are heavy there isn't any undue fatigue or strain on your neck or head.
The ARCTIC P531 headset has an MSRP of $79.95 and that's about right for a high-end or premium headset, which I can say these are.
Pros:
+Nice long cord
+Inline controls
+Excellent sound overall
+Good bass and treble
+Good noise isolation
+Great design and construction
Cons:
-Heavier than most other headsets
| | |
| --- | --- |
| Grades: |   |
| Overall | |
| Design | |
| Performance | |
To learn more about our review policy please visit this page HERE.