If you own a non-Unibody MacBook Pro then your machine is probably getting pretty long in the tooth. One component that is probably not pulling its weight anymore is the battery. Unlike the iPhone, iPad and MacBook Air the battery on these machines is user replaceable.
Recently the battery on my 2007 17" MacBook Pro decided to uncontrollably expand. Thankfully I removed the battery from my machine before it decided to mimic a six-month pregnancy.
When this happened I brought my machine and battery to my local Apple Store and was told since the machine was no longer under Apple Care coverage that they could not swap the battery and I would need to buy a replacement. Currently the Apple branded 17" battery runs $129. The Genius did offer to take off $30 off the price making it $99.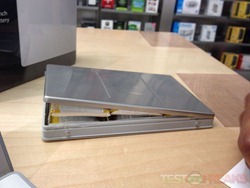 Before accepting this offer I decided to research alternative options and the most promising one was the NewerTech NuPower Battery for all MacBook Pro 17″ non-Unibody 71 Watt which offers 4.4% more capacity, The price was $119 for this larger capacity battery or $89 for a battery that was comparable to the Apple 68 Watt branded version.
The NewerTech NuPower Battery for all MacBook Pro 17″ non-Unibody comes in a white cardboard box with an image of a MacBook Pro and the battery. On the back is a listing of Specs and a Model ID/Info compatibility list.
Inside the box we find just the battery padded in Styrofoam; nothing else is included. The OWC site has a link for recommended conditioning for your initial use of the NuPower Battery.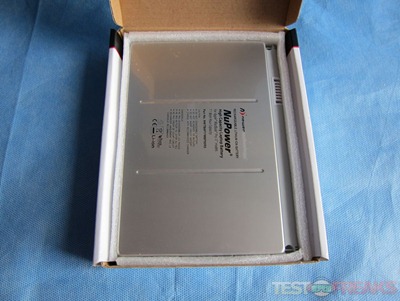 Aesthetically the NuPower Battery looks identical to the Apple version. The exterior has the machined aluminum coating with the power indicator lights and test button. The only distinguishable difference is the label on the inner surface of the battery otherwise they both have the same dimensions and weight.
Specifications:
NewerTech NuPower Battery for all MacBook Pro 17″ non-Unibody
A Perfect-fit Solution
NuPower batteries are engineered to perfectly complement the fit and finish of your Mac notebook as well as offer full compatibility with applicable OEM sleep and power reduction modes.
Powerful and Responsible
NuPower battery upgrade solutions are environmentally responsible and feature RoHS certification to be free of lead, mercury, cadmium, PBBs, and PBDE. We also offer a comprehensive recycling program for your old battery, as well as an industry-leading 1-year warranty.
Newer Makes Your Mac Better Than New!
When high-performance, quality,and longevity are your battery upgrade criteria, NuPower is your answer. NuPower batteries are designed to meet and exceed factory specifications, so now you can listen to more music, watch more videos, and get more work done between recharges. To ensure your confidence and satisfaction, these highest-quality batteries are backed by free, award-winning US-based support and a one-year, 48-hour or less turnaround warranty.
Battery Specs:
-Lithium-Ion Technology
-71 Watt-Hour
-RoHS certified
-1yr NewerTech Warranty
Price: $119.99
To prepare the NuPower battery I followed the directions on the OWC website. First I charged the battery overnight for 12 hours uninterrupted. Then I ran my machine on battery power until it was total discharged then recharged the battery using the MacBook Pro AC adapter.
Here is a comparison of the NuPower battery and an Apple model using the battery health monitoring software – Coconut Battery. 6600 mAh is the standard capacity for a 17″ MacBook Pro Non Unibody battery and as we can see the NuPower one tops out at over 7300 mAh.
With the NuPower battery I was able to get around 4-4 1/2 hours out of my MacBook Pro that has an SSD and additional hard drive in place is a definite battery drainer. This provided my MacBook Pro with a slightly improved battery life. So overall I was happy with the functionality of the NuPower Battery.

Thumbnail gallery here

Conclusion:

For those folks with older Apple laptops the NewerTech NuPower Battery is an excellent alternative to the Apple branded one. The NewerTech versions offer similar capacity and function while saving the buyer a few dollars in the process. They also offer slightly larger capacity ones that cost the same as the lower capacity Apple models.
Pros:
+Cheaper than Apple brand laptop batteries
+Looks like the Apple brand
+Works as advertised
Cons:
-None
| | |
| --- | --- |
| Grades: | |
| Overall | |
| Design | |
| Performance | |
To learn more about our review policy please visit this page HERE.