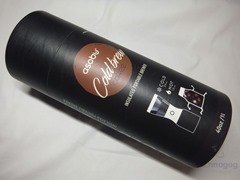 Coffee, coffee, coffee, I don't know about you but I can't start my day without my coffee, I just have to have it, in fact most days I wake up looking forward to it. Today for review I've got the Asobu Coldbrew portable coffee maker and yes it makes cold coffee, but it's an all-in-one system for brewing and taking your coffee with you. It's basically in three parts, the brewing chamber, transfer section and then the carafe which is a portable coffee container. Making coffee is a fairly simple process, instructions are included, but it takes up to 24 hours to brew it so you'll have to plan ahead for your morning coffee surely. The Asobu Coldbrew coffee maker makes a great cup of coffee and the whole system is portable so you can take it with you. Read on to learn more…

Specifications and Features
Asobu Coldbrew Portable Cold Brew Coffee Maker With a Vacuum Insulated 40oz Stainless Steel 18/8 Carafe Bpa Free (Black)
INNOVATIVE- Asobu Cold brew Insulated Portable Brewer is first of its kind in the cold brew market. Forget about diluted, bitter, and acidic standard ice coffee were talking about getting that amazing freshly brewed coffee every morning with your Asobu Cold brew maker
PORTABLE- The coffee maker comes along with an easy take on the go spill proof mug so you can enjoy your cold brew at home, in the office, park or on the road
HASSLE FREE- Use your standard medium course coffee grind and with our fine mesh you don't need to worry about having granules in your cup. Simply fill the mesh with 1.3 ounce of coffee pour cold filtered coffee in a circular motion three times and leave it to steep for 12 or more hours.
FRESH AND COLD- Our airtight and leak proof lid keeps your coffee securely where it belongs while the double walled copper insulated construction ensure fresh ice cold coffee for hours. So once the coffee is brewed it easily gets released into the on the go mug and your coffee stays fresh and cold for hours
SAFE AND PRACTICAL- 100% Bpa free and easily handed cleaned so your brewer will last a lifetime!
Price: $39.99 (from Amazon at time of review)
The Review

Let's start with a video unboxing and then move on:

The Asobu Coldbrew coffee maker ships in a attractive and very sturdy cardboard tube. The back of the tube has lots of information about the coffee maker, it has a nice diagram with all the parts marked and features listed for you.
When you unpack the tube you'll find the coffee maker wrapped in plastic for protection and to keep it clean. The coffee maker is rather tall at about 13 inches tall, and it's about 5 inches across at the widest point, the top, the bottom is slightly thinner at about 4.25" across. It's made of plastic and metal and looks nice overall and feel well made, you can get it in other colors as well, I got the black version.
The top is the lid of the coffee maker, the brewing section and it has a rubber tab that you can move that allows air into the brewing chamber. The top just unscrews from the clear brewing section.
When you first unscrew the top you'll find the instructions and the stainless steel lid of the thermos or carafe section of the Asobu Coldbrew coffee maker.
The coffee filter is a fine mesh stainless steel so it should last forever and it has a rubber silicone gasket around the top to seal it tight.
There are three main parts of the coffee maker, the clear brewing chamber, a center transfer section and then the carafe.
The center section has a large button in the center, you use this to release the brewed coffee down into the carafe when it's done and you're ready for your coffee.
On the inside you'll see a stainless steel ball on the top surrounded by rubber and then on the bottom you'll see a small lever, you push the button on the front which pushes the ball up and allows the liquid coffee to flow through.
The carafe section vacuum sealed and stainless steel and it's copper plated for maximum thermal properties to make sure your coffee stays cold and fresh all day long. The lid has a rubber gasket inside of it to make sure the coffee stays inside as the idea is to brew your coffee, and then just take the whole bottom section with you on the go. The carafe has a 40oz capacity, but you're using only 3 cups or 24oz water, the idea is that you have room to add ice, milk, creamer or whatever to it.
Brewing your coffee with the Asobu Coldbrew coffee maker is a lengthy process as it can take from 12 to 24 hours to brew, depending on how you like your coffee. You use regular coarse ground coffee in the filter, about 2-3 ounces depending on your preference and then 3 cups of cold filtered water. You brew the coffee in thirds, you add a third of the coffee ground, and add 1 cup water in a circular motion over the grounds and then repeat two more times. Then you close the lid and lightly shake the coffee maker to get the grounds to settle, and that's it, you just have to let it sit for 12-24 hours and it will be ready. The actual coffee making process is fairly quick, it's the 12-24 hours part that is time consuming. When I made my coffee I did it for 12 hours, I usually wake up about 7am now as the kids are off school so I prepared it at 7pm the night before. Drinking cold coffee in the morning is different that's for sure, but it is very good, there is a difference between hot brewed and cold brewed coffee for sure, it does taste different, it's not as acidic, and it's almost sweeter really, it's almost like drinking different coffee even though I used the same grounds I would for my hot coffee.
Conclusion

The Asobu Coldbrew coffee maker is certainly a unique product, I've never quite seen anything like it, it's a portable coffee machine really.
This product would be great to take camping as it's all in one really, set it the night before and you've got coffee ready in the morning, no need to worry about heating up water over a fire or anything like that. Sure it's not hot coffee like most people are accustomed to drinking but cold coffee is very popular as well and if you have kids you're most likely accustomed to drinking your coffee cold anyway!
The Asobu Coldbrew coffee maker is simple to use and clean and it's well made, I think it should travel well. You could even use the packing tube it comes shipped in for storage and travel as it's very sturdy and strong.
The carafe section really does keep your coffee cold for many hours, and it's sturdy and well made and it doesn't leak. The carafe is a bit large or wide, it won't fit into a cup holder in your car but it does have a wide base so it should move around much.
The cost is about $40 right now and I'd say that's about right for this product.

Pros:
+Seems sturdy and durable overall
+Makes very good coffee
+Simple to use and clean
Cons:
-Long brewing time
| | |
| --- | --- |
| Grading | Scores Out of 10 |
| Overall | |
| Design / Aesthetic | |
| Value / Price | |
| Performance / Usage | |
Disclosure: This product was given to me for review by the company for review purposes only for free or at a discounted price.

To learn more about our review policy please visit this page HERE.