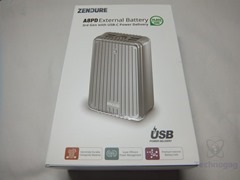 I've reviewed a lot of portable power banks over the years but none as big as the one I have today, it's a whopping 26800mAh in capacity! The portable charger is from a company called Zendure and it can charge everything really, from phones to game consoles to even laptops, yes I said laptops. I don't think I've ever seen a portable battery pack that can charge a laptop until now. The Zendure A8PD portable charger has five USB port including a USB-C port and they even include a USB-C cable for you that can convert to regular USB as well. This is a big battery pack! Read on to learn more…

Specifications and Features
Zendure 5-Port Output PD Portable Charger, Zendure A8PD 26800mAh PD External Battery Pack with LED Digital Display, 30W Power Delivery Power Bank for iPhone X, Nintendo Switch, Samsung S9 and more – Silver
30W PD Reversible USB-C Connector
30W USB-C PD port acts as input and output, which provides the fastest possible charging for most USB Type-C Laptops (e.g. 12" MacBook)
Power for a Long Trip (Allowed to Bring on a Plane)
A8PD charges 12" MacBook 1.7 times, iPhone X 7.3 times, Nintendo Switch 4 times, Galaxy S9 Plus 5.3 times. 26800mAh (99.2Wh) is the maximum capacity which can be brought on the plane as carry-on.
Fully Recharge within 4 Hours Only!
Only take 4 hours to fully recharge with 30W or more PD Charger (e.g. MacBook 29W AC Adapter)
Unique Pass-through Charging (Charge-through)
Charge A8PD while it charges 4 devices at the same time
High-Quality Battery Cell
Zendure A8PD has 95% power retention after 6 months without using, rarely seen in other power banks.
Precise LED Digital Screen Readout
Easily read exactly how much juice is left in the power bank.
Price: $94.99 (from Amazon at time of review)
The Review

Let's start with a video unboxing and then move on:
Once you get everything unpacked you'll find the battery pack, a couple instruction sheets, cloth drawstring carrying bag, USB cable and a set of stickers.
The USB cable is well made, it's the thick braided style but one end has a USB-C connection and the other end has a regular USB connector and a USB-C connection after you remove the regular USB connector. Handy cable to have for sure it let's you charge your devices and charge the battery pack.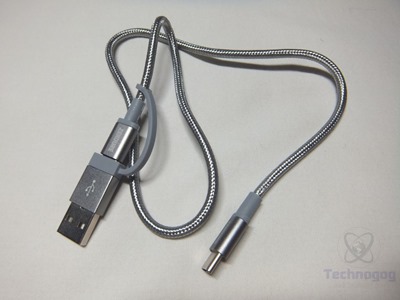 The A8PB battery pack is big which is to be expected as it's such a large capacity. The pack just a single button on the front and the Zendure logo there as well. The pack measures about 4.75" x 3" x 1.75" thick. According to the specs on the Zendure website it weighs in at about 1.06 pounds so it's not exactly lightweight, but still light enough to be portable.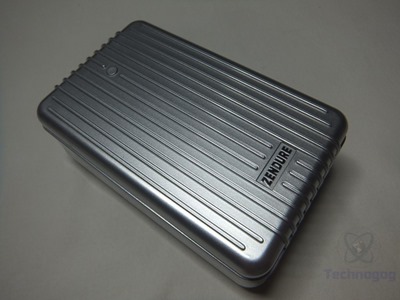 To give you maybe a better idea of the size of this battery pack, here it is with my Samsung Galaxy S9 which is in an Otterbox case:
The top of the battery is where you'll find five USB ports, four of which are just standard ones and then there's a USB-C port as well. When you press the button on the front the battery charge status is displayed in large bright numbers so you can easily tell how much charge is left on the power bank. The USB-C port works for both charging your devices and for charging the power bank itself.
The battery is huge and supposedly I can charge my Galaxy S9 at least 7 times with it which would give me a week of being away from a power outlet which is really good in my opinion. I tried charging my phone via the regular USB port and then via the USB-C port and it worked fine, charging seemed fairly fast really. You can take this power bank away for a week in the woods and still be in contact, this would be great for camping for sure. The specs say you can even charge a Macbook 1.7 times from this battery, I don't think I've even seen a portable battery that can charge a laptop, at least that I've reviewed or bought anyway.
Conclusion

The Zendure A8PB portable power bank is certainly useful, it's just got a huge capacity, I can easily go an entire week without plugging my phone in to charge it.
The battery pack itself is well made and it has five USB ports on it so you can charge multiple devices and you can charge while charging the battery itself.
The price of the Zendure A8PD might put some people off of purchasing it, it's about $100 and to me that's a lot of money to spend on a portable battery unless I'll be using it a lot to make it worth the cost. My son is in Boy Scouts and I'm sure he would love something like this to take camping with him to keep his phone and other stuff charged. This is one of those products that you really need to have a use for I think, and I also think there is a market for it.
The physical size is large but so is the capacity, and with a capacity of 26800mAh I can easily forgive the physical size of the battery pack. It's big but it's still portable, small enough and durable enough to just toss in your backpack or bag and go.

Pros:
+Huge capacity
+Includes USB cable and carrying bag
+Bright display
+Well made
+Multiple USB ports
Cons:
-Might be considered expensive
| | |
| --- | --- |
| Grading | Scores Out of 10 |
| Overall | |
| Design / Aesthetic | |
| Value / Price | |
| Performance / Usage | |
Disclosure: This product was given to me for review by the company for review purposes only for free or at a discounted price.

To learn more about our review policy please visit this page HERE.