If you've read my reviews then you'll know I'm a big fan of NAS or network attached storage devices, I just think they're much more useful than other types of storage available. Sure they cost a bit more but overall they're well worth it, in my opinion anyway. Today for review I have a NAS from a new company called Asustor. I've never heard of this company but the NAS I have for review has some decent specs like a dual core CPU and 1gb of DDR3 ram on-board. The NAS I have for review is the AS-602T model which is a two bay device or you can use two hard drives with it. This type of NAS is great for home or small office use. The 602T also comes complete with USB 3.0 ports, eSATA ports, dual Ethernet jacks and even an HDMI connection. From my testing and comparing it to other NAS boxes, the 602T is by far the fastest NAS I've ever owned or reviewed by a considerable margin in some tests. So read on for a rather large review of the AS-602T and see how it compared to other NAS boxes available on the market…

The AS-602T comes in a brown box with a nice little handle on it.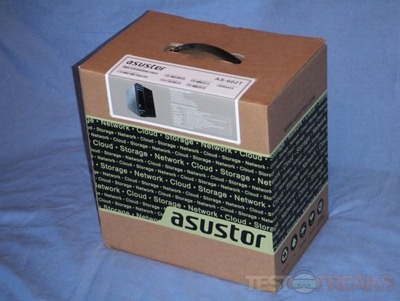 Inside you'll find the NAS packaged well wrapped in plastic and surrounded by styrofoam.
Inside the box, besides the NAS you'll find two Ethernet cables, a software and driver disc, screws, power brick and power cable.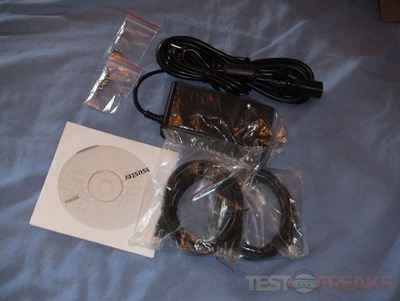 Here's the Asustor AS-602T NAS. The box is metal and not plastic like others out there. Plastic is nice yes, it's durable and it makes it lighter in weight. I personally like metal better because I think it keeps things cooler. I have no proof of this, but it's just one of those things. I'm sure a lot of you are the same way with something or another. Plastic is a great insulator I think, but metal just conducts heat better and therefore should keep the drives inside cooler.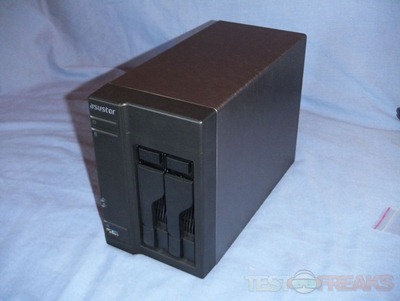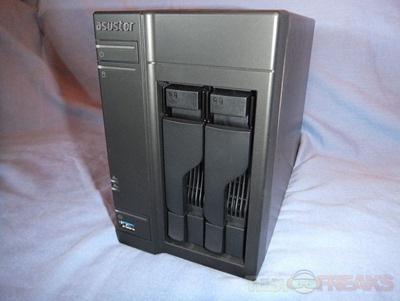 On the left side you'll see the Asustor logo, under that is the power button with power indicator, then under that is the hard drive activity indicator.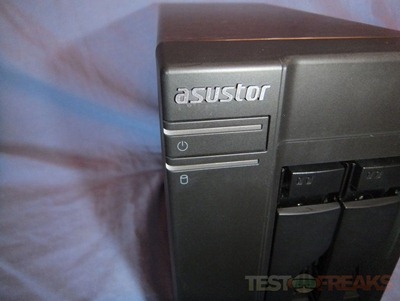 Towards the bottom you'll find two more LED indicators for network activity, yes there are two Ethernet jacks on the 602T. On the very bottom is a USB 3.0 port for instant backups or other uses.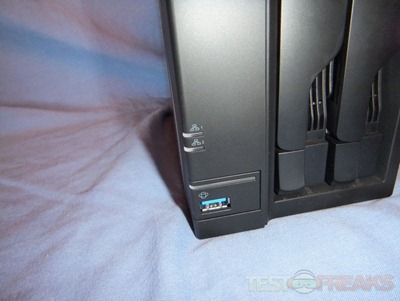 The AS-602T is a 2 bay NAS and you'll find two removable trays.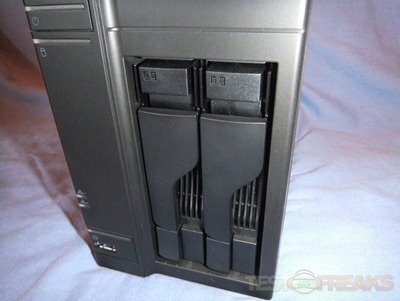 To remove the trays you just push the button on the bottom and the handle will pop out.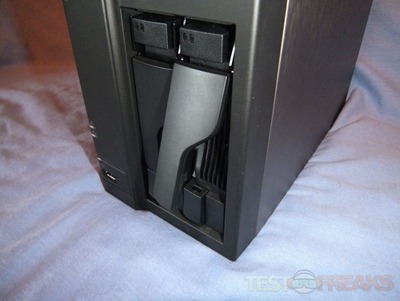 Then just slide the trays out to install the hard drives.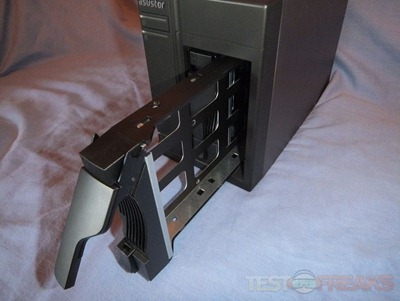 The hard drive trays are metal and can accommodate either 3.5" or 2.5" drives.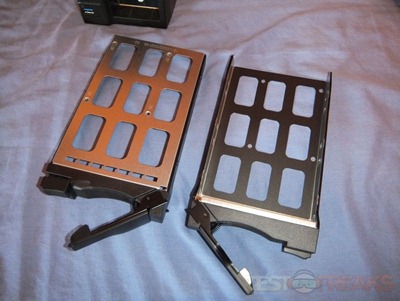 Here's what it looks like inside of the drive bays: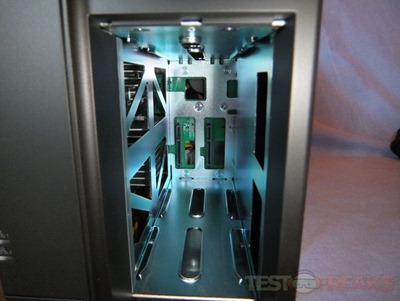 The sides of the 602T are just plain, nothing special on them, just vents really.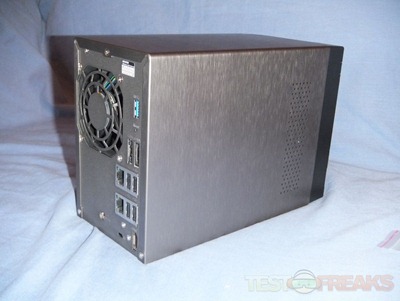 On the back you'll see a 70mm cooling fan along with a USB 3.0 port, 2 eSATA ports, four USB 2.0 ports, two Ethernet ports, a lock port and there's even an HDMI connection.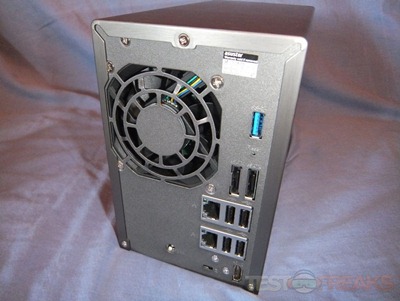 The HDMI connection allows you to use the 602T with an external monitor so the NAS can be a stand-alone unit, just like a little computer by itself.
On the bottom you'll find rubber feet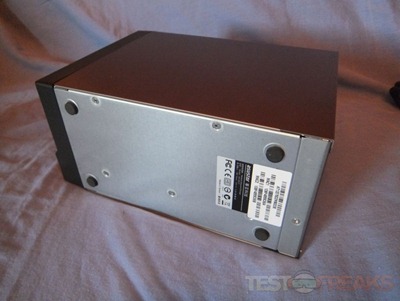 The cover of the 602T can be easily removed, but you can't really access much until you take it apart a lot more.
You can see the 1gb of ram and some rather large heatsinks though the cage.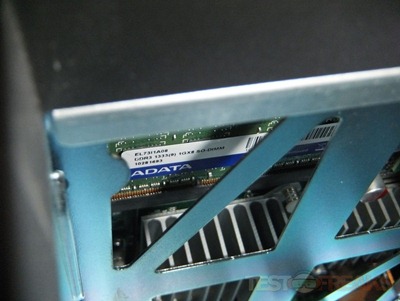 On the opposite side is a flap that you lift up and you'll find another ram slot so you can upgrade it if you want. I like this style of ram as it's user upgradable, it has 1gb installed but you can install up to three gigs if you think you need it.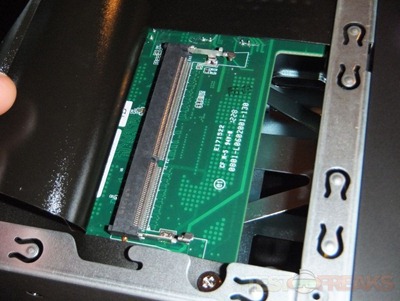 Specifications: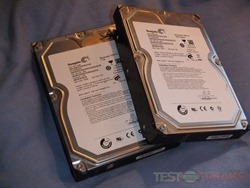 Installing the drives is easy, just use the provided screws and secure them to the drive trays and then just slide them into place.
When powered on the drive trays have their own LED indicators and there are others on the NAS itself indicating power and network activity and HDD activity. You can adjust the brightness in the settings or even turn them off, but more on that later.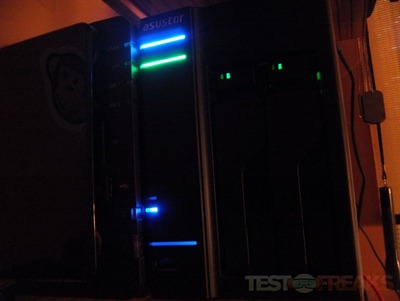 You need to start by popping the disc in and up will pop a menu with a few choices for Start, Quick Start Guide, User Guide, Control Center, Backup Plan and Download Assistant. The one you'll want to install immediately is the Control Center that will find the NAS and let you get started setting it up.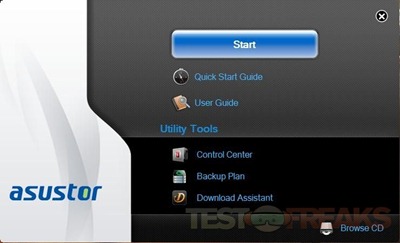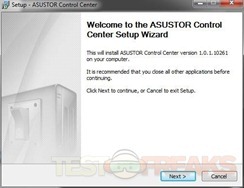 The Control Center will find the 602T NAS and you can get it setup via the Control Center so you don't have to access the NAS itself if you don't want to. This is just the basic settings though.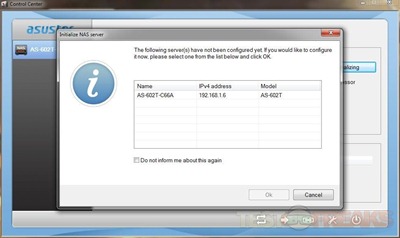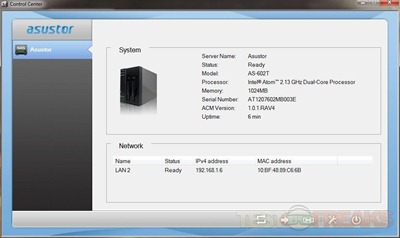 The control panel does have a few options at the bottom, for power, refresh and settings.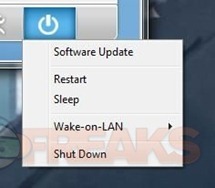 Setup is easy, just follow the prompts and you'll be done in no time at all. the 1-CliCk Setup is easiest and the recommended choice.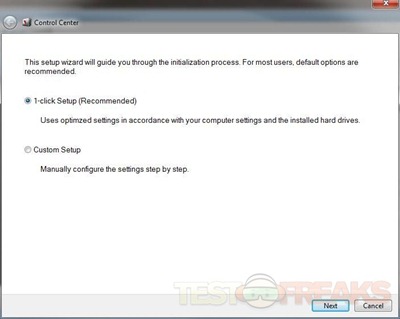 You can name the NAS, add a password and set how you want the storage setup.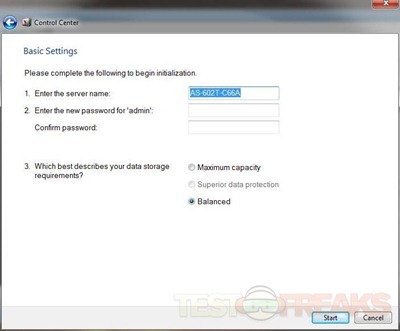 Then the system will initialize which takes a few minutes.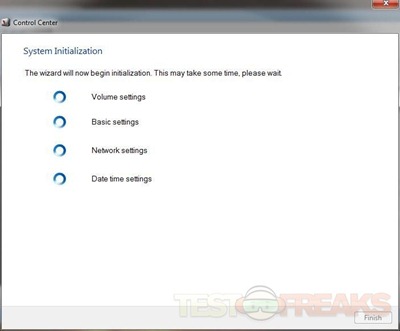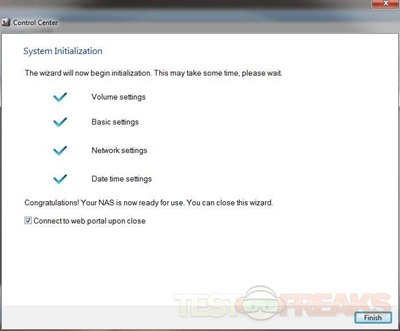 To get the most use out of the NAS, and well you have to do it to access the apps, you'll lastly need to register your NAS.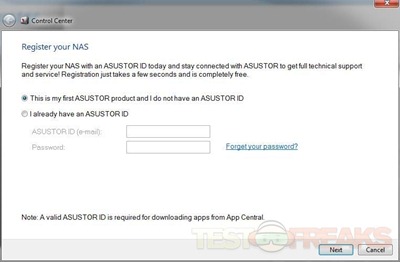 So let's get started with the NAS itself. To access it just input the IP address you found in the Control Panel into your browser and you'll be greeted with the login screen.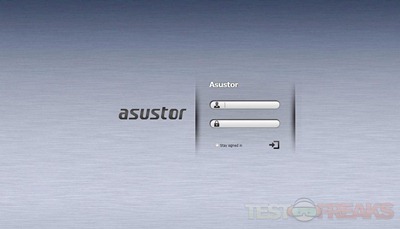 The NAS will automatically check for firmware updates, and when I first logged in there was one so before I went on I updated it.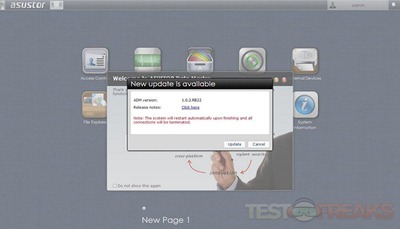 When you fist login you'll be greeted with the welcome screen where you can get an overview of the features of your new NAS.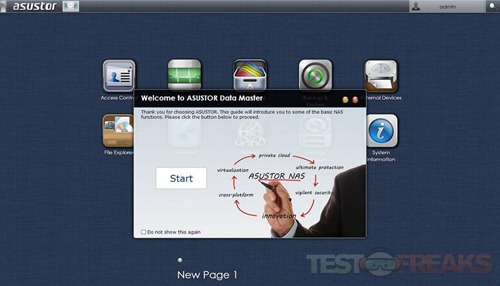 The main menu is rather sparse when you first login, you'll need to install apps and get everything setup.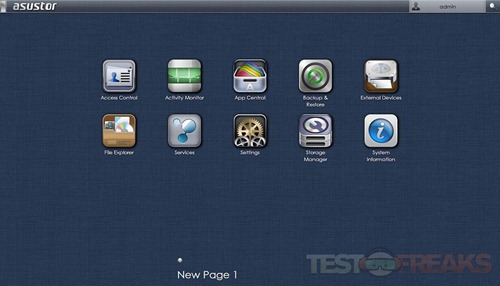 I want to show you the Settings, so I've got many screen shots for you.  There is a menu off to the left side with choices for General, Network, Regional Options, Hardware, Notification, ADM Defender, ADM Update, Network Recycle Bin, Energy Saver, Ease of Access, Factory Default and Registration.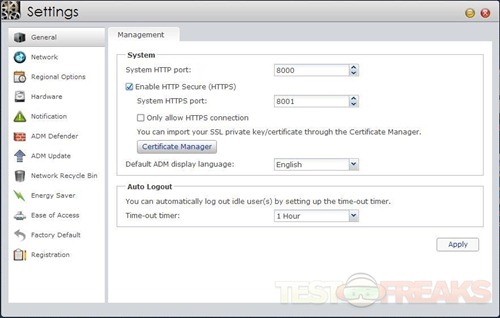 The network settings does have other tabs to open and the 602T can be used with wi-fi, but you'll need an optional USB adapter.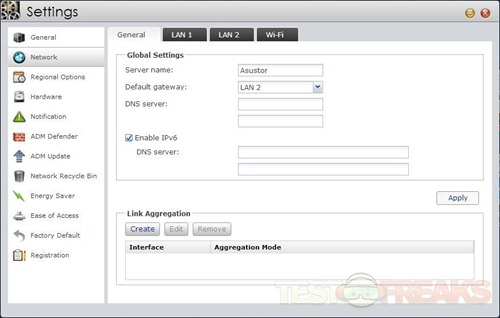 Regional settings is just for time zones basically.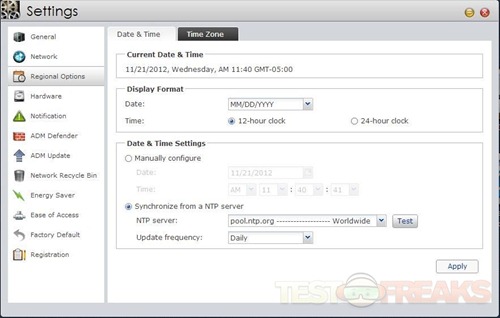 The Hardware menu has four tabs for System, Disk, Power and Fan Control.
The first menu is for changing the LEDs, you can disable them all, of each individually and you can adjust the brightness. You can also set how you want the buzzer to work.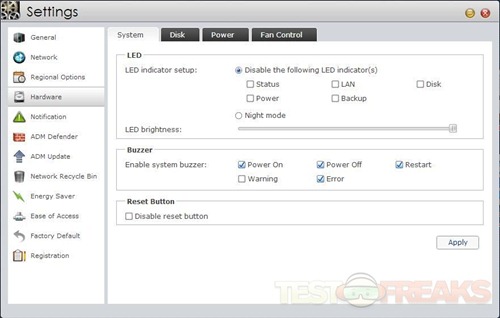 The next is the disks, here you can set the hibernation times for internal and any external disks you might be using.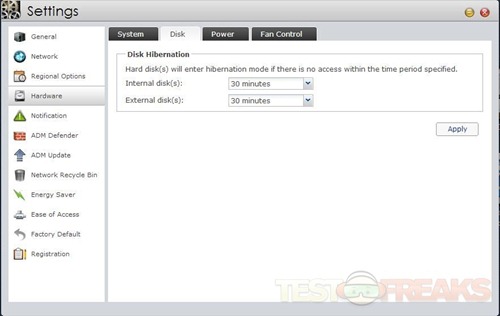 The next tab is Power settings to help regulate power consumption and scheduling.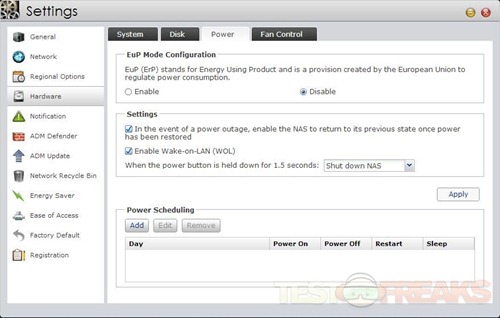 The last choice is Fan Control, you can set it to Auto and let the NAS control it or manually set the speed yourself.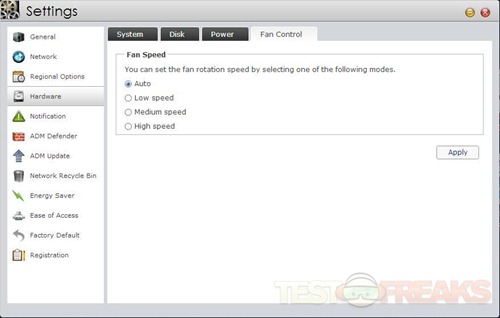 The Notification menu is for settings up alerts, you can be alerted to things happening with your NAS.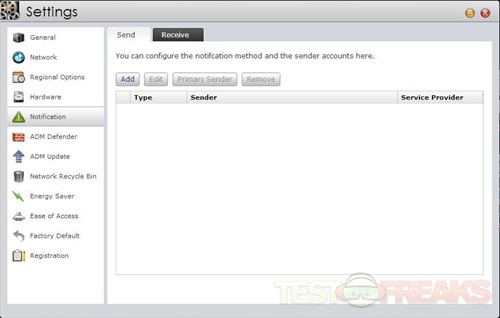 ADM Defender is basically a firewall for the 602T.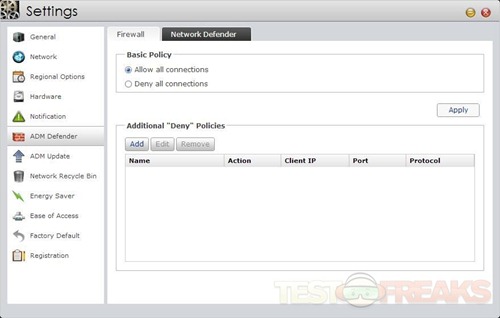 ADM Update is the firmware update menu.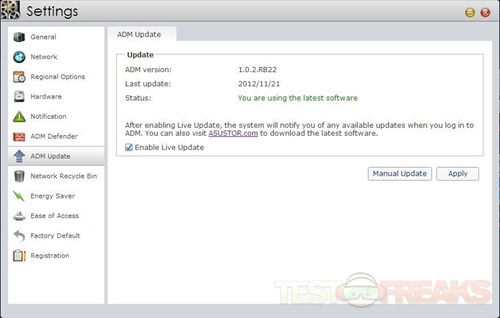 Network Recycle Bin is self-explanatory.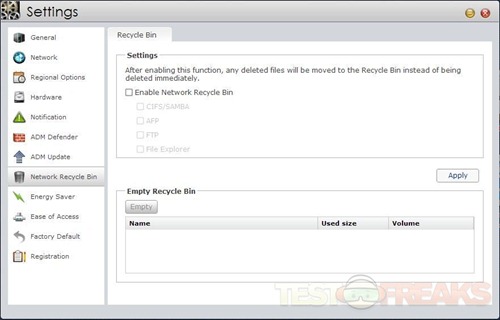 Energy Saver is another one that is self-explanatory I think.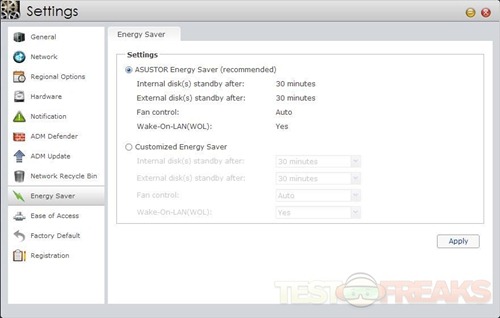 Ease of access has settings for the Cloud Connect which is an Asustor feature, along with router settings and DDNS.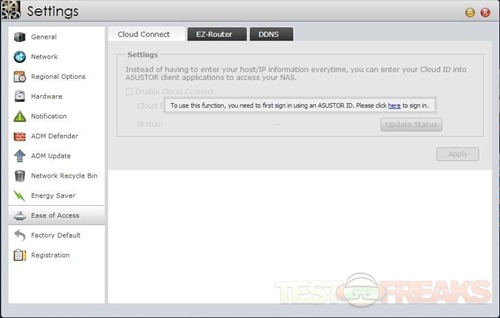 Factory Default is self-explanatory really, just reset the NAS basically.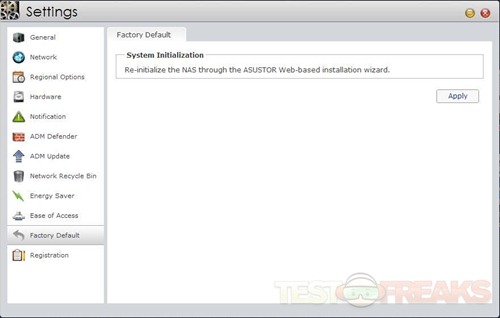 An the last page you can enter your registration information from when you registered via the Control Panel.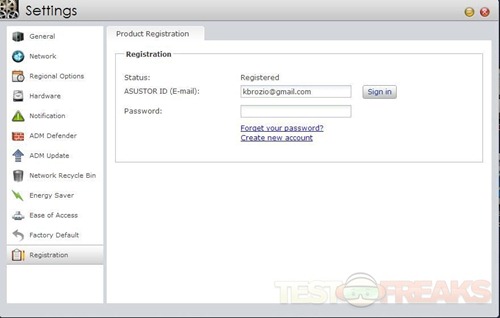 Access Control is basically just users and shared folders and privileges.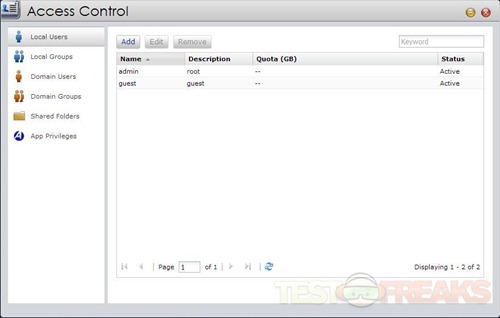 The Activity Monitor is just that, it tells you what the 602T is up to. There are five tabs for CPU, Memory, Network, Disk Usage and Process.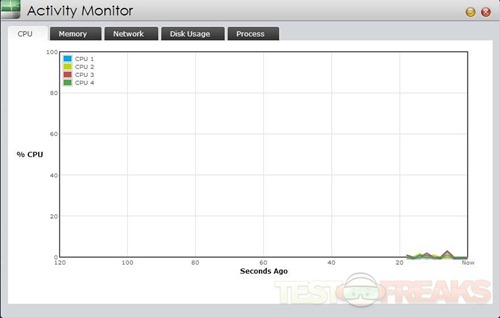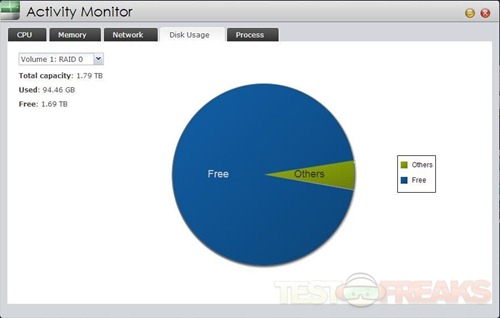 App Central is where you'll find the apps for the 602T, from here you can update them, install them etc.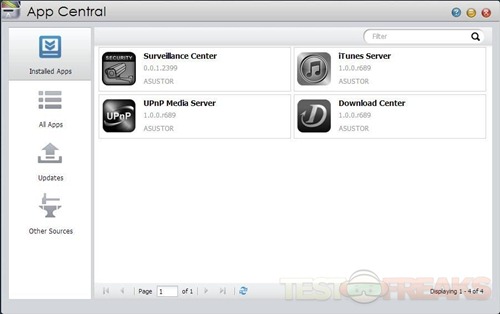 The 602T does have Backup and Restore functions built into it with options for Remote Sync, FTP Backup, External Backup, One Touch Backup, Cloud Backup and System Settings.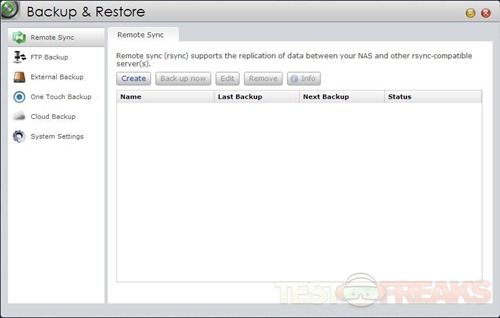 You can attach external devices like printers, disks and uninterruptible power supplies and monitor them from the 602T.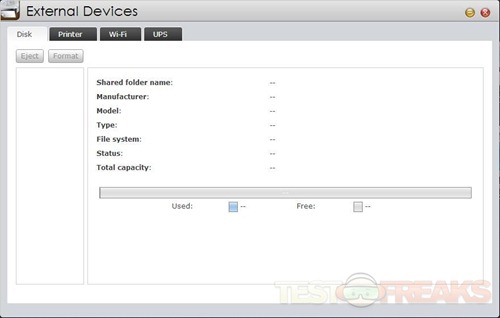 On of the options on the main menu is the File Explorer and it's similar to Windows with the ability to create folders, upload files and just browsing things.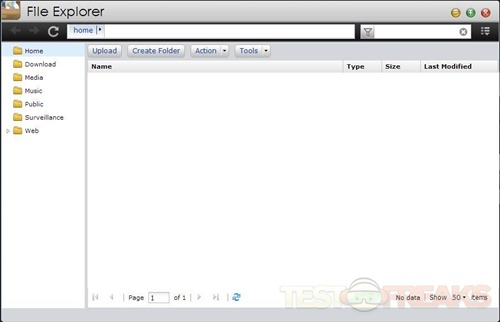 The Services menu is just that, the services you can run on the 602T like an FTP Server or Web Server including Mysql.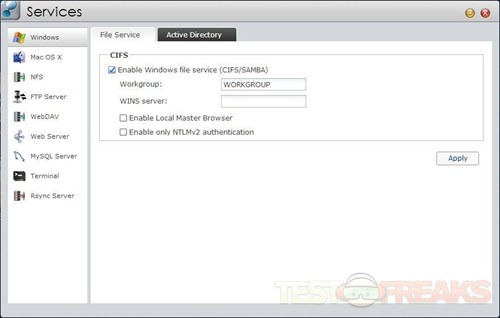 The Storage Manager is just that, it let's you manage storage and let's you see the stats of your hard drives and even check them and run standard drive tests on them. As you can see form the screenshots I set mine up in Raid 0 as I use it for FTP access while I'm away and even for streaming to other devices like my Xbox 360 and PS3. Storage space is what I'm concerned about mostly, eventually I want to get a couple 2tb drives and set it up with data protection or Raid 1 so that way I have the data protected and still have 2tb of storage space for my needs.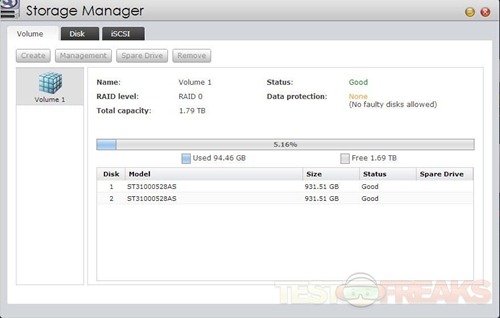 The AS-602T can be used like Windows, where you can open several windows at once which allows for multi-tasking. Not sure why you'd need to multi-task with a NAS, but it's nice to be able to.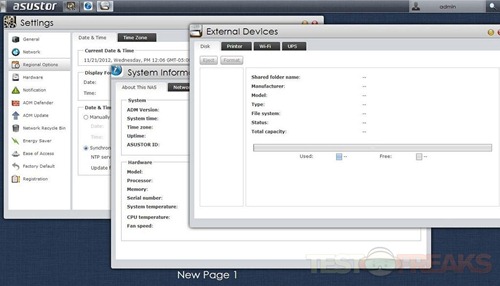 There are many apps you can download and install, I'm not going to look at all of them as this review is long enough. You can install things like WordPress, Xoops, iTunes Server, a Wiki and many , many more. You can see a list of apps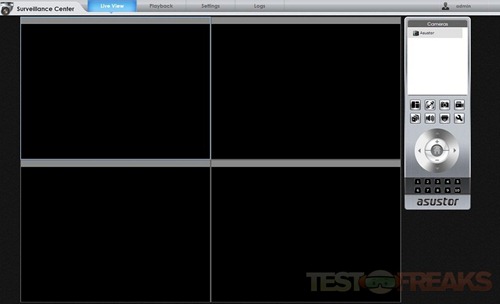 The 602T does have a built-in torrent client so you can download without your computer, it's called Download Center. Personally I've never used a torrent in my life, so honestly I'm not sure how or if it works.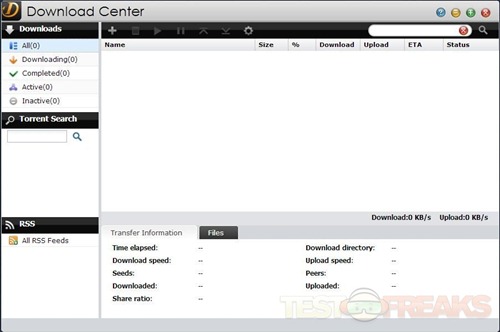 I mentioned streaming before, and there's a built-in UPnP server for you just for that. You can set folders to be used and even transcoding. Over the holidays I used it to stream media to my PS3 and it worked perfectly, picture was fine and playback was very smooth.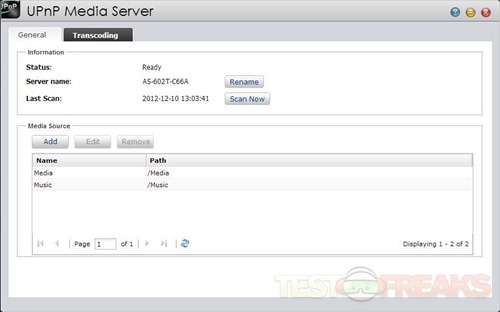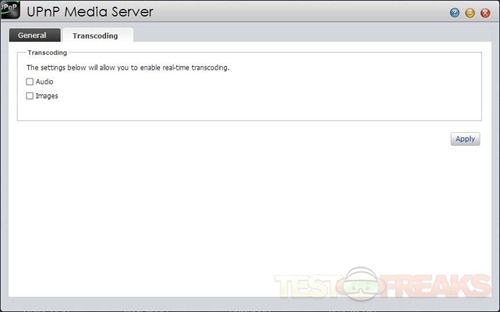 That above was all Admin access, but you can create regular users who will of course only have access to what the Admin let's them. The screen for regular users is access via the same login menu I showed you way above and it looks pretty much the same as the admin does.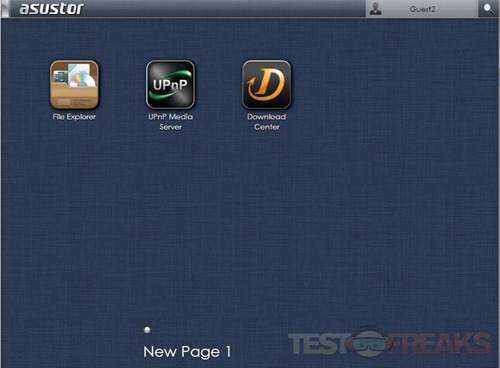 I've already covered File Explorer, UPnP and the Download Center so there's no need to show it again. It's the same for a user as it is for the admin.
Let's finish off this really large review with some tests for you. I run my tests with file transfers over FTP, this gives a good idea of the speeds you'll get.
For comparison I have the Synology DS210, Thecus 4200, Synology DS212 and the Thecus N2200XXX. Three are 2-bay and the 4200 is a 4bay NAS.
For my testing I test the transfer speeds to and from my computer to the NAS boxes of three different things, Small Video File Transfer (900Mb), Large File Transfer (3GB), and a Files and Folders Transfer which is a total of 3GB with 874 files within 199 folders. The three things I use for testing I think are similar to what an average person might be transferring back and forth to their NAS.
The results in the graphs are the average speeds, not the maximum speeds these NAS can reach. I use the average speeds because it's the speeds you can expect all of the time. I have a gigabit network so everything is done over that.
The first graph I have titles Transfer To Speeds, which would be writing to the NAS from my computer. The graph is ordered from slowest to fastest.
There's a lot of information here but look at the last two in the graph, they're both the AS-602T. Especially look at the last one which shows a very fast transfer rate, the highest I've seen yet from any NAS. The files and folders and the ISO transfer is fast, but the small video file was a bit slower but still fairly fast.
I should note that during testing I monitored the speeds and the 602T did reach over 100 mb/s at times, but it wasn't sustained of course. So it can be fast, but I prefer to use average speeds as I mentioned.
The next graph is the Transfer From test or read speeds.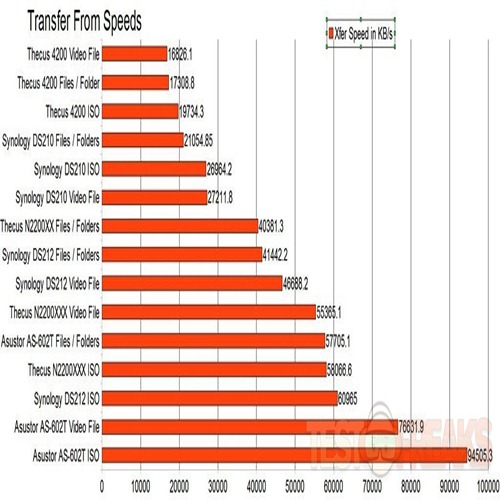 Again the Asustor AS-602T is the fastest, and if you look closer you'll see it's the fastest in every type of transfer that I tried.
So it's fast yes, that's a good thing, a very good thing. It's the fastest NAS I've ever tested. I've always been a big fan of Synology NAS boxes, but the AS-602T will be replacing my Synology DS212 as my full time NAS box.
The 602T is quiet, never once have I heard the fan during my testing or any other time it's been running.
The buzzers are annoying when you power on or off, but you can turn them off via the settings thankfully.
The LEDs are very bright but you can lower them or turn them off altogether if you want for nighttime use.
Conclusion:
Asustor is a new company and from what I've seen they've got a bright future if they keep doing what they're doing. The AS-602T is their 2-bay NAS which is great for home or small business use. I think the other companies out there that specialize in network attached storage devices should stand up and pay attention as they've got some competition in Asustor that's for sure.
The AS-602T is the fastest NAS I've ever tested or owned, and that's a good thing of course. Speed isn't everything though, the 602T is fully featured just like any other NAS out there on the market. You'll find options for pretty much everything related to storage and networking in the admin area. The settings can be a bit overwhelming for a novice user, but you don't have to use all of them if you don't want. Once you get it setup and running, it'll run fine without any real user intervention. The advanced settings are welcome though, and it's nice to have them so you can fully configure and control the 602T and set it up exactly how you like it.
The 602T allows you to install apps, and there is a plethora of them to choose from, you just access the app center and find what you want or need for your uses. It couldn't be easier really, just browse for what you want or need and then install it.
The 602T is simple to setup and use, the Control Center allows for basically one click setup, a few options and you're done and ready to start using it.
The price is a bit on the high side, coming in at $500 for just the NAS and no hard drives. The old adage 'you get what you pay for' really applies here I think, the 602T is a very well made box and the specs and features do support the higher price point.
The 602T comes with 1gig of DDR3 ram already installed for you, and there's an empty slot so the end user can upgrade the ram if they need to. This alone is a great feature to have I think, some NAS boxes come with the ram soldered to the board and you're pretty much stuck with what you get and you have no ability to upgrade if you need more. The 602T comes with a 1gb stick of 1333 ram, I just did a quick search on NewEgg and you can get a 2gig stick of Corsair 1333 for $11.99, so upgrading is very inexpensive and very much worth it.
If you're looking for a fully featured NAS box then I think you should really look into this one before you consider any others. The speeds alone I think warrant you possibly choosing the 602T over any other 2-bay style NAS.
I now I'm happy to have this NAS on my network for my uses, and I think anyone else would be too.
Pros:
+Very fast, excellent performance overall 
+Expandable memory
+HDMI output
+eSATA and USB 3.0 ports
+User expandable memory
+Well made and quiet
+Tons of features
Cons:
-A bit expensive
-No hard drives included
| | |
| --- | --- |
| Grades: |   |
| Overall | |
| Design | |
| Performance | |
To learn more about our review policy please visit this page HERE.