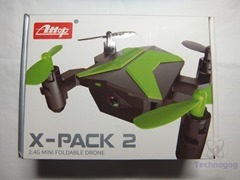 Drone, drone and more drones, they're just one of the most popular things out there these days and they come in all shapes and sizes and today I have a tiny one from a company called Attop. The mini drone is called the X Pack 2 and it actually stores right inside of the remote control making it very portable. I've been using it or actually playing with it everyday for a couple weeks and just love it, it's easy to fly and it's fast. Read on to learn more…

Specifications and Features
Attop Mini Drone for Kids, RC Quadcopter Portable Foldable Drone for Beginners RC Helicopter w/One Key Take Off, Headless Mode, Altitude Hold, 3D Flip, 2.4Ghz 6-Axis Gyro, Great Gift for Kids – X Pack 2
THE BEST CHOICE FOR KIDS AND BEGINNERS
FOLDABLE & PORTABLE DESIGN: The size of the X-2 mini drone is quite small and can fit in your palm. The kids drone is a foldable drone with folding arms. This foldable design makes it possible to fit the mini drone into the controller. This makes kids drone easy to pack and gives you the freedom to take them with you almost anywhere. Easy to fly right out of the box.
ONE KEY TAKE OFF/LANDING & ALTITUDE HOLD: Just press one key, you can control the drones for kids to take off or land, don't worry you have no control experience. This is the best choice of drone for beginners. Altitude hold mode enables the RC drone to maintain a consistent altitude above ground. It can give you an extra feeling of security and safety for your RC helicopter overall.
HEADLESS MODE: When the RC helicopter for kids is in headless mode, direction of the drone is always relative to where pilots face. No matter which way your mini drone is pointing, when you push forward, the drone moves forward. Headless mode offering care-free fly for kids, beginners, newbies, etc. Enable players of any level to fly and operate the drone easily.
3D FLIP & LED LIGHTS: Drones for kids and beginners can be easily flipped with just a push of a button. This RC quadcopter can 360° flip in 4 directions (left, right, forward, backward), not just a simple flip. The head and tail of the drone are equipped with bright LED searchlight to keep track of whilst in the air, so kids can fly the mini RC drone in the dark easily.
BETTER STABILITY AND CONTROL: 2.4GHz 6-Axis Gyro System offers excellent balance and a wide bandwidth of 50 meters for better handling. Even beginner can easily control mini drones. Please do not hesitate to contact us right away If you have any problem.
Price: $29.99 (from Amazon at time of review)
The Review

Let's start with a video unboxing and then move on:
The X Pack 2 drone comes in an attractive and sturdy cardboard box. When you open the box you're greeted with the accessory box and then under that is the drone and remote control.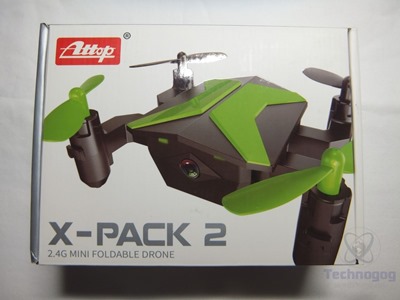 Inside of the accessory box you'll find the user manual, two AAA batteries, two spare rotors, screwdriver and a USB charging cable.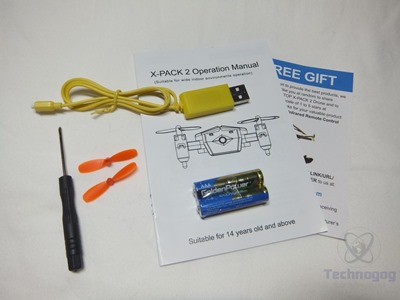 The remote is black and orange in color to match the drone, it's made of plastic of course but it feels sturdy and well made. The remote is about 5.5 x 3.5 x 2 inches in dimensions (14x9x5cm), those are taken from the widest points.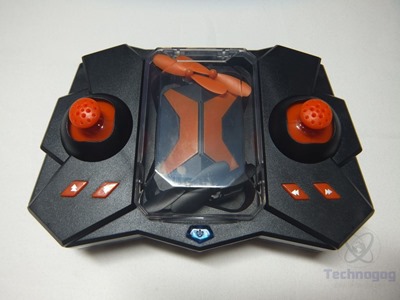 The remote has control sticks on each side, left is for up and down and rotate left and right, while the right stick is for forward and backward and fly left and right. Below the sticks are two buttons each to trim the drone as needed.
The X Pack 2 drone itself fits snugly in the compartment in the middle of the remote under a clear window. The cover closes well and makes everything very portable for sure.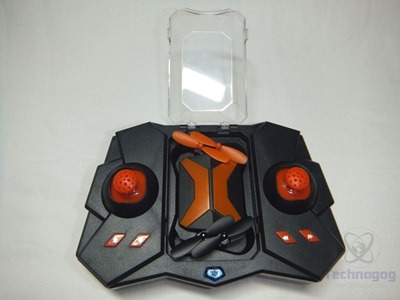 The top of the remote has two orange buttons, but it's actually just one button, the right button is fake but the left button is used for take off and landing and emergency stop.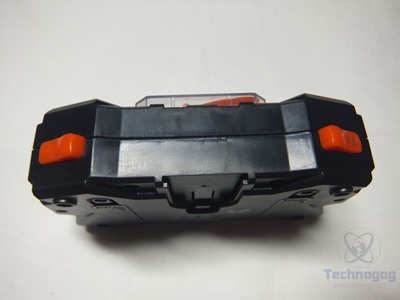 The bottom of the remote is where the batteries go, two compartments with doors secured by screws that hold one AAA battery each for power.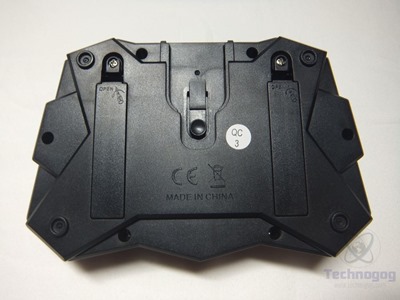 The drone is black and orange in color and it kind of reminds me of a bug really. The drone is tiny at about 2.5 x 2 x 1 inches (6×4.5x2cm)when folded. The drone itself is compact obviously so it's solid and it feels well made.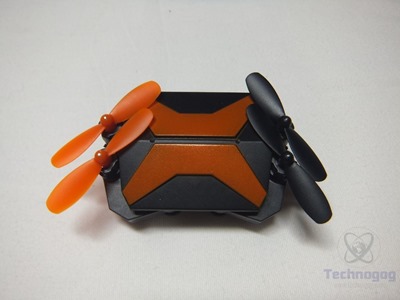 To use the drone you'll need to open the arms, they do offer a bit of resistance but not much and they lock into place when fully opened.
The front of the drone has a black circle which looks like a camera but it isn't. The back is where you'll find the charging port and power button, yes it's a very tiny button that you press to turn it on and off.
There's not much on the bottom to see really, just the hinges for the rotor arms.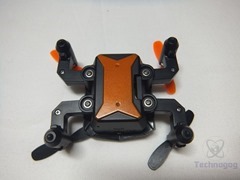 There are two green LEDs on the front and two blue LEDs on the back of the drone. They blink when pairing and stay when paired and in use but will start to blink again when the battery gets low.
So I love this little drone honestly, it's a ton of fun to play with and fly around the house and it's fast too, but it's easy to fly. One of the things I really like is the fact that it will auto hover if you let go of the controls while flying. The drone also can take off and land with the push of a button and it can do 360 degree flips. The drone also has a headless mode if you prefer that way of flying.
So here's a brief video of me flying the X Pack 2 and even doing some flips:
Conclusion

The Attop X Pack 2 mini drone is just amazing really, it's easy to fly and a whole lot of fun.
Flying time is about 8 minutes but that's normal for such a small drone, it takes about 30 minutes to charge the battery over a regular USB connection.

I love the fact that the drone auto hovers when you let go of the sticks, it makes much easier to fly without crashing, if you get in trouble just let go of the sticks and it will stop but still fly and you can continue where you left off.
The drone can do flips and it has one button take off and landing.
This is sold as a kids toy but I love it, it's not just for kids for sure.
I'm very happy with the Attop X Pack 2 drone, I've ben using it everyday and having a lot of fun with it.
Pros:
+Easy to fly
+Well made
+Great for beginners
Cons:
-None really
| | |
| --- | --- |
| Grading | Scores Out of 10 |
| Overall | |
| Design / Aesthetic | |
| Value / Price | |
| Performance / Usage | |
Disclosure: This product was given to me for review by the company for review purposes only for free or at a discounted price.

To learn more about our review policy please visit this page HERE.