The Review
No special packaging for the Boa Squeeze, just a plastic bag, none is needed though really.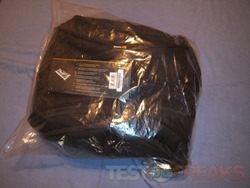 The Boa Squeeze is a very roundish style bag, it's certainly unique in its design, almost futuristic I would have to say. The exterior of the bag is made from rugged 1680D Ballistic Nylon which has a water-repellent coating on it to keep your stuff inside safe and dry. The exterior of the bag measures 300 × 432 × 160 mm or 11.8 × 17 × 6.3 inches. The interior is made from 420D ripstop polyester which also has a water-repellent coating on it and it measures in at 264 × 393 × 32 mm or 10.4 × 15.5 × 1.3 inches and it only weighs 1 kg or about 2.2 lbs.
The back of the bag is well padded and is covered in a mesh material to allow it to breathe or air to get back there essentially and help keep your back cool while you're wearing it.
The straps are very thick and well padded and have mesh on the inner side as well.
Sort of hidden at the very top of the bag on the back you'll find a metal tag with the Booq logo, UPC code and registrations number for the bag. This tag is for lost and found essentially and I'll tell you more about that and how it works later in the review.
Here's a side profile view of the Boa Squeeze, both sides look the same by the way and here you can see it really has a rounded look to it.
While we're on the side view, there are zippered pockets on both sides and they are exactly the same except one has a keychain fob and the other doesn't. The pockets are very large and have a smaller pocket in them and they're lined with a soft material that shouldn't damage anything in them.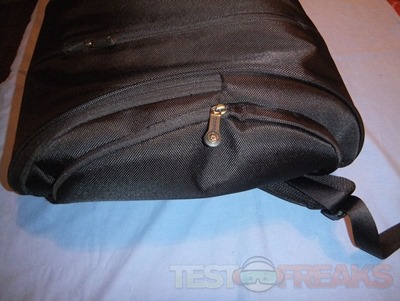 The pockets are actually large enough to fit a big water bottle in them and close the pocket, so they're pretty big I would have to say.