Up for review today I have the Braven 570 Bluetooth speaker but it's much more than that as it is also a speakerphone but more importantly it's also a portable battery to keep your devices charged. The 570 has a 1200mAh battery inside with a standard USB port so you can keep your devices charged while on the go. The Braven 570 is sort of an all-in-one device I guess you could say and it just sounds very good really. The 570 is made of an impact resistant polymer so it can withstand daily use surely and it comes in many different color choices. Read on to learn more…
Unboxing
We'll start with a video unboxing and then the pictures after:
The box for the Braven 570 is very nice looking with pictures and information on it about the speaker as you might expect.
Inside of the box you'll find a cardboard tray with all the accessories and the speaker in it and the user guide on the top.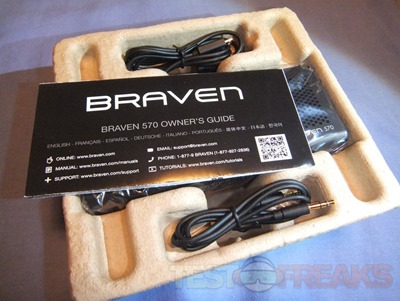 When you get everything unpacked you'll find the speaker and two cables. One is a USB cable with a standard USB connection and a microUSB connection, the other is a double ended 3.5mm audio cable.
The Braven 570 I got for review is black but you can get it in other colors if you would like something different.  The housing of the Braven 570 is made of an impact resistant polymer which should make it durable and rugged. The microphone is located on the front, it's hard to find, but it's the third dot up from the Braven 570 logo in the right corner. The microphone does feature noise cancelling.
The Braven 570 has two three watt speakers inside of it so it should get pretty loud. The dimensions are 6.25 in. x 2.5 in. x 1.75 in. or 15.85cm x 6.4cm x 4.5cm and it weighs 11 oz. or about 312g.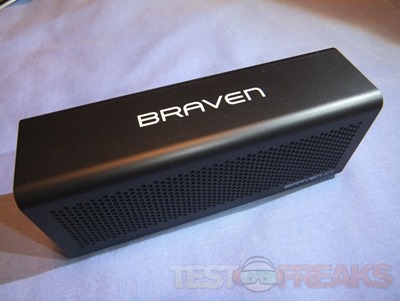 On the bottom of the speaker you'll find the ID label and two rubber non-slip feet to keep the speaker in place.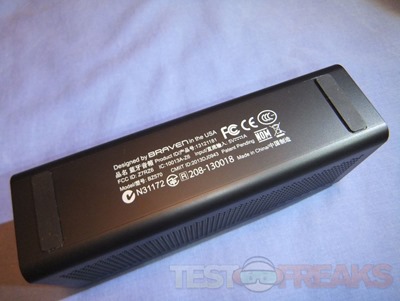 On the right side of the speaker you'll find the main controls. There is an power switch, phone button, plus and minus buttons along with a microUSB port and a 3.5mm audio input jack. The phone button is for answering and ending calls and for the play and pause of your music. The plus and minus buttons are for volume up and down and for skipping back and forward music tracks. There is also a tiny LED next to the phone button which is the indicator for pairing and charging.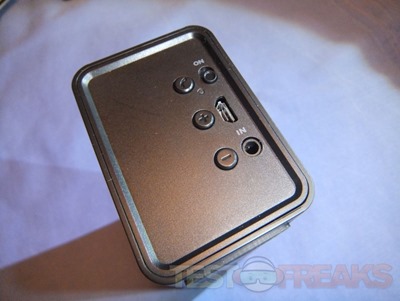 On the left side you'll find another LED, a battery check button, a 3.5mm output jack and a standard USB port. To check the battery level you just hold the button and it will light up one of three colors. The status would be white for 50-100% charge, blue for 10-50% charge and red for 0-10% charge. Inside of the 570 there is a 1200mAh battery to charge your devices with and you would use the USB port on the left side for that. No special tips needed, as long as you have the cable you can charge your phone or other devices. The 570 has both input and output 3.5mm jacks so you can chain more than one speaker together for even more sound.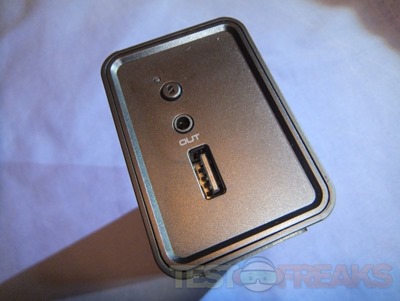 Specifications and Features
Life of the Party.
Express your musical self in color!
Socialize Your Music, Media, and More.
The BRAVEN 570 allows you to connect with the world around you by sharing your music, movies, games, and more. With 6 watts of power and 10 hours of playtime, this portable audio companion will bring your music to life wherever you go! Use it as a speakerphone to make hands free calls, or charge your phone from the built in powerbank to keep the party going all night long.
Find out how the BRAVEN 570 will socialize your mobile life. With 10 hours of playtime and a powerful 6W output, this portable speaker will be the life of the party.
10 HOUR PLAYTIME
Use the 1200mAh battery to play wireless audio for up to 10 hours.
6W speaker output
2x custom HD audio drivers provide stereo audio amplified by left and right channel passive sub woofers.
Noise-Cancelling Microphone
Use the built-in noise-cancelling mic to make and take calls wirelessly on your own, or in a group.
Battery Check Light
Press the battery check button and your BRAVEN will show you how much battery is left. A white light is 50-100% charge, blue light is 10-50%, and a red light is 0-10%.
Line Out
Need more sound? Use the included audio cable to link multiple speakers together for an even bigger sound.
Charge External Devices
Plug your mobile device's charging cable into the speaker's USB port and get an extra boost of power when you're away from home.
Sync Wirelessly
Stream your music over Bluetooth by syncing with a compatible device.
Speakerphone
Accept and end calls right from the speaker's controls.
Line In for non-Bluetooth devices
Use your speaker with any device you use headphones with. Plug one end into the IN port on the speaker, and the other into your device.
Impact-resistant polymer case
This beautiful exterior comes in 6 expressive colors.
Portable
Dimensions: 6.25 in. x 2.5 in. x 1.75 in. (15.85cm x 6.4cm x 4.5cm) Weight: 11 oz. (312g)
Price: $99.99 (from Braven site at time of review)
Price: $72.75 (from Amazon at time of review)
Testing and Usage
The first thing I did was charge the Braven 570, this didn't take long at all as it seems it was charged when it arrived.
I used the 570 with my PS Vita and my HTC One Android phone for testing. I had no problems pairing the 570 to either device.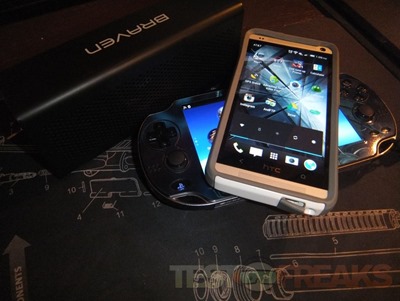 Battery Charging:
One of the great features of the Braven 570 is the fact that it's also a portable battery and you can charge your devices from it as it has a standard USB port. One of the not so great features is the message that popped up when I went to charge my HTC One phone and that is that the Braven 570 battery charges the phone slower than normal. Sure you'll get power from it just not the speeds you might be accustomed to with a regular charger or your computer USB port.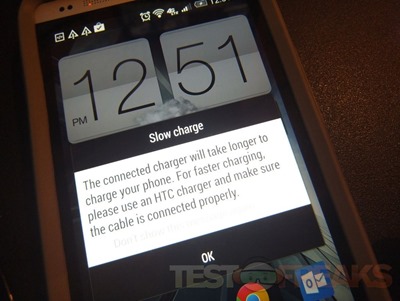 Controls:
The controls are basic but they seem to work fine with my HTC One Android phone, in fact they work exactly as the manual says they will.
The was a bit of confusion for me in regards to the controls. The plus is skip track and the minus is skip back. To use then as volume you just press, to use for skipping you have to hold for a second or so. The skip track worked fine it skipped to the next song. The skip back didn't skip to the preceding track but just restarted the song I was playing, so it skipped back to the beginning. The way it's worded in the manual is 'skip back' so I guess that's correct, it skips back when I thought that meant skipping to the preceding song.
Sound:
The first thing I did was play games on my PS Vita with the Braven 570 and the sound was very full and very good. I could control the volume either on the Vita or the speaker itself.
Next thing I did was pair it to my HTC One to play music and I found the sound was just excellent. The bass is very full and there are notable highs in the music and I found there is little to no distortion at high volume levels. Overall I have to say the sound is vey balanced and just excellent really. The 570 is a great speaker in my opinion.
Calls through the Braven 570 sounded very good, even better than the HTC One. No problems there at all.
Conclusion
The Braven 570 speaker is an excellent choice is you're in the market for a new and great sounding Bluetooth speaker.
Besides being a great speaker the Braven 570 is also a battery pack to keep your devices charged. The battery works fine to keep things charged but might be slower than what you're accustomed to, it all depends on the devices you're charging. The built-in battery is a nice feature to have but I personally don't think I would ever use it.
The 570 has both input and output 3.5mm jacks so you can use it with devices that aren't equipped with Bluetooth or you can chain multiple speakers together for louder sound.
The Braven 570 is made of an impact resistant polymer or plastic essentially that should make it rugged and durable, you could easily just toss this in your bag and it will be safe.
The sound from the 570 is excellent overall, there's good bass and plenty of treble, it's nice full and rounded sound.
The price might be considered high, but if you take everything into account, it's worth it in my opinion. Not many speaker this small actually sound as good as this one and there is little to no distortion at high volume levels.
Pros:
+Well made
+Excellent sound
+Speaker and a portable battery
+3.5mm input and output jacks
+Controls work fine
Cons:
-Slow charge speed
| | |
| --- | --- |
| Grades: | 9 out of 10 |
| Overall | |
| Design / Aesthetic | |
| Value / Price | |
| Performance / Usage | |
To learn more about our review policy please visit this page HERE.