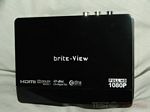 Back in April I reviewed the Brite-View CinemaTube and since then they've released a new smaller player called the CinemaGo. This one is small and portable and it comes with an 802.11N wireless dongle for wireless networking ability. The CinemaGo comes with two USB ports and an eSATA port along with HDMI and composite connections. The interface is kind of basic really but it works for playing your media. You can play media from a hard drive or a USB drive or right off of your network like your computer or network attached storage device.

The box the CinemaGo comes in is rather plain, but it works.
Unpacking everything you'll find an HDMI cable, audio / video cables, remote control with batteries, power supply, ethernet cable, documentation, wireless dongle and drivers for it. Yes you read that right, they include an HDMI cable with the box! That's one thing that bugs me about these types of things, they advertise HDMI but don't include a cable, that's like USB printer that don't include the USB cable, makes no sense to me truly.
The remote is a bit large, but it's got al the functions you'll need on it.
The remote is the same as was on the original CinemaTube actually.
On the top of the box you'll find the name with certifications like HDMI, Dolby and dlna. On the bottom you'll just find four rubber feet.
On the front you'll see two USB ports and a power button.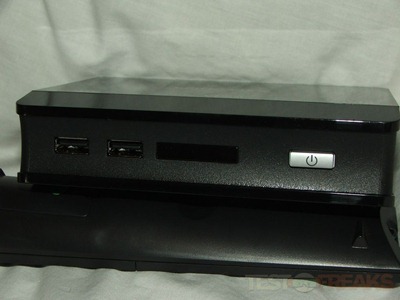 Moving to the back you'll find HDMI, optical, eSATA, power and composite audio/video ports.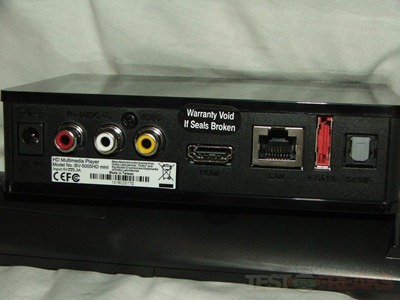 Specifications:
Model: BV-5005HD Mini CG
Designed for Personalized Entertainment On-the-Go; Comes with Internet Radio Channels
The compact CinemaGo is a full 1080p HD media player/streamer/torrent downloader. Now supports Muzee Internet streaming radio channels from 210 countries
* It supports multiple Video formats and multiple Audio formats. See the Specifications tab for supported video and audio formats.
* It can play media files off USB and eSATA storage devices (in NTFS, EXT-3, FAT and HFS+) or on computers connected to the same network.
* It has built in UPnP support!
* It supports ISO files, so you can navigate the DVD menu and watch your videos like a regular DVD.
* With built-in bit torrent support, you can share/download media files on the Internet and enjoy them on your TV, PC free.
* It provides Muzee Internet radio channels from 210 countries.
* Built-in Flickr support lets you keyword search for pictures allowing you to show off your online albums on the TV.
Looking for a compact media player that can decode all video formats, stream from the network and download torrents? brite-View has heard your voice.
The CinemaTube Mini is a "Special Edition" of the CinemaTube which is designed for entertainment on-the-go. Ultra-compact in size compared to the CinemaTube (BV-5005HD), the small and sleek CinemaTube Mini is 103mm x 36mm x 140mm whose dimensions are half the size of the CinemaTube. It sports an on-board eSATA interface which is capable of data transfer up to 3 times faster than the USB 2.0 interface.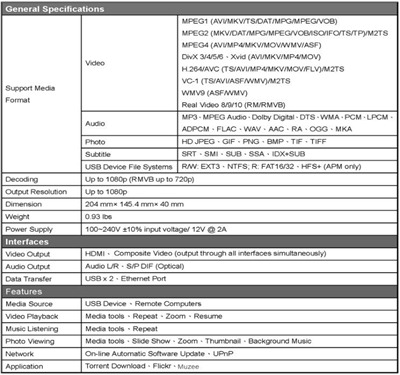 (WiFi-Equipped Package)
The CinemaGo is a WiFi-Ready Package; WL-6203 dedicated USB WiFi adapter is included.
CinemaGo (WiFi-Ready) can stream up to 720p video file. The performance will depend on the actual network environment.
Price: $109.99

For testing I hooked it up via HDMI and used an ethernet connection for networking since I've got a router by my HDTV. I did test out the wireless but just testing to see if it worked, why use wireless when you have wired right? The wireless worked fine for most things, but according to the specs it's only good for 720p streaming, but wireless N should be able to handle 1080p. I'm not sure I understand why they say this about it.
When it's powered on the power button lights up blue, when powered off it's red. There's a blue LED inside of the unit that will blink when the box is doing something, like playing a vidoe or accessing the network. Honestly the blinking blue light in a dark room can get annoying.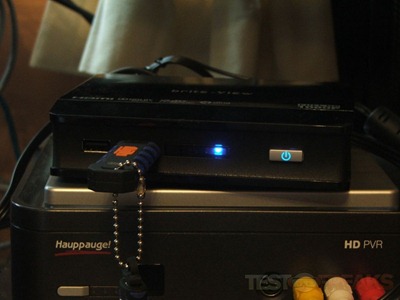 The interface is rather plain, there's no real branding on it at all. When you turn it on you'll briefly see FULL HD 1080P Media Player.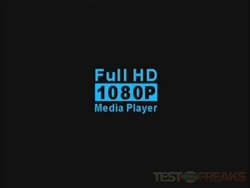 So here's the interface, yes it's plain, very plain, but it works for what it needs to do. On the main main you'll find Music, Photo, Video, File Copy, Setup, and Bonus.
The Setup menu is rather sparse really with options for Audio, Video, Network, System and Other.
I used a USB flash drive since they're handy and easy to use. You can though use a USB hard drive or an eSATA hard drive if you'd like. I loaded up music, a couple videos and pictures.
We'll start off with Video. When you select you'll have to navigate to your device. You can also select from HDD Media, DVD, PC Media, UPnP, Playlist or you can Search. Notice DVD is there, you can hook up a USB DVD drive and play directly from that.
Then you'll have to navigate further through the files and folders on your storage device. If you have preview turned on your video will play with audio in the preview window. Once you get to the video you want just press play and it will go to full screen. I played Mpeg and DivX/AVI videos with no issues, they were smooth without any skipping or anything like that.
To get to music it's more navigating again. Once you get to the music you just hit play and it will start playing. At the bottom of the screen you'll see the time and tilt and source of what you're playing.
The next thing is pictures, again you'll need to navigate to it, you'll do a lot of navigating with this product. Once you get to the pictures you can view them separately or in slideshow format.
For streaming you can just enable it on your PC and stream from your computer, or you can stream from your NAS box. pretty much the same.
Under Bonus Features you'll find options for Torrent Download, Flickr, Internet Radio and Internet Television Beta.
I don't do Torrents, never touched one so I don't know really, but if you're into that sort of thing you can attach a storage device and torrent all you want.
Flickr is just that, it's access to Flickr to show a stream of pictures, not much exciting here.
Internet Radio works for the most part, I did run into a problem with it where it froze up and I had to actually unplug the box. The buttons on the remote wouldn't work, and the power button didn't do anything either. It was just loading and wouldn't stop, so after 5 minutes I unplugged it and plugged it back in. It didn't happen all of the time, I'm guessing there was a problem with the radio station i picked and it couldn't figure out what to do. When it worked it worked good, the music was smooth with no skips or anything like that and it sounded great.
Lastly I tried the Muzee Internet TV. The same sort of setup here, you can pick from several categories and then find a station you want to watch. Surprisingly there's a ton of stuff here that should keep you busy for quite some time. Picture quality is dependant on the station of course, the ones I looked at though were not HD, but they still looked decent. Depending which station you pick will depend on the quality of the videos in times of skipping and stuttering, some worked great and others skipped quite a bit. I can't complain too much about this really as that's common with internet TV.
Other than the problem with the music streaming I had no other problems with the CinemaGo. The box is fast to boot up, and access the attached storage.
I however don't like the fact that you have to navigate through everything all of the time, it's time consuming and a bit on the annoying side. The box seems to index your drive but why can't I just press music and have it go directly to the music on the storage device?
Conclusion:
The CinemaGo is small and lightweight making it portable so you could take it with you if you wanted to. It works great for streaming and playing many types of media, either audio or video on your network or via your attached storage device.
So the CinemaGo is small and portable but I have to question the size of the remote, it's as big as the unit itself. If I was redesigning a unit like this I would have made the remote smaller and not just used the exact same one from the previous version.
Compared to to the original CinemaTube, the CinemaGo does offer more features and usability. I do like the the included internet TV, there's a ton of stations for you to watch that will keep you busy for a long time.
Pros:
+Small and compact
+Includes HDMI and A/V cables
+Internet radio and TV streaming built-in
+USB and eSATA ports
Cons:
-USB Dongle takes up USB port
-Very basic interface
-Lots of navigating to get things done
-Can get stuck at times, forcing power off
| | |
| --- | --- |
| Grades: | |
| Overall | |
| Design | |
| Performance | |
To learn more about our review policy please visit this page HERE.