I've taken a look at several media players here on technogog and today I have another one, but unlike the previous kind I looked at. Today for review I've got the brite-View CinemeTube Media Player. You might recognize the name brite-View as I recently reviewed their power line networking kit, that kit was meant to work with this product I have for review today. It's unlike other media players in that there is no storage on-board the unit itself, it is strictly a streaming media player. Yes you can attach a USB hard drive or even a thumb drive, but there is no storage inside the unit. The CinemaTube will not only stream video and audio, but you can use it to share photos and files on your network and it even has a built-in torrent client and even a program to use with Flikr for even further photo sharing. The CinemaTube features HDMI, Component and Composite outputs and an optical audio output as well. So read on to learn more..

Ok, We'll start off with the video unboxing first:
The CinemaTube comes with HDMI cable, ethernet cable, power supply and A/V cables along with user manuals and remote control with batteries.
The CinemaTube looks like a little cable box bascially, it's a glossy black and has a power button on the front. The box is very lightweight, there is no hard drive in it after all, it's direct streaming only pretty much. The box is made plastic, but it seems durable.
On the back you'll find several connections for HDMI, Component, Composite and optical along with two USB ports, power connection and the Ethernet port.
The remote is fairly small, but it's got all the main buttons you'll need for control of the box and your media:
Specifications:
CinemaTube is 3-in-1: a full 1080p HD media player/streamer/torrent downloader, with up to full 1920X1080HD (1080p) resolution. NOW supports MacOS HFS+ formatted file systems!
* It supports multiple Video formats in VCD 1.0/2.0, SVCD, MPEG1 (DAT/MPG/MPEG), MPEG2 (MPG/MPEG/VOB/ISO/IFO/TS/TP)/M2TS, MPEG4 (MP4/AVI/MOV) , DivX 3/4/5/6, Xvid (AVI/MKV), H.264/AVC (TS/AVI/MKV/MOV)/M2TS, VC-1 (TS/AVI/MKV/WMV)/M2TS, WMV9 (WMV), FLV, Real Video 8/9/10 (RM/RMVB * up to 720p); multiple Audio formats including DTS and Dolby Digital.
* It can play media files off USB storage devices (in NTFS, EXT-3, FAT and HFS+) or on computers connected to the same network.
* It has build in UPnP support! See the Specifications tab for supported video formats.
* It supports ISO files, so you can navigate the DVD menu and watch your videos like a regular DVD!
* With built-in bit torrent support, you can share/download media files on the Internet and enjoy them on your TV, PC free.
* It supports file sharing, so you can access your CinemaTube attached hard drive from the comfort of your computer.
* Built in Flickr support lets you search for pictures via the Internet allowing you to show a variety of photos from your TV.
Model: BV-5005HD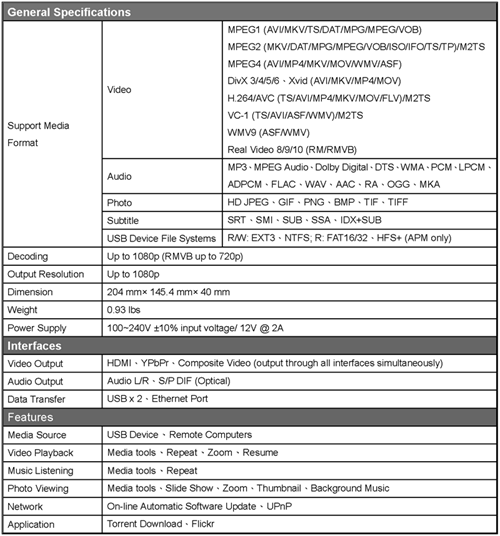 When you power on the CinemaTube the power button actually lights up bright blue, next to it is an indicator for the ethernet connection. I hooked it up via the HDMI connection and the picture is beautiful.<
When you power it up you'll find the interface is rather bland, but that's fine with me, as long as it works.
There are six sections for Setup, Video, Music, Photos, Bonus and File Copy
In the Setup section you'll find options to change Audio, video, Network, System and Other settings.
Under Other is the settings for Slideshow, background Music, Screen Saver etc:
The Photo option is just a photo viewer:
The Bonus section is where you'll find a BitTorrent Client and a program for Flikr to share and access photos.
The File Copy section is rather self-explanatory, it's for copying files, but of course you have to have some sort of storage hooked up to the CinemaTube.
So I used the CinemaTube with my Thecus N3200 NAS box for streaming videos and music, and it worked perfectly fine.
When I accessed it showed the computers, printers and the NAS box for me to choose from.
When you pick the video tab it lists the videos and then shows you a preview with sound if you have it enabled, and then you can just hit play and it will go to full screen.
Videos played perfectly fine, I've got my network running gigabit so I had no issues with bandwidth from the NAS box or my PC to the CinemaTube. Video playback was smooth with no issues.
The Music section is similar, it lists the albums and tracks and then off to the right it tells you information about the tracks:
The CinemaTube is very easy to use, just hook it up to your network and you're ready to go. You may of course have to enable sharing on your computers, and you may need IDs and Passwords to access certain things.
The price right now is listed as $99.99 most places, including the brite-View website and that's not bad I guess as it's the same price as many other media players of this type. The CinemaTube plays quite a few video and audio types so enthusiasts should like that. The inclusion of the Torrent client is nice if you use it.
I should mention that it's normally a wired unit but you can get an optional USB wi-fi dongle to use with it for wireless streaming.
As far as the remote is concerned, I has no problems with it, it works fine across the room and is responsive.
Another small thing I need to mention is that the brite-View LinkE power line kit I looked at is meant to be used with this product, at least that's one of the suggestions for it, but I didn't use it that was as I have a gigabit switch near my TV so I ran it right off my wired network.
Conclusion:
Honestly there's not much to the CinemaTube at all,and that's a good thing, it's a simple product that works very well. If you're looking for easy streaming of music and videos, along with the ability to share files, photos and even a simple Bittorrent client then check out the CinemaTube.
The picture quality is very good, even when it's up scaling a standard definition video file. There is no hard drive in it so it's silent as there's no need for a fan to cool things off.
Pros:
+Simple and easy to use
+Comparable to others
+Plays many formats
Cons:
-No componenet cables
-Interface is a bit plain
| | |
| --- | --- |
| Grades: | |
| Overall | |
| Design | |
| Performance | |
To learn more about our review policy please visit this page HERE.