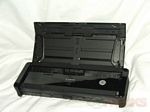 Up for review today I've got another Canon product, but not a camera or anything like that it's a scanner from their office or business line of products. The scanner is small and meant to be portable and easy to use, it's called the imageFormula P-150 or Scan-tini. The scanner can be used with the power of just your USB port, and it's rather small so you can toss it in your bag for scanning on the go. One of my favorite features of this scanner is the fact that it has the software built into it, you don't even have to install anything to use it. The Scan-tini is quiet and fast and produces very good results, so read on to learn more..

Well I thought I had a video for you today, but I guess not, for some reason it won't upload in any format.. So we'll do it the old-fashioned way.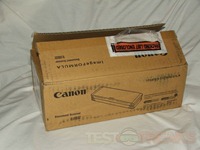 Inside the box you'll find the scanner itself, software/driver disc, user manual and other documentation, a spacer and two USB cables.
One USB cable is the regular kind, and the other is the type with a power connection on the end as sometimes the scanner might require some additional power.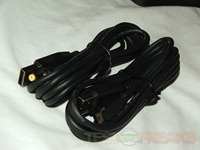 The scanner itself is very nice looking indeed. It's small yes, but I wouldn't exactly call it portable, but yeah you could take it with you, it just means you're carrying an extra 2.1 lbs with you. It's only 11 inches long 3.7 inches wide and 1.7 inches tall. The P-150 seems well made, but I still wouldn't want to drop it too many times. The entire scanner is basically black with a glossy top with the Canon logo and the name of the product on it. The bottom has rubber feet and a label.
On the front of the scanner you can see a hinge, and at the bottom you'll lift to open it.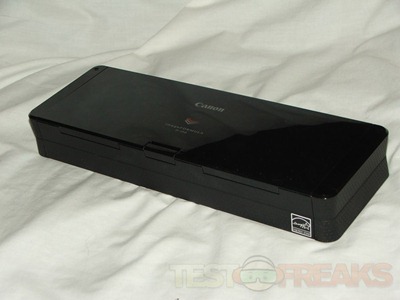 On the back you'll find power/mode switch, UBS port and power port.
The scanner unfolds pretty big:
On the back paper tray are adjustable sliders for paper width and then there the leafs that come out of the top to hold long paper steady.
There's only one button on the scanner that looks like a power button actually.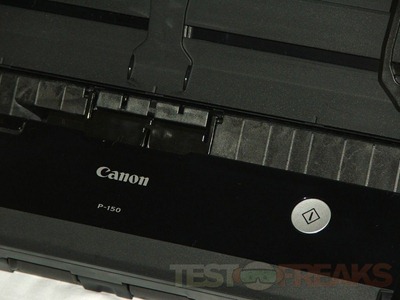 You can pop the scanner open by using a small button to the left of the Canon logo. There's really no reason to open except for maintenance really.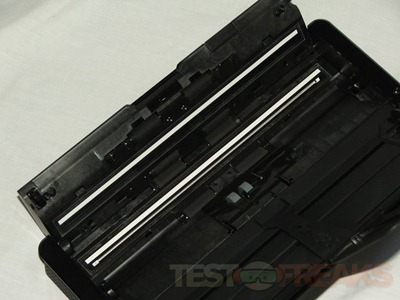 Specifications:
imageFORMULA P-150 Personal Document Scanner
The imageFORMULA P-150 personal document scanner's compact size, simple use, and advanced feature-set liberates document capture by taking it beyond the walls of the office to the convenience of any user location. The P-150 scanner combines practicality, productivity, and value in a sleek, mobile design.
The P-150 scanner, also know as Scan-tini, was designed for professionals to improve their personal efficiency and individual productivity in offices and in transit. From the Small Office / Home Office (SOHO) user, to the occasional traveler, to the employee who frequently travels, the P-150 scanner offers advanced features to meet the document capture needs of stationary users and "road warriors."
The P-150 scanner is Canon's first entry into the Personal scanner market, as well as the first USB powered professional grade document scanner capable of operating using a single USB cable connected to a PC, and users can just "Plug-and-Scan" due to the embedded Canon CaptureOnTouch Lite software.
Features:
* Good for office, mobile and portable document scanning
* Scans up to 15 pages per minute
* 11 inches long and just over 2 pounds
* Holds up to 20 items for batch scanning
* Can be powered via a single USB cable
* Easy-to-use and maintain
* "Plug-and-Scan" without loading drivers or imaging applications
Scanner Specifications:
Scanner Type: Personal Document Scanner
Scanner Element: CMOS CIS
Light Source: RGB LED
Features:
Auto Color Detection, Auto Page Size Detection, Deskew, Pre-Scan, Prevent Bleed-Through / Remove Background, RGB Color Dropout / Red Color Enhance
Max. Resolutions: Optical: 600dpi
Scanning Speed: 15 pages per minute, 30 images per minute
Scanning Mode: Simplex, Duplex, Color, Grayscale, Black and White, Error, Diffusion, Advanced Text Enhancement II
Max. Document Size: 8.5″ x 14″
Interface: Hi-Speed USB 2.0
Dimensions (W x D x H): 11″ x 3.7″ x 1.6″
Weight: 2.1 lb.
OS Compatibility: Includes Drivers for Windows 2000 (32)/XP Professional (32/64)/ XP Home (32)/ Vista (32/64)/ 7 (32/64)
Software: Canon CaptureOnTouch, Canon CaptureOnTouch Lite, PaperPort, BizCard
Max. Power Consumption: 5W or less (Energy Saving Mode: 0.1W or less)
Warranty: One-Year Advanced Exchange
Scanner Device Driver: ISIS, TWAIN
Price: $266.99 (From Amazon at time of review)

There's only one little LED on the scanner, it's off to the left, it's a blue LED that comes on when powered on.
There are two UBS cables with it, I only had to use one with my main PC, just the regular UBS cable. The manual says you might need to use the other cable to provide extra power or to provide a faster scanning speed. Most likely you'll need the extra power cable with a laptop as they usually don't have powerful enough USB ports. I did hook it up out of curiousity and I didn't notice any real difference in scanning speeds with the second cable attached, maybe a 1/2 second, not worth the trouble I would think really.
There is software included on the disc, but you don't need to use it really as the scanner has built-in software and this is a great feature really.
Here's the loading screen with the software you can install, the drivers, CaptureOnTouch, User Manual, BizCard 5 SE and PaperPort 11. I'll get into the CaptureOnTouch more shortly, but the BizCard 5 SE is for scanning business cards and PaperPort is a well known scanning program for recognition.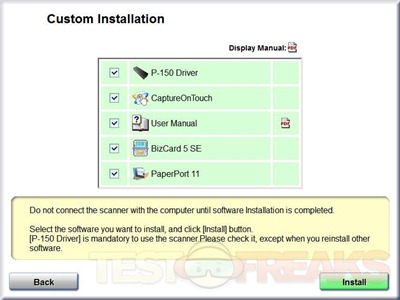 So I plugged in the scanner and up popped the window, the scanner is actually recognized as an external storage device where you can launch OnTouchLite directly from the scanner. So you can use the scanner with any Windows computer without every installing anything. Don't worry Mac users, there's a P-150M scanner version just for you.
Launching the software takes you to the main window:
Before you do anything you'll want to explore the settings and maybe change some stuff around. Here's the settings with things expanded as well:
When you're scanning you can save to several images formats or even directly to PDF.
Scanning is simple, set everything the way you want then press start. The P-150 is fast, very fast, 2-3 seconds per sheet, even photos are done fast. The best part about this scanner is that it automatically recognizes double sided pages and scans both sides at the same time for you.
Here's some samples, I downsized them of course for the web, but these are text, text and graphic and pictures from a catalog actually. I get a lot of PR stuff so I figured why not make use of it!
Very nice scans, colors come out great and it handles black and white very well also.
I did install the software called CaptureOnTouch and it's pretty much the same as the built-in software.
You can also use the button that looks like a power button now to scan with, just press the button and it'll scan your documents. Here's a couple more examples I did that way, they're pretty much the same.
Some of the other features include auto color detection, auto page size detection, deskew, pre-scan, prevent bleed-through, remove background, RGB color dropout and red enhance.
As far as power is concerned you might need to use both USB cables or you could also buy the optional AC adapter.
Conclusion:
The Canon imageFormula P-150 Scan-tini is a great little scanner really, and yes it's little so you can take it with you.
The scans taken with the P-150 are very good overall. The unit itself is fast and quiet, and it has an auto-document feeder so you can scan multiple items if need be.
It's small size makes it great for office use, you can use it and then just put it aside out of the way. It does weigh in at a little over two pounds, so it's portable yes, but I wouldn't want to take it everywhere with me that's for sure, especially if I was also carrying a laptop.
One of the best feature I think is the fact that it has bu8lt-in software, you can use it with virtually any computer and never have to install anything.
The P-150 works great and I like it a lot really.
The main issue I have with it is the price, I think it's a bit on the expensive side, but the quality of the scanner is very good and the performance is great as well.
Pros:
+Gorgeous looking
+Small and compact
+Easy to use
+Software built-into unit
+Fast and quiet
+Good looking scans
+Lots of settings
+Double sided scans
+Easy setup
Cons:
-With laptop you'll most likely have to use both USB cables
-Does not come with AC Adapter
-Rather expensive
-Might be considered a bit heavy to be truly portable
| | |
| --- | --- |
| Grades: | |
| Overall | |
| Design | |
| Performance | |
To learn more about our review policy please visit this page HERE.