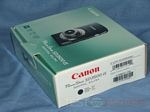 Canon was kind enough to send me over another digital camera for review, this one if the PowerShot SD3500 IS Digital Elph that is a bit unique in that the LCD on the back is actually a touch screen. On this camera there really aren't many physical buttons or settings, everything is done via the touch screen and because of this it's huge, taking up the entire back of the camera. Having this large screen is nice, but it being a touch screen you'll find your fingerprints all over it obscuring your view. Other than the fingerprints the touch screen is sensitive and it works great. The camera itself takes very good pictures as you'll see inside with the many samples I have for you.

So we'll start with the video unboxing:
Inside the box you'll find a/v cable, USB cable, driver/software disc, documentation, battery, charger and of course the camera and the strap.
This camera is rather small at 3.91 x 2.20 x 0.87 in./99.3 x 55.7 x 22.0 mm, but it has a huge touch screen display on the back.
This camera has a lens that comes out making it not much smaller anymore.
On the side of the camera you'll find two small doors behind which are the HDMI and the USB ports.
On the bottom is another little door, behind which is the battery compartment and the memory card slot
On the top are the controls, but not many just a slider switch, shutter button, power button and rocker switch for zoom.
Specifications:
Touch. It's always been the heart of communication. Simply put your finger to the brilliant 3.5-inch wide PureColor System Touch Panel LCD screen, and the versatile excellence of the Canon PowerShot SD3500 IS Digital ELPH is at your command. Naturally, a camera this smart and intuitive knows a few things about style. Color gleams, while smooth curves reveal a definite edge. Touch the future!
Features:
-Next-generation huge 3.5-inch LCD with Touch Panel Technology that allows customization of touch screen icons and touch AF/AE.
-14.1 Megapixel resolution will generate high quality 16.5″ x 23.4″ prints.
-Capture sweeping landscapes and tall buildings with a 24mm ultra Wide-Angle Lens, and 5x Optical Zoom with Optical Image Stabilizer.
-720p HD movie shooting capability plus HDMI output connector for easy playback of video and photos on your HDTV.
-Smart AUTO will do the work for you by intelligently selecting the proper settings for the camera based on 22 predefined shooting situations.
-Bring creativity to your photos with new scene modes such as Miniature Effect and Fisheye Effect. Plus Low Light mode for dimly-lit situations.
-New Smart Shutter technology automatically takes a picture when the subject smiles or winks.
Image Capture Device:
Type: 14.1 Megapixel, 1/2.3-inch type Charge Coupled Device (CCD)
Total Pixels: Approx. 14.5 Megapixels
Effective Pixels: Approx. 14.1 Megapixels
Dimensions (WxHxD): 3.91 x 2.20 x 0.87 in./99.3 x 55.7 x 22.0 mm
Weight: Approx. 5.64 oz./160g (including batteries and memory card)
Read the full specs at the product page with the link above.
Suggested Retail Price: $329.99

The Elph is a small camera with a very large touch screen so there's not much room on the back to hold the camera. Since it's a touch screen I found myself accidentally touching the screen many times, it took quite a few pictures to figure out where to place my hands. other than that, it's simple to use, and for the most part there's a lot of room on the front of the camera to get a grip on without affecting the lens.
The touch screen itself is nice it works great, and it's actually very useful. With the touch screen the camera itself now has a lot less buttons and switches on it, that's good and bad. The touch makes life simpler for the most part, but now you're getting fingerprints all over the screen you're looking through, so it can get annoying for that part.
The battery life is great, but I noticed it doesn't seem to hold a charge if you're not using it for a long period of time. I charged it, took a few pictures etc, then I let it sit for a week and did other work, I came back and there was only about half of a charge. This could be because it was a review product that was basically used for a review by someone else, or however many others out there. So there's a few factors that could be the reason, but it could be the norm though.
While taking pictures I noticed it kind of slow to process them, meaning it seems there's a long time between taking pictures.
When in auto mode there is very limited on-screen menus, just a few options to change.
When you move to program mode, which is basically manual you end up with many more options, you can pretty much change anything.
There is another set of options that called My Colors which offers many options for adding effects basically in the form of colorings, it's interesting
So let's get into pictures, here's a slew of pictures taken indoors from different distances with the flash and without.
Here's a better example of the zoom, from far away, then zooming in optical to digital.
Digital zoom is just something I'd never use, I stay away from it, and here's another example below taken outside in the sunlight. It's distance or no zoom, then max optical zoom and then max digital zoom. The digital zoom is just blurry and pixellated and it just junk, but it's not this camera it's any camera really.
Here's a final set of three pictures, again taken outside of my cat Molly. The last one turned out very good actually, it's done with the optical zoom, not digital. My four year old just loves this cat and I printed out and 8×10 for him on the Epson WorkForce 610 of that picture that he has on his wall above his bed, and it's just gorgeous really.
If you look closely you'll notice that when using the full optical zoom it gets a bit blurry around the edges, it's not very bad and you really don't notice unless you're looking for it.
The colors are great, as you can see the green of the trees and the other pictures with and without flash look very good.
I don't have sample video for you, but it 720p video, it's decent, about the quality you'd get on one of those little handheld video cameras.
Conclusion:
The Canon PowerShot SD3500 IS is a great camera camera overall really with little or no real flaws, but it's not that exciting either. It's basically a point and shoot camera with a touch screen on it. The touch screen is a nice addition to have, it makes life easier, but fingerprints all over your viewfinder can get annoying. It's really a toss up for me, I'd have to spend a whole lot more time with it I think to really get accustomed to it, but it's my opinion touch screens don't belong on the back of cameras honestly.
I think picture quality is great overall, yes there's bit a blurriness around the edges when zooming but it's barely noticeable. The digital zoom is horrible, but that's the same with the majority of cameras out there today and I don't think it will ever change.
Not sure what was up with the battery issue, but in my experience with rechargeable batteries, they all act differently, some hold a charge better than others.
Pros:
+Small and compact
+Simple and easy to use
+Takes good pictures
Cons:
-Fingerprints all of the back screen
-Optical zoom a bit blurry around the edges
-Lag time between pictures
| | |
| --- | --- |
| Grades: | |
| Overall | |
| Design | |
| Performance | |
To learn more about our review policy please visit this page HERE.