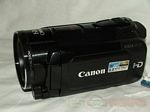 A little bit ago I took a look at a Canon camcorder, it was a fairly basic model but it produced decent results. Today for review I've got the flagship HD camcorder in the Canon lineup of consumer level products called the HF S21. This camera features a nice large lens with 10X optical zoom, along with 64gigs onboard memory with the ability to add not one, but two SD cards to expand the memory even more. This camera is one that might be in the consumer class, but it's one that is certainly a prosumer level camera. The cost is a bit high, it's a bit over $1000, but it's truly worth every penny if you want the highest possible quality video and still pictures you can get from a consumer level product.

So we'll start off with he video unboxing:
The box is a box:
There's  a bit that's included with the camera including A/V cables, component cables, software, user manual, USB cable, remote control, battery and power supply. The one thing missing is a carrying case, oh well.
The remote is small, but it works well to control the camera at a distance:
The camera itself is rather heavy for how small it is, it feels well made. To the bottom right of the lens is another knob for manual focus.
There is an optical viewfinder on the back of the camera that you can use instead of the LCD if you wish:
On the top of the camera you'll find a sliding door for flash/light and a zoom slider along with a photo button.
One of the great features of this camera is that the LCD screen is a touchscreen, I've never had the chance to play with a camera with a touchscreen on it and it was rather fun. One issue though is the it really picks up fingerprints, much more than any other touchscreen I've ever used.
On the side of the camera you'll find two memory card slots along with another door for USB, A/V and audio connections.
On the bottom you'll find the tripod attachment, and a slide lock for the battery.
On the right side where the hand strap is, there's also another door, behind which you'll find USB and an HDMI out. So yes there is an HDMI port, but there's no HDMI cable included with the camera.
Here's the battery off of the camera:
Specifications:
Canon's flagship VIXIA HF S21 Dual Flash Memory Camcorder, with a 64GB internal flash drive and two SD memory card slots, offers Canon's most sophisticated feature set to date – blurring the line between consumer and professional. Canon's superlative proprietary imaging technologies help deliver video and 8.0 megapixel photos with incredible detail and lifelike color. Touch & Track allows you to achieve sharp focus and precise exposure for any subject, simply by touching the generous 3.5″ High Resolution (922,000 dot) Touch Panel LCD. Native 24p Mode perfectly matches the frame rate of film. And 5.1-Channel Surround Sound* ensures your audio complements the stunning realism of your video.
Specifications:
Video Recording system: MPEG4-AVC / H.264
Image Sensor: 1/2.6-inch CMOS, RGB Primary Color Filter
Total Pixels: Approx. 8.59 Megapixels
Effective Pixels: Video: Approx. 6.01 Megapixels (3264 x 1840)
Photo: 16:9 Approx. 6.01 Megapixels (3264 x 1840); 4:3 Approx. 8.02 Megapixels (3264 x 2456)
Maximum recording time:
64GB internal flash drive: Recording time based on internal flash memory only. Greater capacity is possible when SD memory cards are also used (2 card slots).
LP (5Mbps) 24 hours 30 minutes
SP (7Mbps) 19 hours 10 minutes
XP+ (12Mbps) 11 hours 30 minutes
FXP (17Mbps) 8 hours 20 minutes. Allows 1920 x 1080 Full HD Recording.
MXP (24Mbps) 5 hours 55 minutes. Allows 1920 x 1080 Full HD Recording.
Lens:
Zoom Ratio 10x Optical/200x Digital
Focal Length f-6.4-64mm (35mm equivalent 43.5-435mm)
Zoom Speed Variable / 3 Fixed Zoom Speeds
Max. F/Stop f/1.8-3.0
Focusing System: Instant AF, Face Priority AF, TTL (through the lens)
Manual Exposure: Yes
Programmed AE: Smart Auto, P, Av, Tv, Cine*, Portrait, Sports, Snow, Beach, Sunset, Night Scene, Low Light, Spotlight, Fireworks
Max Shutter Speed: Movie: 1/2000; Photo: 1/500
Minimum Focusing Distance: 10mm (wide) / 1m (tele)
White Balance: Auto, Daylight, Shade, Cloudy, Tungsten, Fluorescent, Fluorescent H, Manual
Frame Rate: 60i, Native 24p (records at 24p), 24p Progressive (records at 60i), 30p Progressive (records at 60i)
Minimum Illumination: 0.3 lx (Low Light mode)
Image Stabilization: Dynamic SuperRange Optical (lens shift) / Standard SuperRange Optical (lens shift) / Powered IS
Filter Diameter: 58mm
Viewfinder: .27-inch, approx. 123,000 dots
LCD Screen: 3.5-inch High Resolution Touch Panel Widescreen Color LCD (Approx. 922,000 dots)
Flash: Built-in
Recording Media: Internal flash drive (64GB) or SD memory cards (2 slots) **
USB Terminal: USB 2.0 Hi-Speed
Video Terminal: component (output), composite (output)
Audio: Dolby Digital 2 channel (AC-3), 5.1-channel (with optional Canon SM-V1 5.1-Channel Surround Microphone)
Accessory Shoe: mini Advanced
Supplied Video Editing Software: Pixela ImageMixer 3SE
HDMI Terminal: HDMI Mini Connector (output), CEC and x.v.Color supported
Microphone Terminal: 3.5 mm stereo mini-jack
AV Mini Terminal/Headphone Terminal: 3.5 mm 4 pole mini-jack (video/audio output only)
Remote Control Terminal: Yes (compatible with LANC protocol)
Dimensions: (W x H x D) 3.0 x 2.9 x 5.8in. (75 x 74 x 148mm)
Weight (not including battery pack and memory card): 1.0 lbs. (470g)
Weight (fully loaded): 1.2 lbs. (520g) (including BP-808 and memory cards)
Note:
* Movie mode only
** 1920 x 1080 movie recording requires a Class 4 or higher memory card. For other recording formats, a Class 2 or higher card is recommended. Also, movie recording requires cards with 128MB of memory or more. Cards made by Toshiba, SanDisk or Matsushita are recommended. No particular restrictions apply for still images.
Price: $1,399.00 (from Amazon at time of review)
Looking at the LCD screen on the Vixia HF S21 you can touch the zoom button and a slider will appear which you can use for zooming instead of the mechanical zoom on top of the camera.
There's plenty of choices when it comes to options, here's the main menus:
The touchscreen seems to work well for the most part, but there are times when it seems not exactly as responsive as it should be, or as I would want it to be.
When you switch to straight video camera mode a Function touch button appears, which gives you more options:
So as you can see there's plenty of options on this camera, more than enough to keep you busy for quite a while trying to figure them all out. Yes, you have all of these options, but what's great about this camera is that you can just turn it on and start shooting excellent quality videos in a matter of seconds.
Battery life seems a bit low, a little over an hour or so which isn't much really. You can of course opt to buy an extended battery, which I think you'll want to get.
Ok so let's take a look at sample videos and sample pictures.
Here's an unboxing video shot with the Canon Vixia HF S21
The video is very nice, it's clear and crisp..  Of course it's been recoded on the Viddler servers, but it still looks very good. It does look much better straight from the camera though on the computer, and it looks very good played via Component on an HDTV as well.
The sound quality is very good as well, the microphone seems very good at picking up sounds, but yet there's no extra noise in there.
So here's some sample pictures, I took a lot more than these actually, but chose a few that show good and bad examples. Using the camera for still pictures works well, but it takes a bit to get accustomed to, and the flash can be very bright at times, but then at other times it works perfectly.
Conclusion:
The Canon HF S21 might be considered a consumer grade camcorder, but it's more prosumer. It's a camera that's as close as you'll get to a professional grade camcorder without spending ten thousand plus dollars.
The Vixia HF S21 is a truly an excellent HD camcorder hat has tons of options, but yet anyone can easily pick it up and use it.
The camera has 64gigs of memory built in which should be more than enough for most people, but if it's not you can insert not one but two SD cards for even more recording time.
It might be easy to use, but to really get good results you'll need to spend a lot of time learning how to use it, it's certainly not a camera for the novice, but it could be a good place to start if one wants to get serious about doing high quality videos.
Pros:
+Excellent video quality
+Decent still picture quality
+Easy to use, but with advanced options
+Touchscreen LCD
+Crisp, clear LCD
+Dual memory options
+Seems well made
Cons:
-Limited battery life
-No HDMI cable
-No carrying case
| | |
| --- | --- |
| Grades: | |
| Overall | |
| Design | |
| Performance | |
To learn more about our review policy please visit this page HERE.