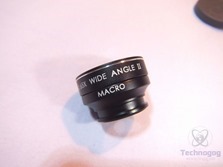 Up for review today I've got a cellphone accessory for the camera on your phone and it's something that could possibly work with your tablet too. The product is from a company called Choicemed and it's universal 2 in 1 lens kit that includes both macro and wide angle lenses and an adapter to mount it. The lenses do work well, and the kit is well made overall. Read on to learn more…
Specifications and Features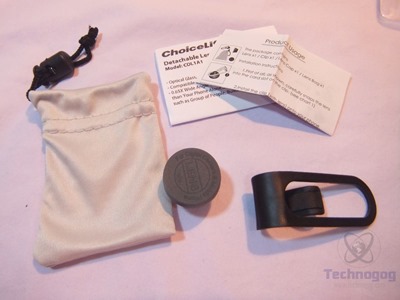 The clamp is universal basically, you can slip the lens in and it slides up and down easily to get into the proper position on your phone or even tablet.
The lens comes with a plastic cover on it for protection and the bottom has a soft material on it to make sure it doesn't damage the camera. The single lens is actually two that screw apart to make the macro and wide angles lenses, you use both together for the wide angle. The lens is very small and it's made of metal of course and it seems very well made overall.
The lens just clips onto the clamp easily.
Depending on the case you have you could possibly fit the clamp and lens on your phone, it almost fit on mine, I thought it did but when I looked through the camera it was wrong. So I took the case off my Samsung Galaxy S6 and used the lens that way.
First I took a picture of a quarter without the lens and got as close as I could in macro mode and then I put the lens on and took a picture that way and found I could get a nice close up showing al the details, much closer than with just the camera itself.
The wide angle lens, I did the same thing, took a picture without and then with. The wide angle lens does let you see much more from the same distance.
Conclusion
The Choicelife lens kit does work, and it seems well made overall and it should work with most any phone and even tablets depending on where the camera is located.
The lenses product a clear view that looks very good, the same really as without the lens. The macro lens really lets you get in close to objects and see all the details while the wide angle lens lets you see more of the area.
Objectively these work and they're well made products but personally I don't think I'll ever use them, I'm just going to give them away to someone I know.
Pros:
+They do work
+Lenses seem well made
+Can work with most any phone and possibly tablets
Cons:
-Most likely can't use with case on phone
| | |
| --- | --- |
| Grading | Scores Out of 10 |
| Overall | |
| Design / Aesthetic | |
| Value / Price | |
| Performance / Usage | |
Disclosure: This product was given to us for review by the company for review purposes only, and is not considered by us as payment for the review.
To learn more about our review policy please visit this page HERE.