Multiple monitors, they're a wonderful thing. I've gone from one, then to two and now I run four on my main computer and I love every minute of it. It allows you to just get so much more done with work, but it allows you to enjoy your entertainment as well. One small issue with running multiple monitors is the cost for multiple videos cards or a high end card with many outputs on it. Sure you can get less expensive cards, but it's not worth it, at least I don't think it is. Today for review I've got a new product from Cirago that allows you to connect three monitors to your computer using a single Displayport connection. It's called the HydraDisplay X3 and it's very simple to use, truly plug and play. You might think something like this would require a lot of power but it doesn't it uses the power from a regular USB port only, so there's no adapter needed to run it. So let's check it out…

Not sure why I did a video unboxing of this product, but let's not let it go to waste. I was playing around the Muvee creation software as well, so that's why it has the funky introduction here..
Inside you'll find the adapter, a very brief manual and a displayport to mini-displayport adapter.
One of the great things about this product is that it requires no external power, it uses power from a USB port on your computer. This is a good thing as long as you've got enough free USB ports of course.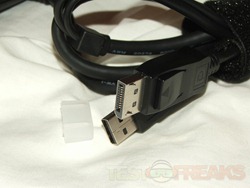 The unit itself has three DVI ports on the front with four LEDs on it, one each for the DVI ports and then one to indicate power. There are ventilation holes to help keep the unit cool.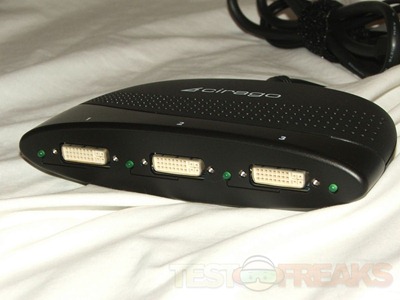 On the bottom you'll find the ID label, more ventilation holes and feet. Those feet actually double as wall mounts so you can mount it on your wall if need be.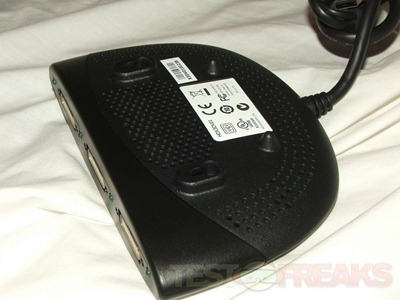 The HydraDisplay X3 is made of plastic as most everything is anymore, but it feels sturdy and well made.
Specifications:
HP Compaq 6006 Ultraslim computer and it has a Displayport on it so I used it to test the HydraDisplay X3.
To hook it up just plug in the Displayport connection and the USB for power, then hook up your DVI monitors. Here you can see the LEDs lit up green indicating it's working.
The are no drivers to install, Windows found it and installed them automatically in a few seconds.
I've got four monitors on my main computer so I used three of those, three of them are DVI and one is actually HDMI only. I didn't want to re-arrange my monitors so that's why there's a blank monitor in the middle it's the HDMI one.
When I hooked it up it the desktop was cloned on all monitors i had to go in and change settings to get it that way i needed it.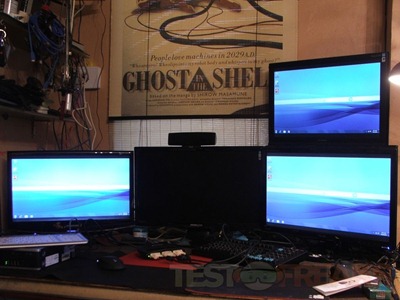 Technically you should arrange the monitors across the way you would like them displayed. You don't have any way to move monitors around like you would with a real multi-monitor setup. It shows as just one big monitor. I changed the settings and set it to span across all three monitors instead of cloning them, this way you have all of that screen space to work with.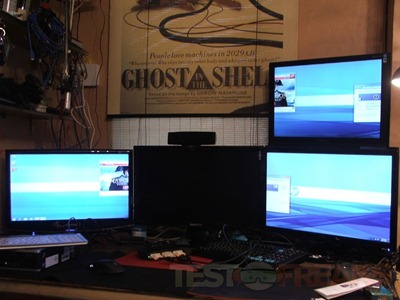 Here I'm actually running two monitors at 1920×1080 resolution and one at 1680×1050, and it works. The manual though says you should have all of the same resolution, mixing them causes the display to look odd when you spread across on to the other.
It can be rather frustrating to get things that way you want them though, it took some time to get it setup and configured mainly because I had to install the Catalyst Control Center on the HP computer since it wasn't there. I had to go in an figure things out for myself as the manual really doesn't tell you anything at all, it basically just tells you to go into your computer settings and sort it out for yourself.
I didn't notice any lag or flickering issues, everything seemed clear and looked great really.
I check over at NewEgg and this product sells for $190, which is a bit high, but I think it's worth it because it's rather simple to use and you don't have to worry about opening up your computer and installing videos cards.
Conclusion:
The Cirago HydraDisplay X3 is simple and easy to use, it's truly plug and play, nothing to install just plug it in and you're ready to go. It couldn't be easier really.
One of the best things about this product is the fact that it doesn't require an external power supply, it uses USB power right from your computer. The cable is nice and long so you can place it in an out of the way place and you can even mount it on the wall if need be.
Pros:
+Very simple to use
+Powered by USB
+Wall mountable
+Includes adapter for mini-Displayport
+Long cable
Cons:
-Monitors should be same resolution
-Configuration can be frustrating
| | |
| --- | --- |
| Grades: |   |
| Overall | |
| Design | |
| Performance | |
To learn more about our review policy please visit this page HERE.