Today for review I've got a product that I found rather interesting, it's an ultraslim computer that has holes in it to match those on your monitor, yes the computer can actually be mounted to the back of your monitor turning in into an all-in-one basically. You don't have to mount it that way, it can sit horizontally or vertically in the included stand. Inside you'll find a Phenom II X4 CPU along with 4gigs of DDR3 ram, a 250GB hard drive and an ATI HD 4200 graphics chip. All in all it's not a bad little computer really, it works well and it's fairly fast really.

The HP Compaq 6005 comes in a large box which inside you'll find two more boxes and the PC itself.
In the larger thin box you'll see the included keyboard, it's kind of plain and basic, but it gets the job done.
In the large fat box you'll find restore discs, Roxio software and HP Security software along with the power supply, stand and mouse and documentation.
The computer itself is rather small, very small actually. There are four holes in the cover that are to be used to attach the PC to a monitor. Yes you can attach it to a monitor, truly keeping it out of the way. If you didn't want to mount it you can stand or your don't have to as it does have rubber feet on it so it can be placed horizontally or vertically.
On the front you can see ventilation slits on the left side. The front also has the DVD drive, power switch, card reader, four USB ports and audio ports.
Moving to the back you'll see the fan that coincides with the vents on the front, it pulls air across the CPU to keep it cool.
Here you'll also see more audio ports, six more USB ports, ethernet, PS/2 ports, displayport, VGA port and the power connection. Yes there's only a VGA connection there no HDMI or DVI, but there is the displayport there.
Of course I to open it up and check inside, the cover comes off easily, it does lock on with a slide style locking mechanism.
Here's a closer look inside:
I hooked the Compaq 6005 up to a Samsung SyncMaster 2233 monitor with 1920×1080 resolution. Here's the desktop after boot, CPU-Z, MWSnap and the Folder are what I added, so the only thing there really is the trial version of Office and the Recycle Bin.
Next let's check CPU-Z and se what it tells us about what's in this little computer:
I was surprised to see a quad core CPU in such a little box, but it works. It uses small notebook style DDR3 ram and has integrated graphics, an ATI Radeon HD 4200.
The HP Compaq 6005 Ultraslim is running Windows 7 Professional 64bit and has 4 gigs of ram.
Here's the Device Manager expanded, yes it has built-in wireless as well.
Out of curiosity I ran Windows Experience Index and got a 4.5 score because of Windows Aero.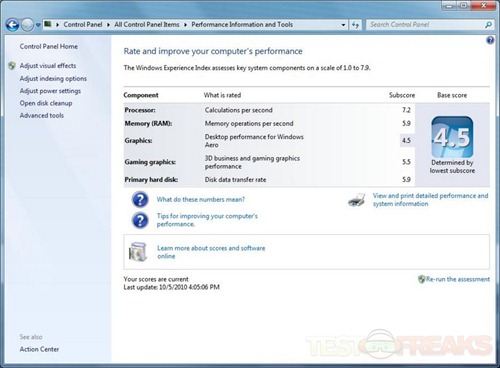 Specifications:
HP  Compaq 6005 Pro Ultraslim PC
Processor: AMD Phenom II X4 Processor 910e (2.6 GHz)
OS: Windows 7 Professional 64 bit
RAM: 4 GB DDR3
HDD: 250 GB (7200 RPM)
Graphics: ATI Radeon HD 4200 integrated
Optical: DVD-RW with LightScribe
Eco highlights: ENERGY STAR 5.0 qualified, BFR/PVC-free chassis
Ports:
10 USB 2.0, 1 audio in, 1 audio out, 1 DisplayPort, 1 VGA, 1 ethernet, 1 microphone/headphone jack, 1 PS/2 keyboard, 1 PS/2 mouse
Software:
HP ProtectTools security software; McAfee Total Protection – Small Business (60 Days); HP Power Assistant
>Warranty:
3/3/3 standard warranty – 3 years onsite, next business day, 3 years parts and 3 years labor and includes free telephone support 24 x 7
Price: $819

When you start using it you won't find much really installed just HP Updater and Support Assistant, Intervideo WinDVD, Macafee Total Protection, Norton Online Backup, PDF Complete and the Microsoft Office Trial edition.
HP Support Assistant has four options on the main screen to Maintain, Troubleshoot, Learn and Get Assistance with your new computer.
Well we know it has integrated graphics so I ran 3DMark06 because I was curious and ended up with a score of 1770 3Dmarks. A little bit a go I reviewed another HP Desktop, the Pavillion All-in-One 200-5020 (review HERE) and it scored only 1050 3Dmarks, so it's obviously better than that PC was.
In my main computer I've got a Corei5 750 and I wanted to know how that AMD Phenom II X4 compared so I did some video encoding using x264 HD Benchmark 3.0 from TechArp
Simply put, it is a reproducible measure of fast your machine can encode a short HD-quality video clip into a high quality x264 video file. It's nice because everyone running it will use the same video clip and software. The video encoder (x264.exe) reports a fairly accurate internal benchmark (in frames per second) for each pass of the video encode and it also uses multi-core processors very efficiently. All these factors make this an ideal benchmark to compare different processors and systems to each other.
Corei5 750 computer:
————————–
encoded 1442 frames, 63.64 fps, 3901.21 kb/s
encoded 1442 frames, 64.67 fps, 3900.68 kb/s
encoded 1442 frames, 64.07 fps, 3901.21 kb/s
encoded 1442 frames, 63.98 fps, 3900.68 kb/s
encoded 1442 frames, 19.67 fps, 3971.81 kb/s
encoded 1442 frames, 19.76 fps, 3971.25 kb/s
encoded 1442 frames, 19.61 fps, 3972.15 kb/s
encoded 1442 frames, 19.53 fps, 3970.28 kb/s
Phenom X4 HP
————————–
encoded 1442 frames, 57.17 fps, 3900.97 kb/s
encoded 1442 frames, 57.10 fps, 3900.68 kb/s
encoded 1442 frames, 57.17 fps, 3900.68 kb/s
encoded 1442 frames, 57.59 fps, 3900.10 kb/s
encoded 1442 frames, 17.03 fps, 3971.64 kb/s
encoded 1442 frames, 16.96 fps, 3970.91 kb/s
encoded 1442 frames, 17.02 fps, 3971.75 kb/s
encoded 1442 frames, 17.10 fps, 3970.82 kb/s
Not bad for such a little computer when compared to a full desktop like mine.
Ok, well more benchmarks won't yield much in the way of results as I don't have anything similar to compare it to.
The computer is small, and I'm surprised by it's decent performance, it's actually quick and very responsive.
When running it's virtually silent unless you're within inches of the fan, even under load it's quiet.
One thing I found unique was the built-in speaker, it surprised me when I turned it on actually. It's not amazing or anything in terms of sound quality but it works well for just regular windows sounds and even for watching movies if need be, just don't expect high quality sound.
The built-in wireless is a nice touch for sure, it makes connecting to the internet that much easier.
The computer runs surprisingly cool, I mean to the touch, the casing is is warm but not overly so.
I have to wonder why it has a VGA port on it though and no other connections except Displayport. VGA is kind of old school really, I think it should have DVI or HDMI or maybe both. I guess the Displayport is an upgrade over the VGA, but how many monitors out there come with Displayport?
Sadly you won't be doing much gaming on this computer with the integrated graphics, but you can do some light gaming, just lower the settings a bit.
The keyboard is plain and so is the mouse really. I have to wonder why, with all those USB ports, that they went with PS/2 connections for the mouse and keyboard. The mouse and keyboard both are very basic but they work.
Conclusion:
The HP Compaq 6005 Pro Ultraslim is a unique computer that offers a lot to the right person.If you're looking for a small form factor computer that will handle most of your everyday needs then you don't have to look any farther than this really. It does what most people out there will need it to do. Hook up a decent set of speakers and you'll have a nice little multi-media PC, you could even make this into an HTPC if you wanted really. You would of course have to find a TV that has Displayport or VGA on it to do that though.
Pros:
+Runs quiet even under load
+Built in speaker
+Built in wireless
+Can be attached to monitor
+Small and portable
+Runs cool
Cons:
-Not exactly the greatest performance when it comes to gaming
-Only displayport and VGA connections
| | |
| --- | --- |
| Grades: | |
| Overall | |
| Design | |
| Performance | |
To learn more about our review policy please visit this page HERE.