Today at technogog we will be looking at the D-Link SharePort Go mobile battery-powered router and media streamer. This unit is in the same family as the DIR–505 – D-Link All-in-one Mobile Companion that we looked at last year. Both these device can work as a router, Access Point, repeater and Wi-Fi hotspot. Plus they are capable of streaming media off an attached USB drive.
What separates the SharePort Go from its predecessor is the lithium rechargeable battery. This battery is designed to run the unit for four hours without an external power source. In addition this battery can charge an attached mobile device off its USB port.
D-Link offers free apps for either iOS or Android users allowing the user wireless access to files and media connected to an attached USB device.
The SharePort Go arrives in a cardboard box with an image of the unit on the front along with a pair of iOS devices connected wirelessly to the device. On the sides of the package are a list of features, package contents and minimum requirements. Looking at the back of the package we see the SharePort Go streaming video photos and music.
Inside the box are the SharePort Go, a 1700mAh lithium ion battery, an Ethernet cable, USB cable, and a quick install guide.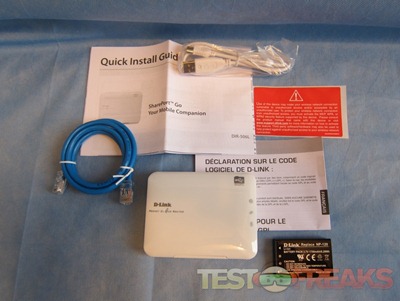 The SharePort Go is a slim white rectangular box that measures 4.05" x 0.88" x 3.14" and weighs 125 grams. D-Link provides a swivel out base for placing the device in a vertical position
On the front we see the D-link logo with Pocket Cloud Router printed underneath. The O of the word "Cloud" is the power LED light. On the right-hand side are three additional lights for USB activity, Internet connectivity and wireless activity.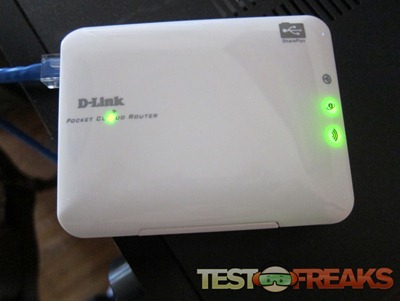 The top of the unit houses a USB connector along with the reset button and WPS button. The left-hand side has a LAN jack, an on-off switch, and a mini USB connector for charging the battery or powering it off an AC power supply, which is not included. Finally, on the back is the door for the battery lithium ion battery.
Specifications:

Featuring a compact design and rechargeable battery, the highly portable D-Link SharePort Go (DIR-506L) lets you stream and share your media across a range of devices while also adding mobile storage to your smartphone or tablet. Additionally, the SharePort Go turns any internet connection into a Wi-Fi Hotspot, or it can be used as an Access Point.
Stream and share media to your mobile devices
Transform any Internet connection into a Wi-Fi Hotspot
Turn any USB Flash drive into a wireless drive to unlock and unleash your content to all your mobile devices
Compact design and rechargeable battery deliver the ultimate in mobile connectivity
Versatile network functionality
Standards
IEEE 802.11n2
IEEE 802.11g
IEEE 802.3
IEEE 802.3u
IEEE 802.3ab
Physical Interface
1 10/100 Fast Ethernet Port
1 Wi-Fi Protected Setup™ Button
Antenna Type
Two Internal PIFA Antennas
Security
WPA & WPA2 (Wi-Fi Protected Access)
Wi-Fi Protected Setup (WPS) – PIN/PBC
Device Management
Internet Explorer v7 or Later; Mozilla Firefox; Google Chrome, Safari 4 or Later
Operation Modes
Router Mode
AP Mode
Wi-Fi Hotspot Mode
USB SharePort
Maximum 500GB USB storage size
USB drive format:  FAT32 and NTFS
USB SharePort Mobile App Supported File Types
Movie File Types:  .mp4 and .mov
Music File Types:  .mp3 and .wav
Photo File Types:  .jpg, .bmp, .gif and .png
Other File Types:  .doc, .docx, .pps, .ppt, .pptx, .xls, .xlsx, .pdf
Power Input
Compatible with USB Power Adapter, 5V/1A minimum
Adapter Not Included
LEDs
Power/Charging
USB
Ethernet
Wireless
Certifications
Dimensions (Item)
4.05" x 0.88" x 3.14"
102.9mm x 22.3mm x 79.8mm
Weight (Item)
Warranty

Price: $56.99 (from Amazon at time of review)

To start using the SharePort Go you will need to slide off the back cover and insert the lithium ion battery. Replace the cover and then plug the provided USB cable to a USB power source whether it's a PC, Mac or an AC adapter. While charging the power LED on the device will be orange eventually turning green once fully charged.
Now slide the power switch to the on position. It will take several seconds for the Wi-Fi connection dlink_DIR-506L to appear. On your computer or mobile device, select this network to configure the SharePort Go.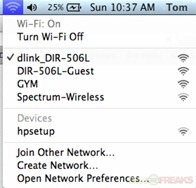 Set up of the SharePort Go is slightly different than with the D-Link All-in-one Mobile Companion. Instead of a preconfigured password and login found on the device as with the DIR – 505, the SharePort Go uses an open network. Log onto your browser at the address 192.168.0.1 or http://dlinkrouter on a PC or http://dlinkrouter.local on OS X.
Conversely you could use the free D-Link QRS (Quick Router Setup) app for setting the device up as a router.
The Quick Start Guide provides a simplified way of setting up the SharePort Go. For those who want to know more details about using this device, I suggest you download the instruction booklet – here. Despite its small size this device offers most features found in a full size router.
While the D-Link All-in-one Mobile Companion had a switch on the device to switch between Router, Repeater and Hot Spot, this model needs the user to do this from within the web interface.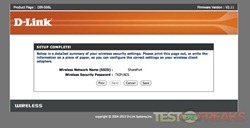 D-Link also includes a WPS (Wi-Fi Protected Setup) button for a simple way to set up a WPA-2 enabled wireless network.
Attaching a USB to the SharePort Go allows the device to stream and receive media. Using the free SharePort Mobile app makes using the device with iOS and Android devices simple. D-Link provides a QR code on the Quick Install Guide for downloading the app.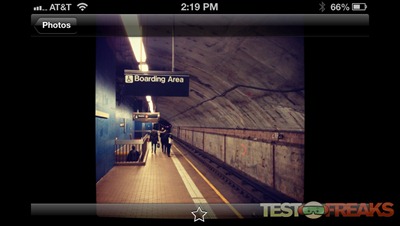 For a speed comparison I looked at the SharePort Go versus the Netgear WNDR3700, both using 802.11n. I connected both of these devices to a Verizon FIOS to make it a level playing field.
SpeedTest for the iPhone 5 was used. Although the Netgear was faster with downloads, the D-Link held its own with uploads.
Conclusion:

The main difference between the D-Link SharePort Go and its sibling the D-Link All-in-one Mobile Companion is the rechargeable battery. Feature wise the older model is slightly more robust as it includes a physical switch to toggle the device's functionality. The SharePort Go continues to provide media streaming capability making it handy especially for families as you can stream music or movies to the kid's iOS devices. For road warriors it provides the ability to work on files off an attached USB.
One plus to the SharePort Go over the hard wired D-Link All-in-one Mobile Companion is that it can be easily repositioned within one's home or lodging. Plus the ability to charge your mobile device such as iOS or Android devices in a pinch is nice as well.
Currently the price difference between these two devices on Amazon is around $5 making the choice between the two whether you want the convenience of a portable rechargeable device or one that has to remain physically plugged into an electric outlet.
Pros:
+802.11n enabled
+Triple threat functionality – hotspot, router/access point and repeater
+Charges USB based devices including iOS and Android phones
+Stream media from attached USB device
Cons:
-Battery Life is around four hours
-Unable to physically change modes on device
-No included power supply
| | |
| --- | --- |
| Grades: | |
| Overall | |
| Design | |
| Performance | |
To learn more about our review policy please visit this page HERE.