Up for review today I've got a very useful product from a rather new company called D8, the product is called the iBag and it's an 8000mAh portable external battery that you can take with you to make sure you've got power when you need it. The iBag comes with four common tips that you can use but you don't have to as the iBag does have standard USB ports on it so if you have the cable you can charge it.  So read on to learn more…
Unboxing
The packaging for the D8 iBag battery is kind of plain, but it works as it does have important information listed on the front and back like the specs and capacity and compatibility.
Inside of the box you'll find a plastic tray with the contents neatly arranged for you for shipping and storage.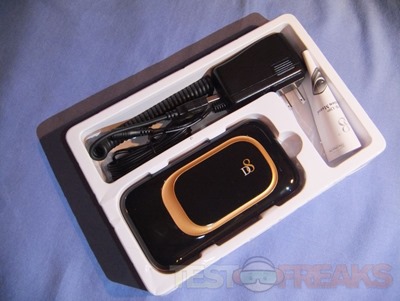 Once you unpack everything you'll find a bag of tips, AC adapter, USB cable, user guide and the iBag external battery itself.
The AC adapter is included to charge the iBag and on the end you'll find a miniUSB connector that goes into the iBag to charge it.
The cable included is the spring or expandable kind and on one end you'll see a regular USB connection and then on the other is a female connector that goes with the included tips.
D8 does include tips to go with the cable for Apple, Samsung, miniUSB and microUSB.
So here's the battery itself. The one I got for review is black and bronze or gold in color but you can also get red, white or blue if you prefer and I saw you can also get it with a white housing instead of black. The battery is 8000mAh but it's small with dimensions of only 130x68x22.5mm or about 5.1 x 2.6 x .8 inches and it weighs in at about 14 ounces. The 8000mAh battery should provide 50 hours of extra talk time, or 240 hours of music playback or 50 hours of extra game time and it should provide the iPad with 10 extra hours of usage. The case is a glossy plastic and it looks nice overall and it feels well made. Personally I don't care for the high gloss coating as it picks up fingerprints and shows scratches, but it seems most things these days are glossy so there's not much to be done as it's popular. Apparently I'm in the minority when it comes to things being glossy…
The back is basically plain except for a label with information on it.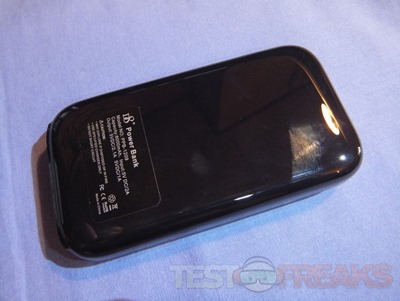 On the front end you'll find three USB ports. The left port is a standard USB port but it provides 5volts with 2.1amps, while the right USB port provides 5volts and 1amp of power. The center USB port is the mini style and it's used for actually charging the iBag itself with the included AC adapter.
On the right side you'll find a small black button and what look like four small holes but these are actually blue LEDs to indicate battery capacity. There are four LEDs and they represent 25% battery capacity each so you can get a good idea of how much you've got left. The button is for checking the battery capacity and for turning the iBag on to initiate charging.