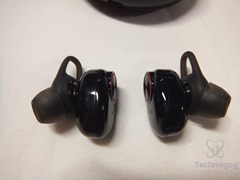 Earbuds have become commonplace, especially wireless ones which I happen to like quite a bit as they offer a lot of freedom of movement and there's not cord to get tangled up in your stuff. Up for review today I've got a set of wireless earbuds from a company called DamaGood and these are Bluetooth wireless earbuds that come with a case that let's you charge the earbuds inside of it. The case not only charges the earbuds but protects them during travelling and it looks good too. Read on to learn more…

Specifications and Features
Wireless Earbuds Earphones TWS Bluetooth 5.0 with Charging Case and USB Slot IPX7 Waterproof HD Stereo Sound and Build-in Mic
This wireless headphones built-in microphone can be used in wireless mode. With Bluetooth TWS Latest technology, our headphones provide a quick and stable connection with your Bluetooth enabled devices such as; cell phones, tablets, pcs, with a high-quality built-in microphone for hands-free calls.
Bluetooth v5.0 technology deliver true Hi-Fi sound complete with clear treble and booming bass. Enjoy crystal-clear stereo sound music life in your private time. Compatible with all Bluetooth devices, simultaneously connects 2 devices within its 66 ft Bluetooth range.
True Wireless Experience: Bluetooth 5.0 True Wireless Headphones,stronger signal, IPX7 waterproof, can be used to shower and fitness.You don't have to worry even if it rains.
Usage time: 3-4 hours to keep playing music or 6 hours continuous call or 360 hours standby time when headphones fully charged.
True Wireless earbuds: Getting rid of tangly wires, the earbuds with Latest Bluetooth TWS technology provide stable connection and signal transmission.The left and right headphones can be combined into a TWS system.Two earbuds can be used independently.Each headphone have microphone.
Charging Case: The portable charging case could charge the earbuds 3-4 additional times.Also support your phone charged. TWS supports IOS and some Android system power display.Charging Case is very suitable for the emergency power supply when your phone battery is low.
Simple use: You only need to take out wireless earbuds from the charge case.Earbuds will auto boot into pairing mode,makes a fast and stable connection.
Price: $39.99 (from Amazon at time of review)
The Review

Let's start wit a video unboxing and then move on:
The headphones in a sturdy presentation style box. When you open the box you're greeted with the headphones inside of their case surrounded by foam for protection.
Once you get the box unpacked you'll find the user guide, carrying case, extra earbud covers, micro USB charging cable and a USB charger to charge a single earbud if need be.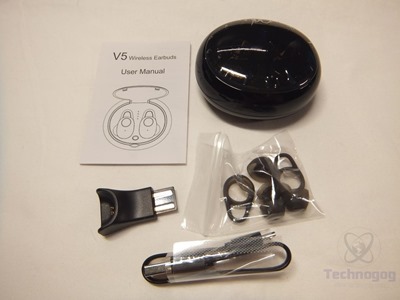 The carrying case has a semi-transparent cover, it's more smoke colored really and you can see the charging LEDs for the case itself and the earbuds right through the case cover so you can easily see the status.
When you open the cover you'll see the earbuds in their charging compartments along with four LEDs and the main power button at the bottom.
When you remove the earbuds you'll see the charging compartment is shaped like them, you can only put the right and left in the right and left sides. There are four gold contact points for charging that mate with the ones in the earbuds themselves.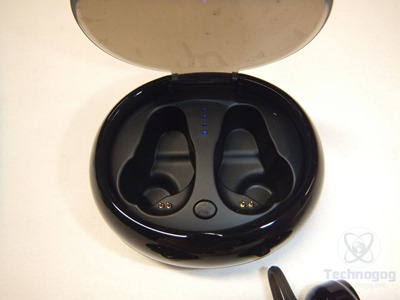 The earbuds are very small, slightly under one inch tall and about 3/4 inch thick including the earpieces. You can see the gold charging contacts at bottom of the earbuds and they are marked with R and L so you know which is left and right. The headphones are IPX7 waterproof which means sweat won't bother them and you can use them in the rain if you want to or happen to get caught out in it.
The earbuds have a single button on each of them that do different things depending on which side and right below the button is the LED which can light up red and blue.
The earbuds can be used with your computer, iOS or Android, I'm using it with my Samsung Galaxy S9 so that would be Android of course. I found I could use all of the functions of the earbuds with my phone. Click once to play/pause or answer/end calls, click twice on left earbud to lower volume, click twice on right earbud to raise volume, click three times on left earbud to go to previous song, click three times on right earbud to go to next song and lastly you can press and hold for 2 seconds on left earbud to redial last number called.
They do include a single charger with a USB connection on the end so you can charge just one if you need to, not really sure why this was included but it's there and I guess it's useful.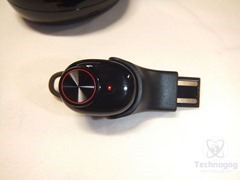 I used the earbuds for listening to music primarily and I was very impressed by the sound quality, it's full and clear with decent bass and treble. I listened to a few different music styles for testing and it all sounded great.
Conclusion

These are decent Bluetooth earbuds, I'm really impressed by the sound quality and I have to say they are comfortable to wear for long periods of time. The earbuds fit in my ears just fine and they stayed in while moving about so these would be great for jogging, exercising etc I would think.
The carrying case is a nice, it's sturdy and will protect the earbuds while travelling and of course it charges the earbuds while in the case.
One small issue I have with these earbuds is that battery life is shorter than I would like, you can only get 3-4 hours playing music but you can get about 6 hours of talk time. I would use these more for listening to music so I would have liked to have seen the battery life be better.

Pros:
+Includes carrying and charging case
+Comfortable
+Very good sound
Cons:
-Battery life is shorter than I would like
| | |
| --- | --- |
| Grading | Scores Out of 10 |
| Overall | |
| Design / Aesthetic | |
| Value / Price | |
| Performance / Usage | |
Disclosure: This product was given to me for review by the company for review purposes only for free or at a discounted price.

To learn more about our review policy please visit this page HERE.