The power supply is an important part of your system, a very important one and it's ideal to have a good quality PSU, especially if you're running a higher end system. There are times though when you don't need a high wattage PSU, or you're just on a budget but yet need a new power supply. Up for review today I've got a PSU that sells for about $40, so it certainly can be considered budget. The PSU is from Diablotek and it's the UL Series PSUL575 which is a 575 Watt ATX Power Supply. I've put it in a low-medium end system and it seems to work fine for that, so read on…
The box has a picture of the power supply on it, along with specs and features and the side panel is the full specs of the PSU.
When you open the box you'll be greeted with a main power cord, user manual and a silicone vibration dampener.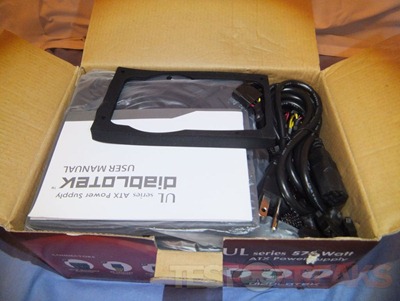 Here's everything unpacked, the only thing you couldn't see was the bag of installation screws.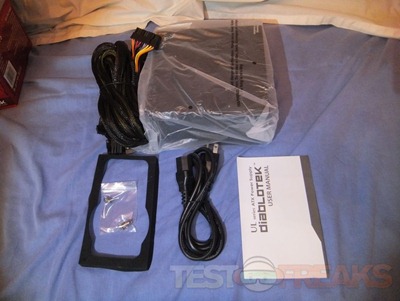 Here's the dampener, it fits onto the end and it helps to dampener vibrations and keep noise down.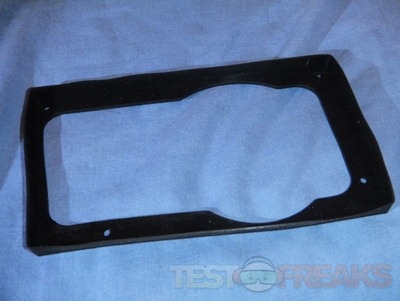 The power supply itself is all black in color.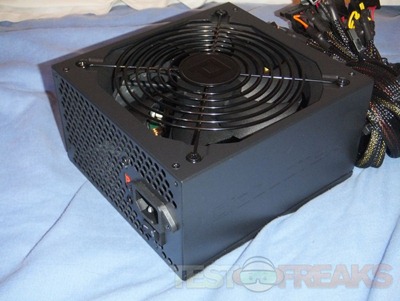 On the side you'll find the same specs listed as the box had.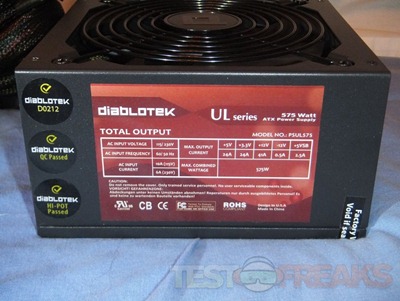 If you look closely at the label you'll see the UL number which is E203359 and if you look that up in the UL database you'll find that this power supply is actually manufactured by Great Wall Shenzhen China. Great Wall is pretty much the biggest PSU manufacturer in China and they've started to come over here to the states in the past few years and we're seeing more and more of them now. Companies like OCZ and Sparkle and others have rebadged them and sold them as their own. For the most part they make quality products, there was a time where that was questionable but they've improved. Some people think Great Wall is great PSU company and others disagree, so it all depends who you talk to.
You'll also notice on the label and on the box there is no efficiency certification like 'Gold Class' that you might see on other power supplies. The specs state that this one is efficient up to 80%, which to me means it's not going to be 80%, which is probably why no certification for them either. The 80 Plus ratings start at 80% and go up from there, so this one isn't going to be as efficient as one that is certified, but it's not as expensive either.
Ok, back to the PSU, here's the back with it's now common honeycomb style ventilation a manual voltage switch, main power connection and of course the main power switch.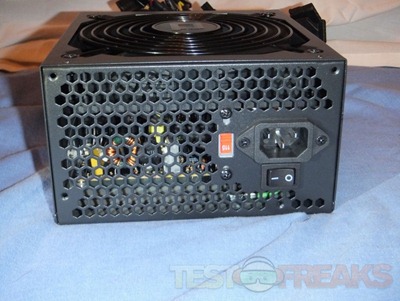 On the other side of the PSU is the Diablotek logo.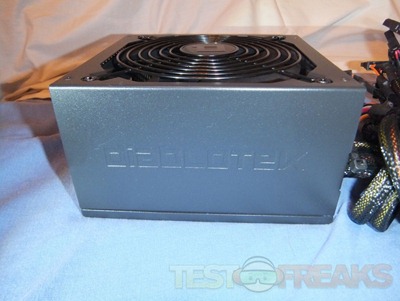 On the front where the cable exit the unit is rather bare, just some very small ventilation slits.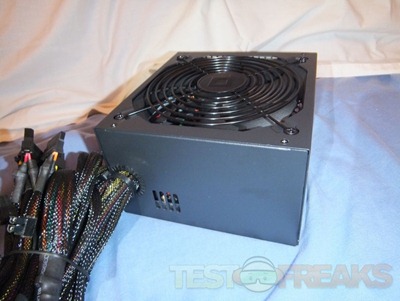 On the bottom is the cooling fan which is 140mm and thermal controlled, meaning the hotter the PSU gets the faster the fan spins.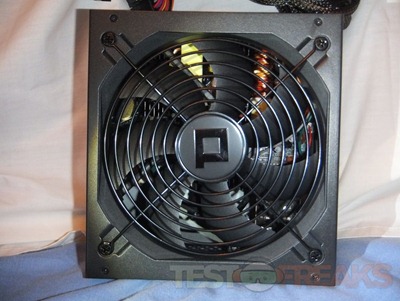 The cables are all nicely sleeved in a black mesh material.
Here's a handy chart telling you what connections you'll get:
As you can see there's only two PCIE connectors so you probably won't be able to power more than one higher end card with this PSU.
Then here's some pictures of the actual cables for you:
Specifications:

UL SERIES PSUL575 575W ATX POWER SUPPLY
MODEL PSUL575
Features:
575W Power Supply
With a maximum power of 575W, it delivers more than enough power for mainstream level computer systems with high quality performance.
ATX12V V2.31 Compatible
Compatible with the ATX12V V2.31 standard, the UL series 575W PSU provides maximum power stability to drive the latest Intel and AMD processors.
Auto Thermal Control Fan
Built-in auto thermal controlled, the silent cooling 140MM ball bearing fan maximally reduce noise and keep your PC in safety guaranteed.
Ultra Silent
Specially designed, the single 140mm fan is purpose-engineered to guarantee cool, efficient performance and most importantly, low noise.
Dampener Included
With the inclusion of the dampener, it lowers the PSU noise and vibration.
Protection
Over current, over voltage, under voltage, and short circuit protected
High Quality Components
The built-in solid high quality components strengthen the protection of short circuit, over-voltage, and over current.
High Expansion
The Diablotek PSUL575 has high expansible connectors of 2 x 6+2 Pin PCI-E, 6 x SATA, and 6 x MOLEX.
High Efficiency
High efficiency up to 80% to save your electrical bill and prolong your pc life by reducing heat in your system.
High Reliable Capacitor
Highly reliable 105°C capacitor provides performance and reliability.
Full Sleeve Cabling
Full sleeve cabling for easy organization, optimizing air flow, and improving cooling in the case
Well Built
The Diablotek UL Series is made out of the highest-grade and most durable materials in its price point that's more dependable in every way.
3 Years Warranty
Diablotek provides all their power supply unit series with full 3 years warranty service.
Price: $39.99 (from Amazon at time of review)
If you paid attention to the review I just did of the Raidmax Raptor case then you might recognize the power supply.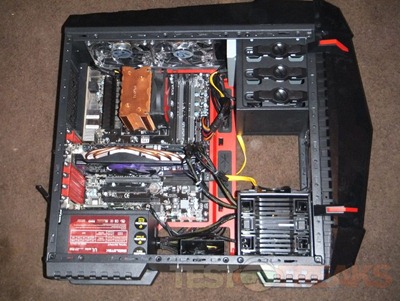 For the most part installation was painless, the cords were long enough for my needs. One thing I should note is the 8pin CPU connector cable was a very tight reach going behind the motherboard. Depending on the size and design of your case it might not reach at all.
The system consists of:
EVGA P55 Motherboard
Intel Core i5 750
1tb hard drive and dvd/rw drive
Sparkle Nvidia GTX 465 video card (which happens to use both PCIE power connectors)
There's also three fans in there as well.
For testing I tried something different, Aida64 Extreme.
I should note that power supplies have specific tolerances, you want the rails to be within certain tolerances and that's about 5% plus or minus or 10% total.
Here's what those tolerances would be for each rail:
+12 VDC     ±5% (±0.60 V)    +11.40 V to +12.60 V
+3.3 VDC    ±5% (±0.165 V)    +3.135 V to +3.465 V
+5 VDC       ±5% (±0.25 V)    +4.75 V to +5.25 V
Essentially you don't want to go above or below those tolerances at idle and especially at load.
I ended up running two tests with AID64, the first was basically jus the CPU and memory test and then I ran the test again with CPU, Memory and Graphics card in the mix.
Each test was run for an hour at a time.
Here's the first graph: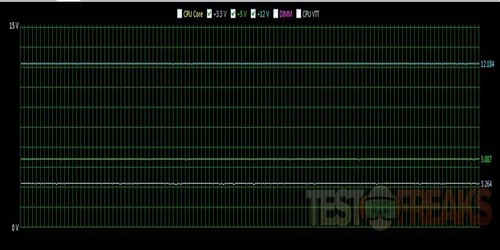 It's kind of hard to see, but you can click for a larger view.
Thankfully though AIDA64 does give us a nice text version as well.
The labels should be left to right, Minimum, Maximum and the Average.

A little low on the 3.3V rail as you can see, but well within tolerances. The 12v line does very slightly dip below 12v, but for the most part it's fairly stable. The 5v line didn't change much at all, pretty stable overall.
The next test is with the GPU included with the CPU tests, so it really stresses the system and should give us a good indication of how the Diablotek UL Series PSU handles itself under load conditions.
Here's the graph first, again it's an hour long test.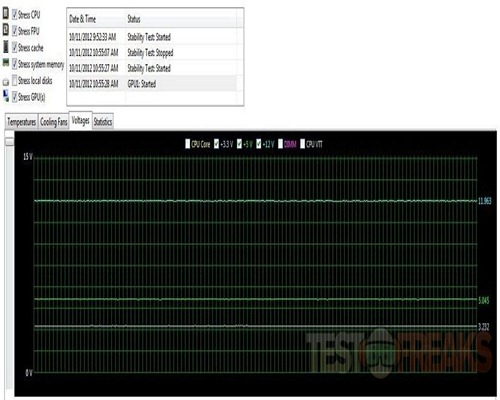 Then here's the text version for you to see better, same thing here left to right, Minimum, Maximum and the Average.

The voltages dropped when compared to just running the CPU tests, but that's expected with a heavier load on the system. Still all within tolerance levels which is what you want to see.
For the most part I'm happy with this power supply.
One thing does bother me though, the 3.3v line never actually hit 3.3v. It's well within tolerances and close to 3.3 but it's never 3.3v or above.
The fan is quiet, even under load, I never heard it over the fans in the system, it didn't add or increase the noise of the system.
Conclusion:
The Diablotek UL Series PSUL575 575 Watt ATX Power Supply isn't a bad choice for a lower end machine or those on a budget. The price on this is around $40 only, and at that price it's certainly considered 'budget' so anyone can afford one, just don't think it's going to power a high end machine with dual video cards and many hard drives. For one thing there's only two PCIE connectors, so there you're limited as to video cards you can install obviously.
The rails are stable for the most part and fall well within tolerances even under a heavy load they don't fluctuate much at all.
The fan is quiet, or at least it doesn't add anymore noise to my system with the three cooling fans already in it.
The 3.3v line is questionable, but it's within tolerances, still it never hits 3.3 volts actually.
I'm using this PSU for my kids computer where they do web browsing and light to medium gaming so it should be fine. I would not put it in a higher end system though as I don't think it would be able to handle it. Then again it is only 575watt so if you do have a higher end system you'll want a higher wattage PSU surely.
For a budget PSU I don't thin it's too bad, especially the price. If you need a replacement PSU for a lower end system then you should be fine with this I would think.
Pros:
+Runs quiet under load
+Fairly stable overall
+Low price
+Runs within tolerances
Cons:
-3.3v line never actually hits 3.3v
| | |
| --- | --- |
| Grades: | |
| Overall | |
| Design | |
| Performance | |
To learn more about our review policy please visit this page HERE.