My son broke the good phone I got him and HTC One so I needed a new phone and bought one but it didn't work correctly so I bought another one, the Motorola Moto E 2nd Gen which is another Android phone. My son isn't exactly responsible so I needed a case for it but not just any case something rugged and durable. I picked up one on sale that included a screen protector and a stylus from Amazon and it's from a company called ElBolt. The case is fairly rugged, it's two layers, silicone and plastic and it includes a sturdy belt clip. Read on to learn more…
Specifications and Features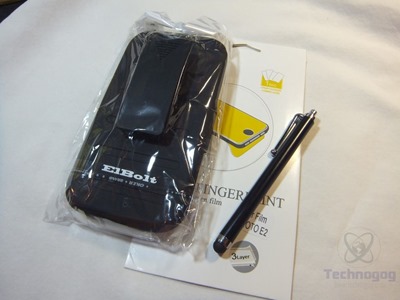 The case is in two parts mainly, a sturdy and padded belt clip and then the dual layer rugged case itself.
The first thing I did was apply the screen protector and they include a cleaning cloth with it for you. Applying it is just like any other, be very careful and keep the dust away and line it up and then set it in place and you're basically done. It's a screen protector, nothing special really, it's clear and it seems just as good as any other I've used.
So I have the Motorola Moto E phone but it's the 2nd generation or the 2015 version, this case will not fit the original Moto E. The case itself is in two parts, a soft silicone inner lining and a hard out shell.
The silicone case slips over the phone fairly easy, just pull and stretch it over the phone and then you need to really push the hard plastic half over the silicone case. The case has openings for microphone, audio jack and the camera and flash of course. The buttons though are not open, the case has bumps where the buttons are and you just push those to activate the buttons. The case fits very snug over the phone, which I think is a good thing as it won't come out and it seems to offer good protection for the phone inside.
On the back of the case you'll find a built-in kickstand so you can stand the phone up for viewing, it's on odd stand as it folds down and out essentially but it seems to work.
The phone goes into the belt holster screen facing inward and the parts of the holster match the case to hold it in place. The phone can be put into the holster backwards though as the belt clip also acts as a stand. The belt clip can also be rotated 360 degrees so you can position the phone however you want it on your belt.
Conclusion
I've never heard of ElBolt but I'm always willing to give a company a chance and I'm happy I did with this case as it's decent and I think it will protect the Moto E very well.
The case offer dual protection, silicone and plastic and it even comes with a very sturdy belt clip. As a bonus they include a screen protector and stylus which works fine, everything for under $10. I think it's well worth it.

Pros:
+Dual layer case for decent protection
+Includes screen protector and stylus
+Inexpensive
Cons:
-None that I could find yet
| | |
| --- | --- |
| Grading | Scores Out of 10 |
| Overall | |
| Design / Aesthetic | |
| Value / Price | |
| Performance / Usage | |
Disclosure: I purchased this product for my personal use and thought a review would benefit other consumers in making an informed purchasing decision.
To learn more about our review policy please visit this page HERE.