Today I have a review for you, but I also have a great deal on said product. What I have for review today is the Energizer XP4001 4000 mAh Universal Portable Charger which normally sells for $49.99, but it's on sale for $29.99 but to sweeten the deal I've got a code that gives you $20 off bring the price to only $9.99. I added to my cart, using the code and with shipping it was only $15.99 shipped. So it's obviously a universal charger, but it's one of the better ones I've seen and as a bonus when you register your product you'll be eligible for two free tips per year for life! Yes that's for life, forever, every year you can get two tips. So read on to learn more about the XP4001 and see the very end of the review for the code so you can get that $20 discount.

As usual we start with box shots, the box for the XP4001 does have a flap that opens and shows you the XP4001 and the tips.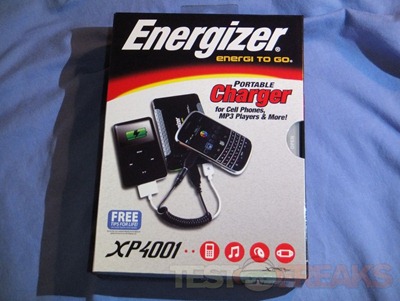 When you open the box you'll find another box which has a removable top or tray that holds the tips and XP4001 itself.
When you remove the top you'll find even more stuff beneath.
In the bottom section you'll find the AC adapter, cloth carrying bag, user manual, registration information and another bag with USB cables and an Apple adapter.
There are two USB cables included, they're the stretchy or springy kind. The Apple cable is really just a regular USB cable with an Apple connector on it.
The two USB cables have female style connections on the ends for the included tips.
The tips included, besides the Apple one are a microUSB style one, one for Nokia, a miniUSB one, a flat style for Samsung phones and then another flat one for LG phones. So all in all there are five charging adapters included if you weren't keeping track.
Then finally here's the actual XP4001 external battery pack. It comes with a clear protective sticker over it for shipping.
There's a green line running around the sides for some reason, but the sides and part of the top and bottom are rubberized for grip
The bottom has the ID sticker on it along with labels for the ports.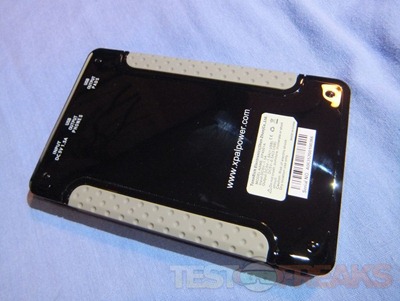 On the one end you'll find all of the ports  for input power for the AC adapter and then there are two regular USB connections.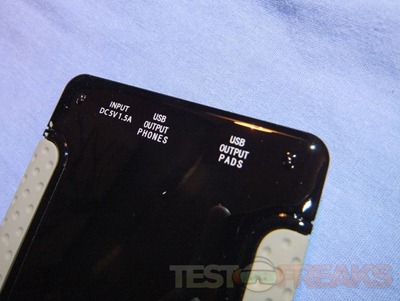 On the top of the XP4001 you'll see two LED indicators for charging and battery level. There's a button under them so you can check the power level.
Here's a couple pictures without the plastic cover on it. The surface of the XP4001 is glassy and shiny making it very attractive for fingerprints and dust.
The Xp4001 is lightweight and small with dimensions of 83.82 (L) x 58.42 (W) x 12.7 (H) mm and it only weighs 5.4 oz or 153 g.
Specifications:
I then proceeded to charge my phone, very simple, just plug it in.
Charging with XP4001 takes the same amount of time as it does via the regular USB connection to my computer.
One thing I really like about the XP4001 is that you really don't need special tips as it has standard USB ports on it so if you have your original cables you can charge any USB type device. The XP4001 also let's you charge two devices at one time which can come in handy. Yes you'll drain the battery faster but it's convenient for sure.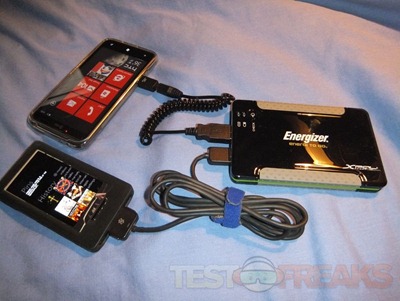 You should be able to get two full charges from the XP40o1 before you need to charge it again, but that's using it for just one device. So, essentially, you can charge two devices at the same time one time, but I think you get the idea.
When the battery dies on the XP4001 just recharge it using the AC adapter that's included. According to the specs you should be able to recharge the XP4001 over 500 times, which is something I can't really test so I'll just take their word for it for now.
Overall the XP4001 is a great little product, but I'm picky so I have to complain about something and that's the carrying case, it could be better. The case is just a cloth bag and really nowhere to put the tips and USB cables. Personally I would have rather seen something with pockets at least, but a harder, more durable case would have even been better.
I do have a similar external battery and it's from Callpod, it's the
The two free tips for life program.. it's not exactly free, you'll need to pay shipping and handling. To qualify you just need to register your XP4001 and then you can get two free tips every year for life. That's not a bad deal.
I decided to order two tips just two see how much shipping was going to be and it was surprisingly inexpensive at $3.95 for standard shipping. I was expecting $9.99 or more for shipping honestly, it's refreshing to see a company not ripping people off on shipping and handling charges. If you want express mail though you'll need to pay $25, which I don't think anyone needs the tips that fast or that bad, at least I don't.
I was surprised by the amount of tips available, I choose one for my ZuneHD and one for my PS Vita which I think both will come in very handy.
So let's get to the discount code for the XP4001.
Go here to the XP4001 product page 
Conclusion:
To me the Energizer XP4001 universal portable charger is a near perfect charging solution. The reason I say this is that you really don't even need any special tips as the XP4001 has regular USB ports, so if you've got your cable you can charge your device. Really you'll never have to even buy tips for it if you don't want to. Then again, since you can get two free tips for life every year, why not take advantage of it and use the tips. The XP4001 will never be obsolete like some other chargers on the market really. If a company stops supporting it or making tips for one of those more specialized chargers then you're out of luck, with the XP4001 you don't even have to worry about tips if you don't want to.
The sale price is $29.99 and for that I think it's worth it, but with the code I provided above I see no real reason why you shouldn't go and buy one right now really. For about $16 you can get the XP4001 shipped to your door and you'll be ready to keep your devices powered at all times.
The only real issue I have with this product is the carrying case, it's really not the greatest at all. It would be nice if they included a better quality case with pockets for the tips and UBS cables.
Pros:
+Simple to use
+Has standard USB ports so tips aren't necessarily even needed
+Well made
+Popular tips included
+Inexpensive
+Two free tips for life!
Cons:
-Carrying case could be better
| | |
| --- | --- |
| Grades: |   |
| Overall | |
| Design | |
| Performance | |
To learn more about our review policy please visit this page HERE.