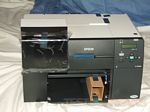 Today for review I've got a rather large printer from Epson, it's a business printer named the B-510DN. This printer is fast, and the ink cartridges are just huge, they offer 8,000 pages per cartridge. That's just amazing truly. This printer can be hooked up either USB or on your network over Ethernet. It's very easy to setup, in a matter of minutes you'll be up and running with some looking prints.

It's a big printer and it comes in a huge box, but it's packaged well.
On top are the paper tray, the output and the input trays along with the ink cartridges, power cord, documentation and software disc.
Paper can be loaded into the paper tray that is very big, up to 500 sheets can be loaded actually or it can be loaded into the top of the printer.
The ink cartridges are just amazingly large. To give you an idea of just how big they are, here's a cartridge with a regular ink cartridge for the Epson WorkForce printer.
The printer of course comes covered with tape that will have to be removed. There's  a piece of packing cardboard in the bottom where the paper tray is inserted.
Here's the printer with a regular DVD box: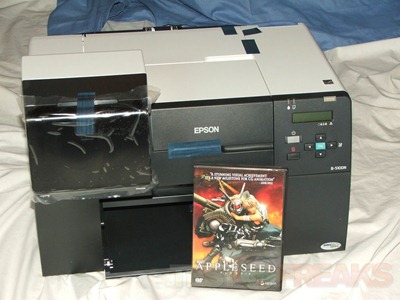 On the left side is the ink cartridge access door: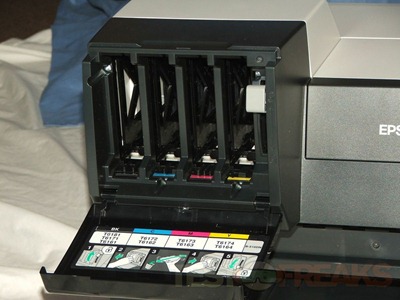 Next to it is another access panel, just in case of paper jams.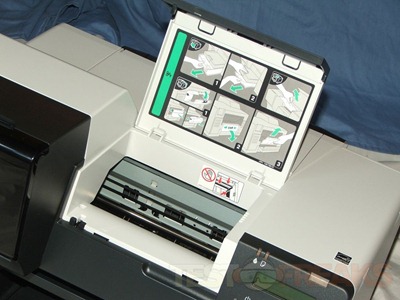 On the top near the back is the secondary paper tray.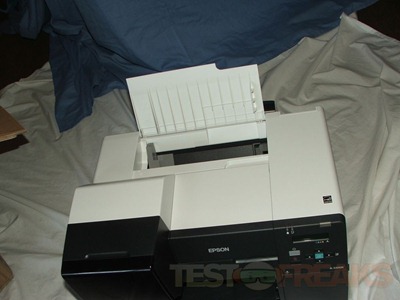 Off to the right is the very small LCD panel with controls beneath it.
Below that on the bottom is the maintenance box door.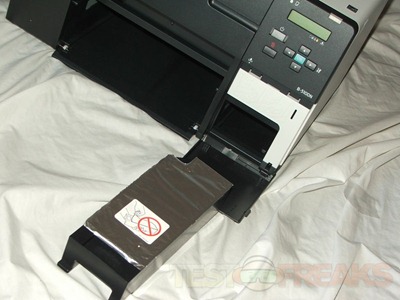 On the back of the printer you'll find access panels and the double sided printing attachment, so right out of the box you've got double sided printing.
On the back you'll find USB, Ethernet and power connections.
Below the duplexer is an access panel, you'll need to remove the duplexer to access it though.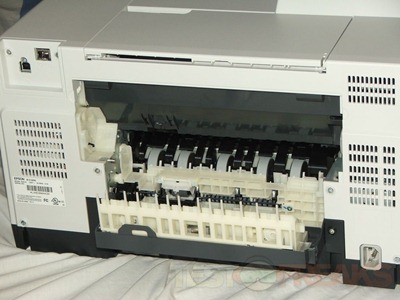 Specifications:
Epson B-510DN Business Color Ink Jet Printer
Model: C11CA67201
Ink: 4-color DURABrite Ultra pigment ink
Resolution: 5760 x 1440 dpi
Key Features:
* Fast color print speeds — 37 ppm (maximum) or 18 ISO ppm (color)1 to support high-volume color printing
* Individual, high-yield ink cartridges — print about 8,000 pages (black) and 7,000 pages (color) before replacing cartridges (when using the highest capacity ink cartridges available for the printer)
* Economical ink cost per page — as low as 4 cents per color page (when using the highest capacity ink cartridges available for the printer)
* Easy to replace, high-capacity ink cartridges — means less downtime and higher productivity
* High-capacity paper cassette increases productivity — holds up to 500 letter- or legal-size sheets to facilitate high-volume printing
* Legal-size printing support — via front paper cassette or rear sheet feeder
* Save paper and stretch budgets — when using the included automatic duplexer for double-sided printing
* Versatile media handling — rear sheet feeder accommodates labels, envelopes and more
Eco Features:
* Save up to 50% on paper with the built-in duplexer for automatic, two-sided printing
* High-volume ink cartridges mean fewer cartridge replacements and reduced packaging waste
* Designed to be recycled
* ENERGY STAR qualified
* RoHS compliant
Print:
Printing Technology: MicroPiezo ink jet technology
Maximum Print Resolution: 5760 x 1440 dpi
Print Speed:
* Black: 37 ppm
* Color: 37 ppm
ISO Print Speed:
* Black: 19 ISO ppm
* Color: 18 ISO ppm
Paper Sizes:  Letter (8.5″ x 11″), A4 (8.3″ x 11.7″), Legal (8.5″ x 14″), 8″ x 10″, 4″ x 6″, 16:9 wide (4″ x 7.11″), Envelope #10 (4.125″ x 9.5″), A6 (4.1″ x
5.8″), half letter (5.5″ x 8.5″), user definable
Monthly Duty Cycle:  20,000 pages (recommended monthly volume of 4,000 pages)
Dimensions: 18.9″ x 21.6″ x 12.3″ (W x D x H)
Weight: 24 lb
Price: $599.00
Amazon Price: $609.96 (From Amazon at time of review)

When you power it on there's a green LED above the LCD. The LCD panel will read 'Ready' when it's booted up, and there are ink levels shown as well. Boot time of this printer seems to take quite a bit, almost a minute to get the Ready screen. I don't have any pictures of the LCD screen with the functions shown because there really isn't that much there, it's just basic stuff.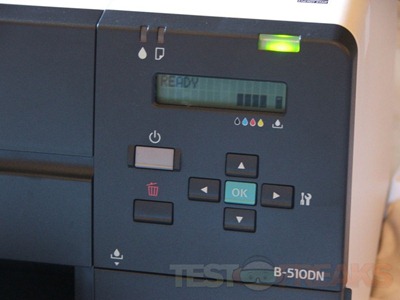 The B-510DN was very easy to install. Many printers require you to use the USB connection first for the network connection, but not this one, just plug in the Ethernet cable and pop in the disc.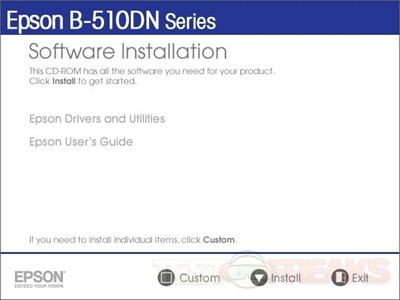 Up will pop the EpsonNet EasyInstall screen. Just follow the prompts to install the printer on your network. The screen below shows no IP for the printer, all I had to do was turn the printer off and then back on and the IP appeared.
Installation was very fast, I installed it on my Windows 7 64bit system an it took maybe two minutes total.
Here's the options screens in the printer properties:
In the second screen above you'll notice an option for Quiet Printing, the printer is quiet actually even if you don't use that option. You'll have to enable 2-Sided Printing if you want to the ability.
I enabled the 2-Sided printing and started printing text and graphic documents and a couple pictures as well. Pictures aren't bad, but as like any other printer they take quite a while when set to Photo quality. The quality of the pictures of passable, but I wouldn't want to use it as a photo printer. It's not a photo printer so I didn't expect high quality prints.
I used the Text and Image setting and printed one of my reviews.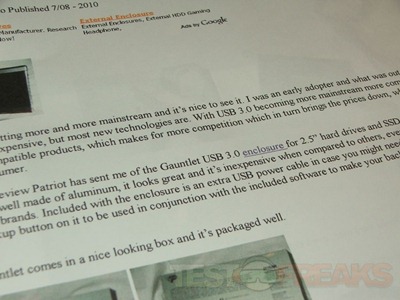 Here's close ups of the text and using my macro lens to get in very close to the details:
The paper I used it rather expensive stuff, actually designed for laser printers. The print quality is fairly decent but I expected better really from a printer that costs as much as this one does. At reading distance it's fine, it's just when you get close up that you'll notice it's a bit fuzzy. I always have my printers set to about medium, or Text and Graphic printing, I'm using the WorkForce 610 right now and honestly the printing is better. It's not meant though for the kind of work load that the B-510N can handle.
Most businesses out there want laser printers, but those cost two if not three times more than what the Epson B-510DN does. Let's face it not every business has the money, businesses start small and many times it's just not in the budget. The B-510N isn't exactly laser quality, but for everyday business use it would be fine really. Then if you need higher quality, just up the quality in the settings and things will look a lot better.
Conclusion:
The Epson B-510DN Business printer should be your first choice if you're in the market for a workhorse for your business. The cost per print is very low, and even the cartridges themselves are low priced for the size of them and for the capacity.
The printer itself is nicely made, but it's really big, you'll need a lot of space for it, but most business class printers are so it's to be expected I guess.
The print quality is questionable though, at least by my standards, you'll need to up the quality settings to get acceptable prints to use for business correspondence. To use it for everyday office work that's fine and it will do a wonderful job for that.
Pros:
+Fast printing
+Double sided printing included
+Ethernet
+Fairly quiet
+Big paper tray
+Large capacity ink cartridges
+Low cost per print
Cons:
-Print quality could be better
-No wi-fi
-Big and heavy
| | |
| --- | --- |
| Grades: | |
| Overall | |
| Design | |
| Performance | |
To learn more about our review policy please visit this page HERE.