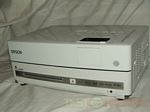 Last year I took a look at the Epson MovieMate 60 projector, today I've got another one from Epson which is similar called the PowerLite Presenter. It's a consumer/business class projector which features a built-in DVD player and inputs for pretty much everything including USB, HDMI and VGA. It's meant to be an easy to use all around type of product that's portable to take anywhere with you when you might have a need for a projector.

The PowerLite Presenter comes packaged very well.
Included with the projector is a remote, carrying case, VGA cable, power cable and documentation.
The remote is fairly large but it has a bunch of buttons for full control of the projector.
The projector has built-in slot loading DVD player on the front.
It has a built-in, manually operated lens cover:
Behind the lens is dual sliding focus levers:
On the right side you'll find a carrying handle making it very portable:
On the bottom you'll find adjustable feet:
On the top is a secondary control panel, it have several of the same functions you'll find on the remote.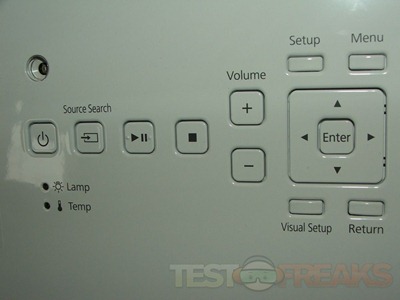 On the back you'll find connections for HDMI, Composite, Component, USB, VGA and Coax, along with the power connection. The two 10Watt speakers are located on the bottom of the back.
Specifications:
PowerLite Presenter Projector/DVD Player Combo
Model: V11H335120
Projection System: Epson 3LCD, 3-chip optical engine
Native Resolution: 1280 x 800 (WXGA)
Brightness: 2500 lumens
Key Features:
* Everything you need for engaging multimedia presentations with powerful sound — portable projector/DVD combo includes two built-in 10 W speakers, with virtual Surround Sound
* Larger-than-life lectures and presentations — native WXGA resolution (16:10); ideal for widescreen computers
* Bright enough for any classroom or conference room — 2500 lumens color light output, 2500 lumens white light output1; Auto Color Mode selects the optimum setting, based on the lighting environment
* USB Plug 'n Play instant setup — instantly projects images from a PC via the USB connection
* Cutting-edge connectivity — HDMI connectivity for amazing HD content; supports multiple input devices including camcorders, digital cameras, iPods, gaming consoles, memory card readers and more
* Powerful communication features, no added cost — built-in closed captioning decoder; convenient microphone input to save both money and the presenter's voice by using the projector's speaker
* Energy-efficient E-TORL lamp — up to 5000-hour lamp life1
* PC-free slideshows — share your presentation via a USB thumb drive; no computer required
* Make an impact with rich, vibrant color and reliable performance — 3LCD, 3-chip technology
Projection Lens:
Type: Manual zoom / Manual focus
F-number: 1.58 – 1.72
Focal Length: 16.9 mm – 20.28 mm
Zoom Ratio: Optical zoom 1.0 – 1.2
Projection System:  Epson 3LCD, 3-chip optical engine
Projection Method: Front
Driving Method: Epson Poly-silicon TFT Active Matrix
Pixel Number: 1,024,000 dots (1280 x 800)
White Light Output: 2500 lumens1 (ISO 21118 Standard)
Color Light Output: 2500 lumens1
Aspect Ratio: 16:10
Native Resolution: 1280 x 800 (WXGA)
Resize: 640 x 480 (VGA), 800 x 600 (SVGA), 1024 x 768 (XGA), 1152 x 864 (SXGA), 1280 x 960 (SXGA2), 1280 x 1024 (SXGA3), 1280 x 768 (WXGA60-1), 1360 x 768 (WXGA60-2), 1440 x 900 (WXGA+), 1400 x 1050 (SXGA+), 1600 x 1200 (UXGA), 1680 x 1050 (WSXGA+)
Lamp Type: E-TORL 200 W UHE
Lamp Life:
* ECO mode: Up to 5000 hours2
* Normal mode: Up to 4000 hours2
Throw Ratio Range:
* 1.30 – 1.56 (16:10)
* 1.56 – 1.87 (4:3)
Size (projected distance): 33″ – 318″ (2.75′ – 26.5′)
Keystone Correction:
* Automatic: Vertical: ±11 degrees
* Manual: Vertical: ±30 degrees
USB Plug 'n Play:
* Mac compatible via DVI to HDMI or VGA adapter (not included)
* Windows 2000 or later
Contrast Ratio: Up to 3000:1
Color Reproduction: 16.77 million colors
Dimensions:
Including feet: 13.2″ x 9.4″ x 5.4″ (W x D x H)
Excluding feet: 13.2″ x 9.4″ x 5.0″ (W x D x H)
Weight: 9.5 lb / 4.3 kg
Input Signal:  NTSC / NTSC4.43 / PAL / M-PAL / N-PAL / PAL60 / SECAM
Interfaces:
* Computer: D-Sub 15 pin x 1
* Component video: RCA x 3 (Red/Green/Blue)
* Composite video: RCA (Yellow) x 1
* Audio in: RCA x 2 (White/Red)
* USB connector: Type B x 1, Type A x 1 (USB memory)
* HDMI port
* Microphone input
* Headphone output (stereo mini jack)
* Digital Audio Output (Coaxial)
Price: $899.99 (Fromn Epson.com)
Price: $859.99 (From Amazon at time of review)/span>

The PowerLite Presenter features an on-screen display for the majority of the options making it very easy to configure and use quickly.
I played DVDs on the projector and I hooked up my Xbox360 via HDMI and watched some Netflix. here's a few samples taken from an episode of 'Lie To Me'. The details are actually nice, and the motion is very smooth with no issues.
The dark scenes look very good, but those with a lot of brightness in them make the darker colors become a bit washed out, but still not bad at all. I should not though that my camera added a little bit of brightness to the pictures, but not much.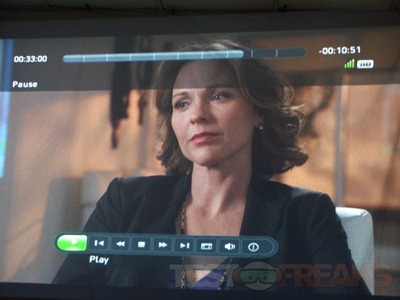 The two little 10 Watt speakers actually sound pretty good and they can get very loud, sure it's not high-end audiophile quality but it works well for what it needs to do. The speakers would be fine for business or school use but if I was going to use this for a home theater I would be using a better set of speakers.
The remote is a bit on the large side, but it works well, you can point it anywhere and it will work fine. The only issue I have with the remote that there is not backlight on it, the buttons do glow but not long enough to be of any real use.
The fan is a bit on the loud side if you're close to it, but once you get far enough away, about 5 feet you can't hear it much. I noticed that if you're sitting close to the fan though, it's almost like having a little heater next to you, so the projector can get fairly hot it seems.
It's not a home theater projector but it can easily be used as one, and for the price you'd be hard pressed to find one that has the comparable features.
It's portable yes, it has built-in handle and comes with a decent carrying but at about 10lbs it's still a bit heavy and rather large really.
Conclusion:
The Epson PowerLite Presenter Projector is not a bad choice in terms or use for business and schools, it's a nice all-in-one combo player that everyone should find very easy to use.
It has a very nice picture overall, and the sound is really good for a pair of small speakers.
It has inputs for pretty much everything you've got, it'll work with anything. Hook up your laptop to it and do a presentation, pop a DVD in and entertain your class, hook up your Xbox and do some gaming.
Pros:
+Simple and easy to use
+Multiple inputs
+Nicely made, comes with carrying case
+Decent sound and loud for such little speakers
+Bright and clear picture
Cons:
-Fan is a bit loud
-No backlight on remote
-Color is a bit washed, or too white
| | |
| --- | --- |
| Grades: | |
| Overall | |
| Design | |
| Performance | |
To learn more about our review policy please visit this page HERE.