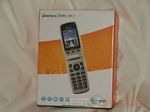 Today for review I've got another phone for AT&T, this one is called the Pantech breEZe II. Notice the accent on the 'EZ' there, this phone is meant to be easy to use and it is. It's a clam shell style flip phone that is fairly basic but it gets the job done. It is though a rather large phone when opened, but when closed it's slim and it fits comfortably right in your pocket. It's on AT&T so expect to find a bunch of junk on there, but that aside it's not a bad little phone for under $20 on a two year contract. The call quality is very good as is the battery life, there are some bad things of course like you don't want to use this phone to browse the web often, the built-in browser is just very sluggish, and the camera just isn't that good at all. So continue on to learn more about the breEZe II from Pantech an AT&T…

So we'll start off with a video unboxing for you:
Included with the phone is only a charger and documentation.
It's a clamshell style phone with a display on the front, beneath the display you'll find three icons that light up for messages, calls and battery.
On the back of the phone you'll find the 1.3MP camera and a speaker. I like the texture on the back of the phone, but I don't like the camera placement at all, more on that later though.
Removing the back cover you'll find the battery, along with sim card and microSD slots. Yes you must remove the battery to access the microSD card which is a bad design, I don't know why companies do it this way.
On the sides you'll only find a few buttons and ports, USB for headphones and charging along with volume keys.
Flipping it open you'll find a nice large screen actually, it's bright and colorful and clear once it's turned on.
Beneath the screen are three buttons labeled 1, 2 and 3 which are shortcuts that can be programmed to open most things.
The keypad is nice and large, there's a camera button on the right side and voice command button on the left of the navigation pad.
Here's a few comparison shots for you:
Top to bottom: Kin One, Pantech Reveal, Pantech Breeze II, Pantech Impact, Motorola Backflip and AT&T Tilt :
Here's a couple more open and closed, same ordering basically but just backwards..
As you can see when open the Breeze II is a rather large phone, one of the biggest I've ever seen. it does feel well made, it's solid and sturdy.
Specifications:
No Commitment Pricing       $169.99
2-yr Contract Price     $69.99
Online Discount     – $50.00
Total Due Today     $19.90
A classic just gets better with age. Pantechs breEZe II is faster and gives users flexibility to browse the Web or manage email in addition to making calls and sending messages, thanks to AT&T?s high-speed 3G network. The front cover has three lighted indicators to quickly let you know if you have a new text, voice mail, have missed a call, or are running low on battery. As with the original breEZe, ease of use is key. Unique quick call keys make it EZ to access numbers you use most. The bright display, streamlined menus, and large keys are EZ to read. Use the Say a Command feature to make calls, address text messages, and look up contacts without scrolling through menus.
BREEZE MODE:
* – AT&T Address Book Synchronize your contacts between your phone and an online address book
* – Messaging Stay in touch easily with text and picture messaging
* – Phone Status
* – AT&T NavigatorSM
* – Mobile Web with att.net
* – Mobile Email
* – My-Cast Weather
* – AppCenterSM  Download entertaining games and useful applications right to your phone
* – Mobile Share
* – Say a Command
* – My Account
**These features also available in Advanced Mode.
ADVANCED MODE:
* – AT&T Maps
* – YPmobile
* – AT&T Social NetSM
* – Instant Messaging
* – AT&T FamilyMap
* – Loopt
* – WHERE
* – AllSport GPS
* – AT&T Music
* – Mobile Video
* – Mobile Banking
* – Preloaded Games
TECHNICAL SPECIFICATIONS:
* – Frequency: GPRS/EDGE Quad-Band, UMTS/HSDPA Dual-Band
* – Talk Time: Up to 3 Hours
* – Standby Time: Up to 10 Days
* – Dimensions: 4″ (H) x 2″ (W) x .7″ (D)
* – Weight: 3.5 oz.
* – Internal Memory: Approx. 80MB
CAMERA:
* – Integrated 1.3 megapixel CMOS Camera
* – Resolution up to 1280 x 1024 (1.3 megapixels)
* – MPEG4 Video Recording/Playing Up to 15f/s (QCIF size)
* – Self-Timer Function (5 seconds or 10 seconds)
* – Photo Album and Video Album
Here's the front of the phone with the message indicator on and the display, not the best picture I know but it's hard to take a picture of a fast blinking LED:
The pad and the shortcut buttons do light up:
Call quality is actually decent, volume can get nice and loud and calls are clear, I had no complaints from the people I talked to. When you make a call you actually have the option to record it right on the screen, which can be nice.
I had no issues with Bluetooth either, paired it with my Jawbone2 and it worked great.
Battery life is very good, I've charged it once so far, Friday will be one week since I charged it last. At the moment I've got about half charge left and that's with using Bluetooth and data etc.
The main screen is very basic, and yes you can change the wallpaper and you can use MP3 ringtones.
Pressing the shortcuts button takes you to a menu to choose one of the options already there and then you can add your own.
If you didn't notice the spelling of this phone is kind of odd, but it's that way for a reason: breEZe II, the EZ is highlighted meaning that the phone is easy to use. There are two modes one aptly named Breeze and the other Advanced.
Breeze mode is a simplified mode, only a few common options are there for you to quickly access:
Here's the choices open and it occurs to me all of my contacts are in my other phone and not on my sim card…
Advanced Mode looks like this:
As usual with AT&T you'll find a bunch of junk installed, that they'll want you to pay for if you want the full version.
There is a rather nice weather app included, but it's only a trial which annoys me because on other phones weather is free except for the data usage of course. AT&T wants to make you pay to get the weather, on top of data usage. To be fair though the app is My Cast by Garmin, still though I think it should be free.
AT&T uses Yahoo, and I do like the browser access page where you can see web, popular and even local.
Web browsing is fast, sort of. The initial page load is fast, but scrolling is extremely slow. For example I can try and scroll down, push the button a couple times and take my finger off and then it will scroll after my finger is off those number of button pushes, it's not instantaneous. There's just a very long delay when scrolling, it's just very sluggish overall and browsing the web with this phone is not something I would want to do often.
Voice command is a nice addition and it seems to work well.
The camera is a 1.3MP CMOS camera, so don't expect quality pictures. There are quite a few settings for the camera, but it doesn't matter much if the pictures aren't that good, you could have fifty settings but they won't make the pictures any better if the hardware isn't up to it.
Let's take a look at the camera, here's several pictures taken indoors. The Breeze II does not have a flash, and even though the room was brightly lit the pictures still look very dark. The BReeze II also does not take good close up pictures, and even the far away ones look a bit grainy, but color reproduction is not bad. The pictures are just too dark.
Also the physical placement of the camera just seems to be in the wrong place, especially since the phone is so large when open. You have to hold like the bottom half of the phone or your finger gets in the way, and holding it that way makes the phone rather top heavy and more difficult to hold steady.
Conclusion:
For a phone that costs less than $20, it's not too bad, for that price I certainly wouldn't expect a fully featured phone with a high end camera in it. For what it is though it's not a bad little phone, call quality and battery life are very good and those are very important things to consider of course.
The browser is just horrible, it's just almost unusable and  the camera is bad as well in both placeman and picture quality.
Pros:
+Inexpensive
+Simple to use
+Good battery life
+Good call quality
+Well made
Cons:
-Lots of junk installed
-Camera position is not the greatest
-Browser can be sluggish
-Pictures are pretty bad indoors
| | |
| --- | --- |
| Grades: | |
| Overall | |
| Design | |
| Performance | |
To learn more about our review policy please visit this page HERE.