As a tech reviewer there are times where one can become jaded reviewing the similar types of products and accessories. Every so often a new and unique product comes along to liven things up. Escort a company known for their radar detectors have released a peripheral for iOS devices that turns them into miniature digital TV receivers. The Escort MobileTV is a dongle that plugs into the 30 pin dock connector creating an over the air signal TV receiver.
The Escort MobileTV includes a built-in rechargeable battery, which means the device will not siphon off the charge from your iPad, iPhone or iPod touch. Since it captures over the air signal there is no need for 3G/4G, Wi-Fi or data plan usage on your device's part.
It works with Dyle mobile TV which currenty does not require a subscription fee. Their coverage map is limited so make sure you check it out before picking up this accessory.
Currently users of the iPhone 5, newer iPads, iPad Mini and 5th generation iPod Touch are left out as it uses the older dock connector. However my contact at Escort mentioned that a dongle compatible with the new dock connector will be available sometime later this year.
Escort MobileTV iOS TV Adapter Review
The device comes in a cardboard package with an image of the Escort MobileTV along with it being used in conjunction with an iPad on the front. On the back is a list of features, package contents and system requirements as well as iOS devices compatible with the peripheral.
Opening the box we find the Escort MobileTV receiver, an antenna, a USB charging cable and a quick reference guide.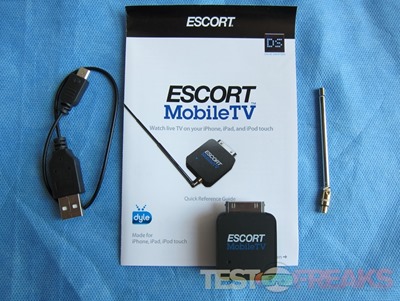 The Escort MobileTV is a black dongle measuring 1.3 x 1.6 x 0.5 in and weighing 0.65 oz. On the front is the Escort MobileTV logo with a LED battery indicator on the bottom left which is red when charging and green when fully powered. On the top is the 30 pin dock connector while on the opposite side is a micro USB charging port and an antenna connector. On the back we see the serial number.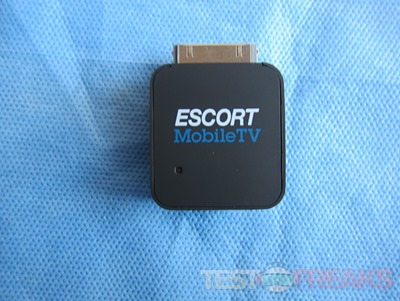 The included telescoping antenna extends to about half a foot.