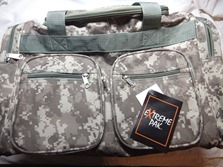 So I'm back with another bag for review, it's what they call a tote bag or maybe I would call it a gym or duffle bag myself but it is what it is, it's a rather large bag with a digital camo pattern from a company called Extreme Pak. The bag doesn't have a lot of pockets, but bags like this usually don't as they're made to carry large things like clothes and shoes specifically. The bag has one very large main compartment, then two on the sides and four smaller ones on the front. The bag isn't bad for what it is, it's water resistant and it rugged and durable so it should be fine to take outdoors for camping or hiking or to take to school for your gym clothes and even books. Read on to learn more..
Specifications and Features
ExtremePak Style Digital Tote Bag, 21″ Camo
-Zippered Main Compartment
-Multiple Zippered Exterior Compartments
-Detachable/Adjustable Shoulder Strap
-Hand Straps with Hook & Loop Fastener
-Measures 21″ x 13″ x 10-1/2″
Price: $24.75 (from Amazon at time of review)
The Review
Let's start with a video tour of this bag and then move on:
The bag just comes packaged in a clear plastic bag and that works fine, it's not fragile or anything.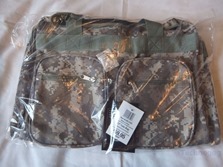 The bag has a digital camo style to it and I've always liked that pattern myself so it works for me personally. The bag is rather large, much bigger than you'd expect or at least what I expected.  It's about 20 inches long and about 12 inches high and then about 9.5 inches wide. The bag is made of nylon and there is a tag on the side that says it's water resistant, all in all the material of the bag feel rugged and well made. The rounded corners of the bag are all reinforced with plastic tubing inside which help sit sort of stay standing even when empty.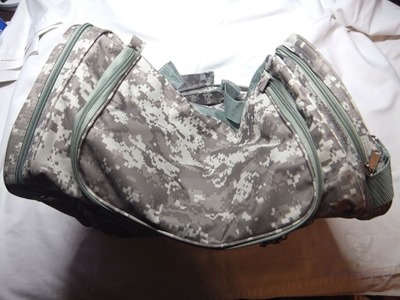 The bag has two side handles or hand straps that can come together and be combined with a velcro style fastener to keep them together and it just makes it easier to hold as it creates a thicker handle. The main compartment of the bag is very large, more than enough for clothes, shoes and plenty of other stuff. It's about 16x9x10 inches inside of the bag for your stuff and it has dual zippers for easy opening.
On the right and left sides of the bag are side zippered pockets and inside of one of them is the shoulder strap. The shoulder strap is thick nylon with a rubber section in the middle where it would sit on your shoulder and of course the strap is adjustable. The strap attaches to the bag with metal clips and where it attaches to the bag is reinforced inside of the pocket.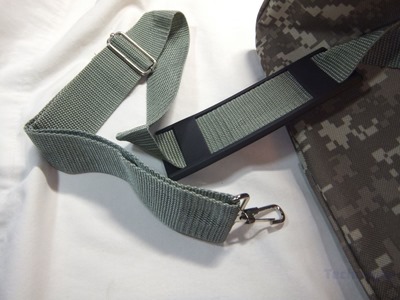 On the front of the bag you'll find two large zippered pockets and then two smaller zippered pockets on the front of those.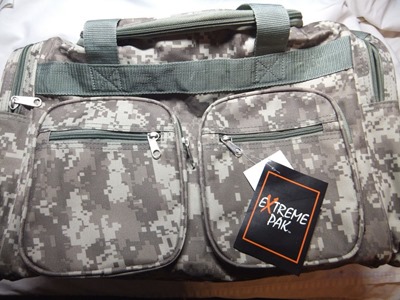 The bottom of the bag does have four rubber feet and inside is a plastic covered stiff sheet to protect what's in the bag.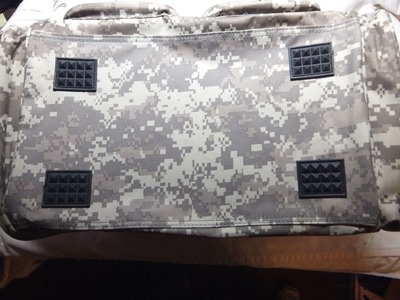 Conclusion
This bag is big, as long as you understand that you'll be fine. The dimensions in the specs don't seem that big really, it's not until you've got this bag in your hands that you'll understand just how large it really is.
The bag seems well made, the material feel durable and it is water resistant so this bag would be fine most any uses surely. I can see taking this bag to the gym or school or even to work and it would work great to take camping or as just a weekend bag.
The price for this bag is where it should be, not too expensive and I think it's worth the cost. I'm happy with it, I'll surely get some use out of it.
Pros:
+Seems well made
+Inexpensive for what it is
+Water resistant
+Large pockets for all your stuff
Cons:
-None that I could find
| | |
| --- | --- |
| Grading | Scores Out of 10 |
| Overall | |
| Design / Aesthetic | |
| Value / Price | |
| Performance / Usage | |
Disclosure: This product was given to me for review by the company for review purposes only for free or at a discounted price.
To learn more about our review policy please visit this page HERE.