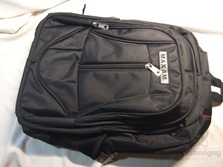 So it's that time of the year, back to school which means, like I try and do every year at this time, I get some bags for review, so here's the first one of a few I have. Today for review I've got a backpack from a company called Maxam and it's what they call and executive backpack. This bag can hold up to a 17 inch laptop and plenty of other things as there are four pockets or compartments in total. The bag features padded straps and a padded back for comfort and overall it seems well made and durable as the material is rather thick nylon. Read on to learn more….

Specifications and Features
BNFUSA LUBPEX2 18.5 in. Executive Backpack With Padded Compartment For Laptop
Features multiple zippered compartments, including padded compartment for laptop or tablet; and padded back and shoulder straps. Measures 12″ x 18-1/2″ x 7″.
Price: $24.95 (from Amazon at time of review)
The Review
Let's start with a video unboxing or product tour / mini review and then move on:
The bag comes packaged in just a plastic bag which is fine as it's not really fragile, it's just a cloth bag after all.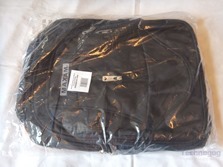 The bag is black in color with the Maxam logo badge on the front prominently in black and silver/gray.  The bag is made of nylon and I'm not sure if it's waterproof or anything like that as it's not listed the specs. Thee bag is 18.5 inches high and it's 12 inches wide or across and it can expand up to 7 inches. First impressions of this bag are that it seems well made, the material is rather stiff and it feels thick enough for most uses I'm sure. This bag should be fine for daily use for school or work.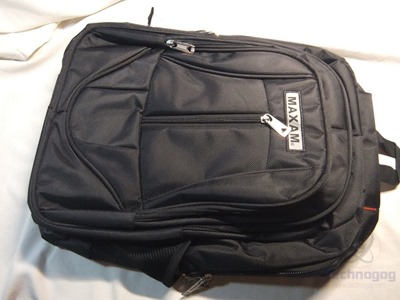 On the top of the bag is a thick heavy duty padded handle and then another just thin nylon strap handle behind that to hang up the bag if need be.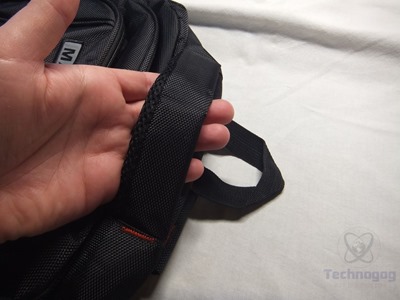 The bag has four pockets in total. On the front is a vertical zipper with a pocket that's about 8.5 inches wide by 13.5 inches tall. The next zippered pocket has a single zipper and it's about 15 inches by 9.5 inches in size. The next zippered pocket is about 15.75 inches by 10 inches in size. The main compartment in the back has dual zippers and here you'll also find the padded laptop compartment which can hold up to a 17 inch laptop and it has an elastic strap with a velcro fastener to keep the pocket closed. The main compartment is about 18 inches by 12 inches in size. The main compartment can easily hold a laptop and books or whatever else. One thing you'll notice is that there are no other pockets, nothing for pens and pencils or anything like that or any other smaller pockets for phones or other small assorted things. One thing bothers me, the zippers, when this bag first arrived some of the zippers were split open but the zippers were in the closed position meaning they split and opened which is obviously something you don't want to happen. I closed the zippers as they should be and don't seem to have had any problems since then, so I'm not sure. I tried to pull them apart with my fingers and the zippers stayed closed, so only time will tell at this point.
On the right and left side of the bag you'll find mesh pockets with and elastic strap at the top. These are big enough to hold a water bottle for sure and keep it there.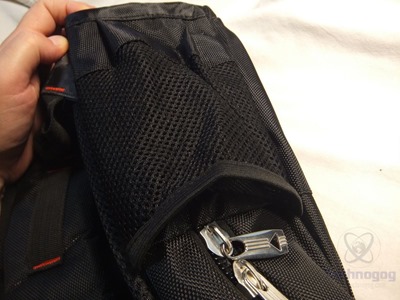 On the back of the bag you'll find thick padded straps which seem comfortable. The inside of the straps is lined with a mesh material to let them breathe for comfort. The bag also has two four inch wide pads on the back of the bag that go up against your back for comfort, these also have mesh to make them more comfortable.
Conclusion
The Maxam executive backpack is well made, the material seems durable and rugged and there are nice large pockets to carry all of your stuff in.
The bag though doesn't have any smaller pockets at all for things like pens and pencils or your phone so you'd have to just toss it all in there or get smaller pouches for those thing.
The zippers, I'm not sure too about, they were split open when the bag arrived but they seem fine now. Only time will tell as it were so to the longevity of the zippers.
This bag looks nice, it's classy, it would be fine for school or work fro sure or maybe even taking hiking for a day trip.
The bag is inexpensive and for the price I think it's worth it, but I wouldn't pay much more though.
Pros:
+Bag seems well made and heavy duty
+Inexpensive
+Padded back and padded straps for comfort
+Large pockets for lots of things
Cons:
-No pockets for smaller items at all
-Not sure about zipper longevity
| | |
| --- | --- |
| Grading | Scores Out of 10 |
| Overall | |
| Design / Aesthetic | |
| Value / Price | |
| Performance / Usage | |
Disclosure: This product was given to me for review by the company for review purposes only for free or at a discounted price.
To learn more about our review policy please visit this page HERE.