Today we're going to do some gardening, well not really, but I've got a garden related tool for you, specifically a pair or pruners. Today for review I've got the Ezy Pruners Ratchet Pruning Shears and what makes these special is their ratcheting ability that let's then able to cut large branches quickly and easily. These are well made, and very sharp, the blade is high carbon steel but it's also coated with Teflon to make sure things like tree sap don't stick to it. Read on to learn more…
Unboxing
Let's start with a video unboxing:
The pruners come packaged in the standard plastic and cardboard package. On the back you'll find directions for usage and care.
The only thing included with the shears is a thank you note basically with support information and a link to get a free eBook.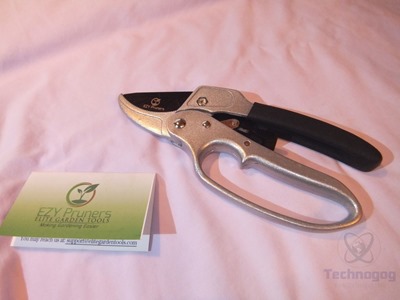 The pruners are very well made of aluminum and are about 8 x 3.2 x 1 inches and weigh in at 7.8 ounces. The handle is well padded for comfort and ease of use. Overall they feel very well made, solid and durable for sure. The handles have are silver in color and have an attractive metallic finish to them.
In between the handles is a plastic tab which is a lock actually to keep the handles and blade locked together when not in use. In between the handles you'll also find the ratcheting system which helps make cutting large branches, up to one inch in diameter, easier.
The cutting blade is is high carbon steel and it's coated with Teflon to make sure things don't stick with to it, like branches, tree sap and dirt and it makes it easier to clean. The bottom half or jaw of the shears is notched with teeth to make sure it holds tightly to the branch you're cutting.
Specifications and Features
Ezy Pruners Ratchet Pruning Shears
Less Effort Required for Greater Cuts
If you've ever tried cutting medium sized branches, but have found it a struggle using regular Pruning Shears… then, you'll love using these Ezy Pruners!
Here's why…
The way in which these Ratchet Pruners work is they have a ratcheting mechanism in place that takes care of as much as 80% of the workload for you! All you have to do is to place the jaws of the anvil blade around the object that you're wanting to cut, like you would an ordinary pruner… grip the handles, squeeze ever so gently until you hear a locking sound… and as simple as 3 easy squeezes… you'll have a nice clean cut right before you!
No more struggling to cut tough branches of wood, and getting nowhere!
What Kind of Cuts Can You Expect From These?
Your Ezy Pruners will make short work of hard branches of up to 1″ thick. Though, this doesn't mean you need to only save these for those bigger tasks… you will find your ratchet pruners are great for trimming flower stems, getting rid of dead plants, or any small to medium pruning task, really!
1-2-3 STAGE RATCHET ACTION – Makes short work of normally tough cuts, saving you precious time, effort, and energy! In fact, you can leverage the ratcheting mechanism that these pruning shears provide to slice through branches of up to 1-inch thick!
SK-5 HIGH CARBON STEEL BLADE – Stays sharper than your ordinary blade and lasts even longer! You're getting the best quality steel available. No more worrying about a pruning shear blade that might become dull after just a few cuts, this will remain sharp for the long haul, meaning… nice clean cuts every time!
TEFLON COATING – This helps to prevent things such as sap sticking to your garden shear blades, whenever you cut through branches, prune roses and other plant stems, etc… It also helps reduce the likelihood of rust forming.
WHO DOES THIS SUIT? – If you've found yourself to have less hand strength due to arthritis, or have experienced pains when using standard bypass pruners and want to finally get your hands on some hand pruners that will help to do most of the cutting for you, then you'll love these! All you need to do is place your hands in the grip position and follow the easy to understand instructions, then you're away!
Product Dimensions: 8 x 3.2 x 1 inches ; 7.8 ounces
Price: $27.95 (from Amazon at time of review)
The Review
I live in Pennsylvania and we have a tick problem here, there's a sharp rise this year in bites actually, and it's kind of scary honestly. Where I live I have woods behind my house and everything that goes with it, deer, turkey, possums, raccoons and all sorts of other varied wildlife. I take my dogs out back to the do their business and the branches of the bushes, trees and of course weeds do grow over my fence at times and they need trimmed often in the summer. One things I've noticed is that things jump from the shrubbery onto me and the dogs. I buy flea and tick medication for the dogs but I can't exactly put it on me or my kids, so I have to keep things trimmed for safety reasons. We have seen ticks on the dogs and actually on one of my kids a long time ago and it's not pretty, they're very hard to remove. The point is that I needed to do some trimming, I normally use a saw and an electric trimmer, but I tried the pruners and found they work very well.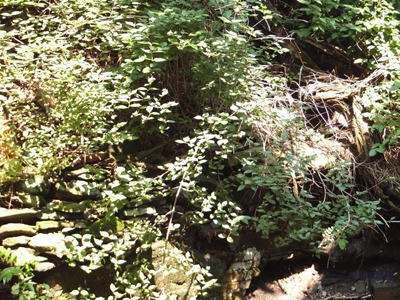 The Ezy Pruners have a ratcheting system to help you cut through thick branches up to one inch in diameter. When you clamp down it makes a cut partially and stays there, the ratchet moves and then you cut again further into the branch and then the ratchet engages and you cut the final time through the branch. The ratcheting system does make cutting through the branches much easier. It very easily cuts through thin branches with one cut and easily through thick branches thanks to the ratcheting system.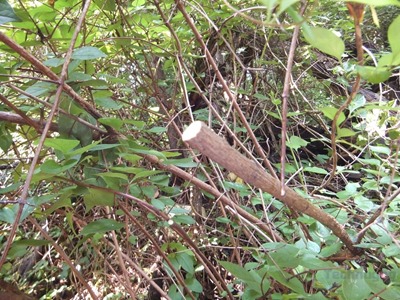 I was also doing a lot of trimming in the front yard as well and I used the Ezy Pruners to help cut the trees and branches smaller after I cut them with my saw. They certainly do make life a little bit easier.
If you're looking for help trimming your tree check out https://www.thelocaltreeexperts.com/ca/rancho-cucamonga/
Conclusion
The Ezy Pruners Ratchet Pruning Shears really do make life easier when it comes to trimming and cutting the shrubbery.
The ratcheting system works very well to allow users to cut thick branches up to one inch in diameter.
The blade is very sharp, it cuts through thin branches with ease and just one cut.
The blade is also coated with Teflon which makes sure things like dirt and tree sap don't stick to it and this also makes it much easier to clean the shears.
I for one very much like these, they're very easy to use, in fact my 13 year old son was using them with no problems and he was cutting large branches as well with no problems. He also likes the shears very much.
if you're looking for a decent set of pruning shears then make sure you check these out, I like them and I can recommend them.
Pros:
+Well made
+Simple to use
+Cuts large branches easily
Cons:
-None that I could find
| | |
| --- | --- |
| Grading | Scores Out of 10 |
| Overall | |
| Design / Aesthetic | |
| Value / Price | |
| Performance / Usage | |
Disclosure: This product was given to us for review by the company for review purposes only, and is not considered by us as payment for the review.
To learn more about our review policy please visit this page HERE.