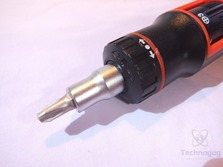 Tools come in all shapes and sizes and designs and some are more useful than others and some are basically mini toolkits. The point is that you can get all kinds of tools for various uses and if you work on computers you'll find you need a lot of tools with various sizes of screw bits included in those tools. For your home it's sort of the same thing, you need all kinds of tools to do things yourself and you'll find you need different bits for different jobs. I always tell my kids that you need the right tool for the job and having a multi tool can help you do this. Today for review I have the Simian 10 in 1 Autoloading Ratchet Screwdriver Multi Tool and it's sort of what it sounds like, a screwdriver but yet with other functions. This tool has different screwdriver tips built into it that you can switch to just by rotating the built-in dial and inside of the handle you'll find even more specialized bits along with an extension. I've been using it for various little projects around the house and it works well, but you just need to get accustomed to how it works, but it's not bad overall. Read on to learn more…
Unboxing
Let's start with a video unboxing:
The packaging for the Simian ratchet screwdriver is nice looking with pictures and diagrams and other information listed about the screwdriver. When you open the box you'll find the screwdriver wrapped in bubble wrap for protection.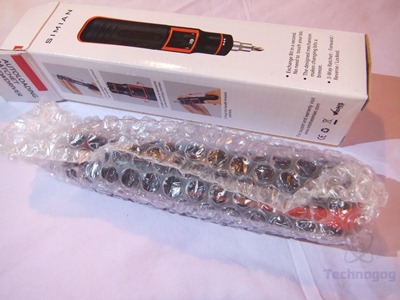 The screwdriver is 8.7 x 2.1 x 2 inches and it weighs a little over 10 ounces and it's mostly plastic. About half of the screwdriver is rubberized for grip and the other half is plastic with a rotating dial inset into it. The screwdriver does feel well made and sturdy but it is plastic so only time will tell how it holds up to extended use.
Right about the handle is a rotating dial so you can select the desired bit. There are five different tips to choose from, three Phillips and two slotted. For some reason the dial is numbers 1,2,3,4 and 6, with the 5 missing.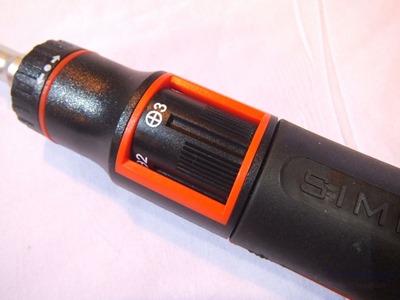 Around the top is where the bit comes out is also the ratchet system, you just twist the ring to forward and reverse or to lock it in place.
To switch bits the entire handle pulls open but inside you'll find more accessories. On one side is a magnetic extension that you can remove and use as need be.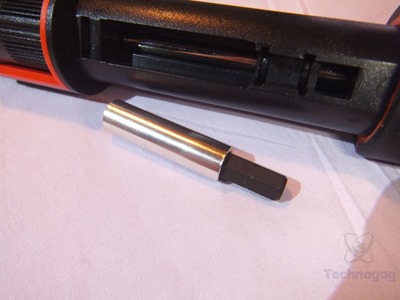 On the other side you'll find four more bits, two are square and two are star shaped. They are T-20, T-15 and S1 and S2 numbered bits.
Specifications and Features
Simian 10 in 1 Autoloading Ratchet Screwdriver Multi Tool
Whether it's construction, home improvement, or a personal project, the Simian Autoloading Ratchet screwdriver provides you with a one-stop solution tool to make your work faster and more efficient than ever. With 3-way ratchet functionality, a quick-changing bit mechanism and 10 standard bits included, this is a must-have addition to your toolbox.
10 individual bits in one screwdriver
The Simian autoloading ratchet screwdriver features 10 separate bits, so you'll never be left wanting when you're in the middle of a project again. Bits are standard 1/4", included are: Phillips #1/#2/#3, Slotted 4mm/6mm, Star T15/T20, and Square 1/2.
Magnetic bit holder
The tip of this autoloading screwdriver is outfitted with a magnetic system to hold your bit of choice in place while you work. Don't worry about fiddling around with bits, simply autoload the bit you want and work with confidence knowing that it will be firmly held in place.
3-Way Ratchet Functionality
Switch this ratchet screwdriver to forward, reverse, or locked mode depending on your needs, and easily screw in tight spaces. If you need a steady hand, you can screw and unscrew without having to rotate the handle 360 degrees.
Easily change bits in 3 Steps
To exchange a bit, first pull back the Simian handle, then move the index arrow to the desired bit in the revolving chamber. Finally, push the handle forward to lock the bit in place – it's that easy to change bits on-the-go.
Item Weight: 10.6 ounces
Product Dimensions: 8.7 x 2.1 x 2 inches
Price: $14.99 (price from Amazon at time of review)
The Review
To use the screwdriver you need to slide the handle downwards or open it, then you can switch the bit by rotating the dial, then you close it and the bit you choose should be there ready at the tip.
One small problem is that it doesn't always work like it's supposed to, but I don't think it's the products fault. I found that if you do it too fast sometimes it will not retract the bit all the way and just push the second bit up and knock the first bit out onto the floor as it were. It seems that if you don't open or extend it all the way then it won't switch or select the bits correctly, you just have to pay attention when you're doing it and not be in a hurry.
For testing I used the Simian screwdriver as you would any other screwdriver. I recently got a wireless doorbell for review and I had to install the transmitter and receivers so I used the Simian screwdriver for this. The doorbell comes with two receivers with two screws each, and I installed them with the screwdriver and it worked well.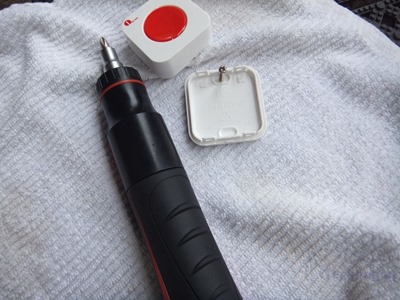 I also took it with me recently when I had to fix a friends computer. Well not really fix it, it just needed more ram, but I used the screwdriver to take the case apart to get inside.
All in all it works well, the bits themselves seem made well enough and the handle fits well in the hand.
Conclusion
The Simian 10 in 1 Autoloading Ratchet Screwdriver Multi Tool is not a bad tool to have around the house or just to toss in your toolbox or maybe even keep it in your car for emergencies. There's plenty of uses for this product for sure.
The ability to quickly and fairly easily switch between bits can make your life a lot easier as you don't have to carry these things with you. The bits are stored inside of the screwdriver so you shouldn't lose them but there are even more bits included and a magnetic extension that will surely come in handy.
The Simian 10 in 1 Autoloading Ratchet Screwdriver Multi Tool works well but you just need to be careful with it as if you try and switch bits too fast it might not work and you'll end up with one bit pushing the other out of the tip.
Overall it's not a bad product but it can come in handy for all kinds of things, be it around the house, working on your computer or just something to keep in your car just in case.
The majority of the Simian Screwdriver is made of plastic so only time will tell how it holds up to regular use but it does feel sturdy.
Pros:
+Fairly simple to use
+Numerous uses
+Mini toolkit in one essentially
Cons:
-Sometimes it misses switching bits
| | |
| --- | --- |
| Grading | Scores Out of 10 |
| Overall | |
| Design / Aesthetic | |
| Value / Price | |
| Performance / Usage | |
Disclosure: This product was given to us for review by the company for review purposes only, and is not considered by us as payment for the review.
To learn more about our review policy please visit this page HERE.