A little bit ago I reviewed the Rapoo E2700 wireless keyboard and I liked it a lot, but today I have a keyboard that for my uses will replace the Rapoo  as I like it much better overall. Today for review I have the Favi SmartStick Wireless Keyboard and it's just what it sounds like, a wireless keyboard. The Favi keyboard is very small and meant to be used with an HTPC or Android system and it even has a touchpad built-in for navigation along with numerous special buttons like those used with Android and multimedia buttons. The keyboard also has a built-in laser pointer and presentation buttons so you could even use it for work if you wanted to, but it's real use I think is for Android or Windows computers and their multimedia uses. Read on to learn more…
Unboxing
The packaging for the Favi keyboard is nice looking with a large window on the front showing the whole keyboard and a diagram on the back along with information labeled and listed about the product.
Inside of the box you'll find the keyboard in a plastic tray along with a USB cable with mini connector and user guide on the side.
Here's the keyboard, it's small about about 6.3 x 2.5 x 0.3 inches. It's made of plastic as you might expect, and there's a 1.5" x 1.5" touchpad off to the right side for navigation.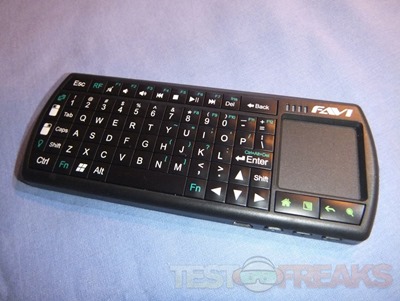 The keyboard has multimedia keys across the top and right and left mouse buttons on the left side. There are also many other functions in green on the keys, these can be accessed by pressing the green function or Fn button. It's a standard keyboard layout and the keys are clicky and do require slight pressure to activate them. Below the touchpad are Android specific buttons like home, menu, back and search but more on that later.
On the right end is where you'll find the laser lens for the red laser pointer.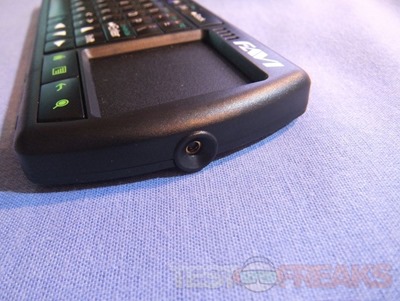 Below the touchpad, on the edge of the keyboard, is where you'll fine the USB connection for charging along with the laser pointer on/off button and presentation buttons.
The bottom has four tiny feet and a basic instructions label to use the keyboard. When you remove the cover you'll find the wireless receiver and a removable battery.The battery is a common cellphone one that can be cheaply and easily replaced from many places online. It's basically a battery for a Nokia phone that can be purchased for about $5, a model BL-4C.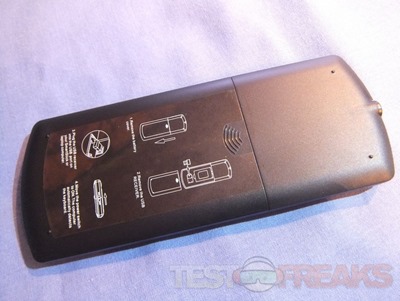 Specifications and Features
FAVI SMARTSTICK WIRELESS KEYBOARD CONTROLLER
Unleash the full potential of the SmartStick by pairing it with a pocket sized keyboard with touchpad mouse. Quickly respond to email and enjoy a complete web browsing experience. The familiar android hot keys are located beneath the touchpad of the controller for easy access (Home, AppMenu, Back and Search). Keys are backlit with bright LEDs to keep you in full control when the lights are off.
Key Features:
Type faster and more accurately
Designed for FAVI's SmartStick
Familiar android buttons and FAVI's screen swipe touchpad offers fast and fluid tablet navigation
Includes backlit keys for use in the dark
Music / Video hotkeys gives you quick access to your favorite music playlist or video collection
Touchpad features full mouse control as well as "tap to click" and page scroll
Works great for office presentations with its built-in laser pointer and PowerPoint slide buttons
Specs:
Operational range: up to 10 meters / 30 feet
Transmitting power: +4db Max
Operating voltage: 3.3V
Operating current: < 80mA
Charging current: < 300mA
Sleep current: < 1mA
Dimensions: 6.3 x 2.5 x 0.3 inches  (approximately)
Retail $79.00 (from Favi site)
Price: $30.39 (from Amazon at time of review)
Testing and Usage
Before I started using the Favi keyboard I charged it via the included USB cable, the LED lights up red when charging.
I grabbed a nice diagram from the Favi site to show you what all the buttons and everything are for.
I primarily used the keyboard with my computer. It's sold as being an accessory for the Favi SmartStick Android system but of course you can use it with other things.
Using the keyboard reminds me of using a hardware cellphone keyboard, the keys are clicky and tactile so you know for sure you pressed the button. It's useful if you're using it in the dark for sure, and if you've ever used a cellphone keyboard then you'll be accustomed to it. I used my thumbs for typing on it, sure it's not the fastest but it works with the way you hold it.
The touchpad can be used for navigation, but also tap to click or select and the side can be used for scrolling. The keyboard also has a button so you can rotate the touchpad ninety degrees to use it like you would a remote control.
There are Android buttons below the touchpad for home, menu, back and search but these work with the browser in Windows for the same functions.
There are three buttons on the side, one is for the laser pointer and the other two are labeled as 'presentation buttons' and the arrow buttons can be used for scrolling in a web browser or document as well as like a Power Point presentation.
The laser pointer is red and it's a pointer, not much else to say really, it projects a small red dot a very long distance even in bright light so I think it works just fine.
The keyboard is rated for up to 30 feet range, but I could only get to a little over 20 feet before the cursor started skipping, yes I got my tape measure out and measured the distance. It's not 30 feet but 20 feet is adequate in my opinion, it's more than enough for most living rooms I would think.
One of the great features of the Favi keyboard is that it has backlighting behind all the keys. The following two pictures are to show you an example, they were taken in the dark, but not completely pitch black, basically a darkened room with just a TV on. To use the backlighting you just press the Fn or function key and press the light bulb button and the keys light up. The only issue is that the keys go out after about eight seconds if you're not using it, which should be enough to find what you need. The lighting does stay on as long as you are using the touchpad or typing. I guess that's fine, but I would have liked to have seen the backlighting just be on or off, but I guess the way they have it is fine a well.
The keyboard seems well made but I would have liked to have seen Favi include a cover for it, preferably a hard plastic cover, something that would clip over the keyboard to protect it from dust and whatever when not in use.
Conclusion
The Favi SmartStick Wireless Keyboard is an excellent choice if you're looking for a small wireless keyboard, it works great and has multiple functions and even has a touchpad built right in for navigation uses.
The keyboard can be used with Windows and/or Android operating systems and all the buttons should work for both.
The keyboard comes with handy backlighting so you can use the it in low light situations like watching a movie. Press the button and the keyboard lights up, this way you don't have to turn on a regular light to see what you're doing.
The backlighting is a great feature of this keyboard but it also has a removable and replaceable battery which is inexpensive to replace, something that I think is a great feature as well. The battery is recharged via a standard USB port which I think everyone has access to these days.
The function and presentation buttons have multiple uses and can be used for numerous functions and operations. The Android buttons can be used for Android or with your browser in Windows.
The Favi Keyboard also has a built-in laser pointer so you could use it for presentations for work, but it also makes a convenient cat toy.
The Favi SmartStick Wireless Keyboard is near perfect for my uses, and I could almost give it a perfect score except for the slight range issue which I have to deduct for obviously. Yes not getting the rated range isn't good, but I think what it gets should be good enough for the average person to use use the keyboard just fine.
Pros:
+Backlit keys
+Replaceable battery
+Rechargeable over USB
+Small and portable
+Simple to use
+Laser pointer built-in
+Presentation buttons work as scroll
+Android buttons work for browsers
+Store receiver inside when not in use
Cons:
-No case included
-Couldn't reach the rated 30 feet range
| | |
| --- | --- |
| Grades: | 9 out of 10 |
| Overall | |
| Design / Aesthetic | |
| Value / Price | |
| Performance / Usage | |
To learn more about our review policy please visit this page HERE.