I've come across many people who think that think any mousepad is as good an any other mousepad, they just think it doesn't matter. A friend of mine just stopped using a mousepad and used his desk and recently asked me why his mouse wasn't working correctly and skipping all over the place. Granted the mouse was one of those that comes with the system, so it wasn't the best to start with but the surface under the mouse was not flat anymore and worn down from using the mouse, so the optical sensor couldn't track correctly so it skipped. The point is that if you're a gamer or not, a good mousepad can make a world of difference in your computing experience. A good mousepad can, for the most part, make a cheap mouse track better from my experience.
Today for review I've got the latest gaming mousepad from XtracGear called the Carbonic. The pad gets it's name from the carbon fiber appearance on the surface of the pad, it's not carbon fiber, it's what would be considered a cloth pad, but it's not cloth as you might expect. The surface is shiny and what Xtrac calls a polished textile surface making it have the rougher surface of a cloth pad for more control but also making it slicker than most traditional cloth pads are. The Carbonic has what I would call a hybrid surface, it's flexible like cloth but yet slick like plastic. Read on to learn more..
Unboxing
There is no box so I guess we can call this an unpackaging section. The package for the Carbonic is basically a cardboard folder which is fine as it's not breakable and it is cloth, but it is very attractive looking.
Inside of the package you'll just find the mousepad. The surface has a carbon fiber design to it and what I would call a semi-gloss finish, it's smooth but yet has a slight texture to it.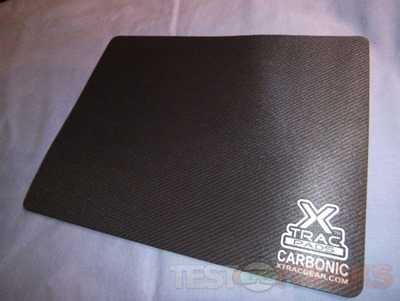 In the right corner is the Xtrac Pads logo, carbonic name and the Xtrac Gear website address. The Carbonic is only 1/8" thick and it's padded under the top layer which has a very slight give to it, more than firm enough for mousing but yet comfortable for your hand to rest on.
Here's a close up of the surface and the carbon fiber design that should allow your mouse to track better.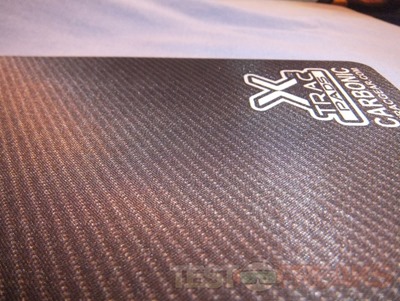 Here's the bottom which is what Xtrac calls 'sure grip' which is basically a textured rubber non-slip backing.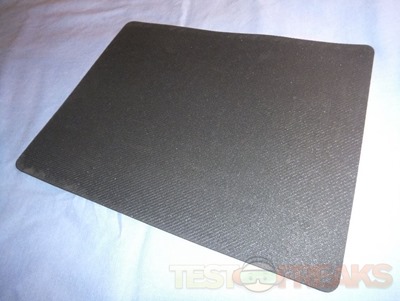 Here's a couple close up shots of the backing, yes it does hold the pad in place very well.
Specifications and Features
The XTracGear Carbonic mouse pad represents modern technology at it's finest. Tweaked to maximize performance, portability and longevity, this exceptional mouse pad is a proven leader.
XTracGear Carbonic features:
Polished Textile precision mouse surface
Extremely durable
Soft and comfortable
Laser cut to help eliminate edge fraying
Enhanced Sure Grip rubber backing for exceptional desktop grip
Carbon Fiber repeating pattern specially designed to enhance mouse cursor tracking
Why settle for less when you can have the best. Get yourself an XTracGear Carbonic precision gamer mouse pad today!
Specifications:
8.5" x 11" x 1/8" (216mm x 280mm) approximately
Enhanced Sure Grip open celled rubber backing
Polished Textile material precision mouse surface
Price: $14.95 (from Xtrac at time of review)
Price: $10.98 (from Amazon at time of review)
Testing and Usage
I used the Carbonic with my Feenix Nascita gaming mouse. The picture below can give you an idea of how big the pad is in relation to the mouse.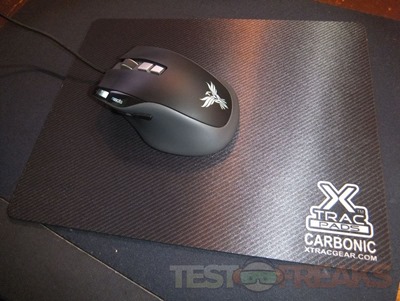 Before the Carbonic arrived I was using the Feenix Dimora which is a hard plastic mousepad and a bit bigger than the Carbonic.
The first thing I noticed of course is that the Carbonic, being cloth, offered  a lot more resistance to the Nascita, it took me a few days to get accustomed to using it basically.
I use my computer for both gaming and work so I use the same mouse and pad for both as I've found a gaming mouse works great for any use and I like the control a decent mousepad gives you in anything you do.
So I played games, that's why I love getting mice and mousepads for review, it gives me more of a reason to play games.
I really like the Dimora and I honestly wasn't expecting the Carbonic to be as good. Don't get me wrong, that might actually sound bad, Xtrac makes great products, in fact one of my first real gaming mousepads was one from Xtrac. I don't even remember how many years ago it was, but it was a lot, I was looking for a mousepad and came across some reviews for this funky looking hex patterned mousepad and after reading I bought it and it was well worth it. Anyway, the point is Xtrac pads are great cloth pads, but as I've gotten older I think my style has changed and I prefer hard pads over the cloth now.
The Carbonic has a carbon fiber pattern to it that is supposed to help your mouse track better and I have to say it does, at least for me I found no issues at all with tracking no mater how fast of slow I moved the mouse.
Tracking is excellent on the Carbonic for sure with the carbon fiber pattern, but I have to admit that I do like the original hex pattern better, that's just aesthetically of course, I just love the looks of fit.
One small issue is that the edges are rather sharp. The edges of the Carbonic are laser cut which is nice so they don't fray like cloth pads tend to do from rubbing your arm on them, but it also makes them rough or hard and sort of sharp and it rubs on the bottom of my forearm which can be uncomfortable. I'm guessing it will wear down over time, but as new they're what I would call sharp, for lack of a better word. It's not that big of an issue of course, but it's just something that I noticed.
The size of the Carbonic is a bit small for me personally, but I do have a large desk so I have room for a larger pad. The pads or surfaces I normally use are 11" x 14" as I like having the extra room to move around on.
Conclusion
Xtrac has been around for many years and I can say they still know how to make a great mousepad.
The Carbonic is the newest in the Xtrac line and it's worthy of the name Xtrac for sure as it is just as good as remember my first pad from them, if not better actually.
The Carbonic allows you to move as fast or slow as you need to for whatever you're doing and your mouse will not skip around, it will track perfectly.
The build quality of the Carbonic is great, yes it's cloth pad, but that just means it's more portable, you can roll it up and take it with you and you'll still have an excellent surface to work on.
All in all I very much like the Carbonic and I can recommend it if you're in the market for a smaller sized gaming mousepad.
Pros:
+Great looking
+Excellent tracking
+Well made
Cons:
-Edges are kind of sharp
| | |
| --- | --- |
| Grades: | 10 out of 10 |
| Overall | |
| Design / Aesthetic | |
| Value / Price | |
| Performance / Usage | |
To learn more about our review policy please visit this page HERE.