I always thought an HTPC had to be a big, basically full sized computer, or at least something with at least a microATX motherboard in it with a standard video card along with a decent CPU. My thought on that have changed recently since I've got to spend some time with the product I've got for review today which is the Giada Mini PC A51. This little PC is what's called a Nettop as it's close to a Netbook really but it's not portable. The A51 features an AMD T56N CPU with a Radeon HD 6320 integrated graphics chip which is capable of 1080P playback on your HDTV via the built-in HDMI connection. The A51 also has built-in wi-fi, Ethernet and Bluetooth so you've got connection choices as well, it's also Windows 7 compatible and to top it off it only uses 30 watts of power. The A51 is very small, you can easily hide it among your other home theater components or even mount it to the back of a monitor if you want to use it as a regular PC for everyday use. So read on to learn about an inexpensive Mini PC that would make a great addition to any home theater setup or it could be used as a light duty computer for your everyday needs.

So the Giada A51 comes in a small box as it's a small PC that's inside of it.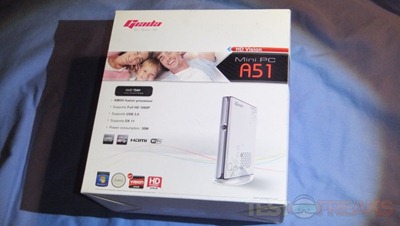 On the side of the box is the specs for the PC inside which says it is Black in color, comes with 4gb of DDR3 ram, a 320gb hard drive and both Bluetooth and 802.11n wi-fi.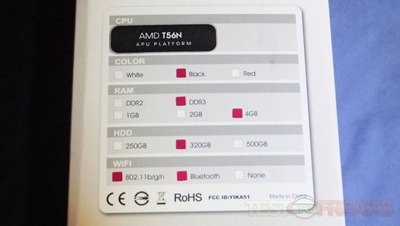 When you open the lid you'll see two boxes.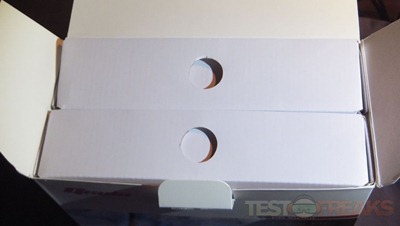 The boxes are labeled Mini PC Accessories and Mini PC, I think that's self-explanatory as to what's in them.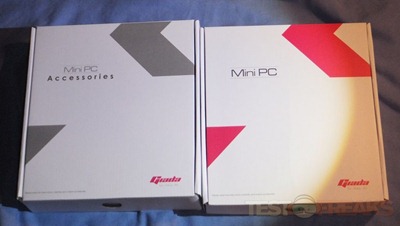 The accessory box contains a bag with the user manual and driver CD in it.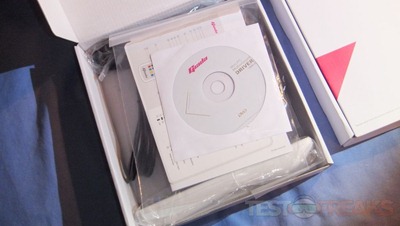 Under that you'll find the rest of the parts.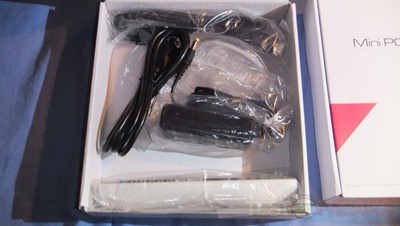 Here's everything spread out for a better look, power supply, HDMI cable, remote control, and a stand.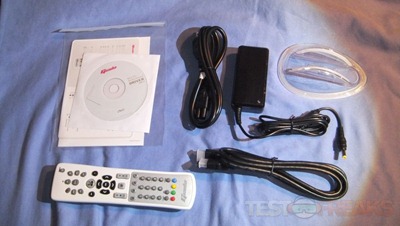 The stand is clear plastic with rubber inserts in them not only for protection but to hold the A51 in place.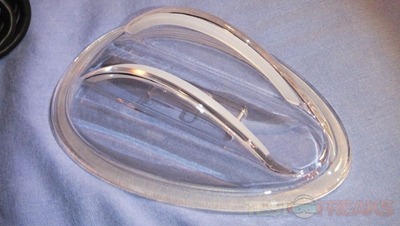 The remote reminds me of the Xbox 360 remote actually, or a Windows media remote really. It has all the basic buttons you'll need to control all of your media needs.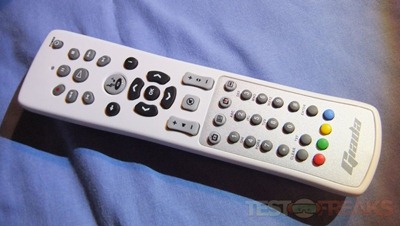 In the other box you'll find the Mini PC snuggled in styrofoam and wrapped in plastic for protection.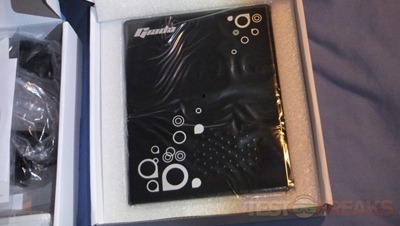 Finally here's the Giada A51 Mini PC itself. It's a shiny black with a bubbly design on it and it has holes for ventilation as well.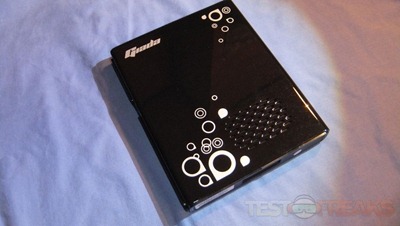 The opposite side looks similar but with an identification sticker on it.
To give you an idea of the actual size, here's my phone, an HTC Titan with it. It's about 1 1/2 times as thick as my phone, and well you can see how much taller and wider. It's small as you can see.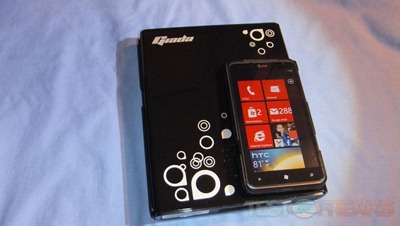 On the top of the A51 you'll find a door behind which is a card reader, a USB 3.0 port and audio connections.
On the back is connections for HDMI, VGA, Ethernet, power, four USB ports and ventilation.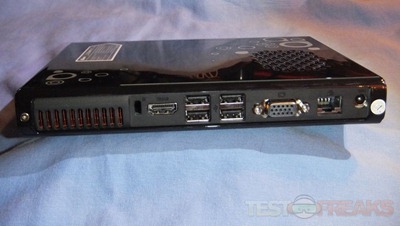 On the front is a power button along with small LEDs to indicate power, HDD activity and to signify when the remote is in use. When you push a button on the remote the light blinks.
Of course I had to take it apart and see what's inside, I didn't fully disassemble it though, I just took the cover off. Inside you can see the cooling system and the hard drive along with most of the motherboard and connections. The hard drive is a Hitachi 5400RPM, 320gb in capacity.
I ran CPU-Z to get the full system specs, so here's all of the screen captures for you. The CPU is a dual core and it runs at 1.6Gghz and the video is a Radeon HD 6320. Sure it's not a super fast, high end system but it's not supposed to be be either.
Specifications:

The Giada A51 came with no operating system installed, well that's not true it had FreeDOS installed and well there's not much to really do with that is there?!  So I grabbed my USB DVD/CD drive and installed Window's 7 on it. Once I got all of the drivers installed, the first thing I did was run the Windows Experience Index. I find it amusing that they included a CD with it, but the A51 doesn't have an optical drive built-in.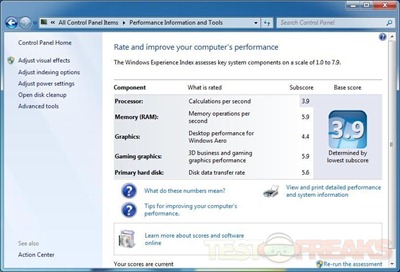 The Windows Experience Index is based on the lowest score and surprisingly that's the CPU here.  The rest of the components do fairly well though. 5.9 for both gaming graphics and memory with the hard drive getting a 5.6 and a 4.4 for aero.
As you know the hard drive is a 5400rpm but I was curious so I ran ATTO to check the speeds. Not bad I guess for a 5400rpm drive right?!
So I used it but I also ran some tests. The only computers I have are regular full-sized desktops but I've reviewed a few netbooks in my time so I thought they might make a good comparison as that's essentially what a Nettop is.
I've put the it up against the Acer Aspire D250, HP Mini 11 and the Gateway LT 2016u as well as the MSI Wind12 U230.
The first test I ran was CrystalMark which tests the entire system. I've ordered them from best to worst according to the overall score. The ram of course differed in all of the systems, but it's still a good representation of what each can do I think.
The other test I ran was using Cinebench 10.
I placed the results in the order of the OpenGL test, best to worst. There is a difference between then besides the ram, they're running 64bit and 32bit operating systems. So basically it's not an accurate test exactly, but it gives us a good idea of things.
The next two tests I ran just because I was curious, I knew the results wouldn't be great.  I ran 3DMark 11 Entry level test and the Performance test and as expected the scores were very low. It's not a gaming machine obviously but I knew that going in but as I said I was just curious, so here's the results for you.
The last test I ran out of curiosity was wPrime, here again I didn't expect much.
To give you an idea, here's the chart from my recent Hyper X review, the CPU is of course totally different but it's just curiosity of course.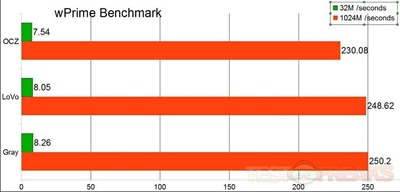 So yeah the little AMD CPU isn't up to calculating prime numbers at speed like my Core i7 2600K is. I don't think anyone expected it to be either.
The remote works great, when you press the media button in the center it open up Windows media center and you can control everything with just the remote. The remote is fine but I just wish it had some way to control the mouse cursor as well. I was using a wireless keyboard with an integrated trackball most of the time with the Giada A51, and that worked fine.
I played 1080P videos on it and regular DVDs through my portable USB DVD player and they all played fine. I also streamed video over my network as well, and that worked great too.
The noise level isn't bad at all, you can hear the hard drive if you are within inches of the A51, but any farther and it's silent. There is a cooling fan as you saw in the picture where I opened the A51, and the fan is silent like the hard drive unless you're very close to it.
Conclusion:
The Giada A51 is a great little PC in more than just it's small size. It's more than capable of being the center or at least a big part of your home entertainment experience. The A51 can handle HD video with ease, no skips, no jumps just smooth and clear video. The A51 is more than just a an HTPC, you can use it as a regular computer as well and do anything you would on a full-sized computer like browse the web, play games, check your email, listen to music and watch videos. The only thing you really can't do is play more common games that are graphic intensive. I think it works great as an HTPC, it's small and unobtrusive and should fit right in out in the open or your could hide it off to the side if you prefer.
If you don't want to use it as an HTPC, as I said it can be used as a regular computer, but what's special is you can get a kit to attach it directly to the back of a monitor.
The Giada A51 isn't perfect of course, as there is no CD/DVD or Blu-ray drive so you'll have to get a portable one, or stream everything basically. The remote is great, but it would be nice if you could control the mouse with it. The hard drive is quiet at a distance, but I think I would much rather have an SSD inside for a truly silent solution.
I very much like the Giada A51, it's an excellent computer for the cost, I would say it's really a great value.
Pros:
+Very small and compact
+Works well as media center HTPC
+Low power
+Relatively quiet
+Includes remote
+Seems well made overall
Cons:
-No CD/DVD Drive
-Says S/PDIF-out but I don't see it
-Remote doesn't act as mouse
-Hard drive can be loud when up close
| | |
| --- | --- |
| Grades: |   |
| Overall | |
| Design | |
| Performance | |
To learn more about our review policy please visit this page HERE.